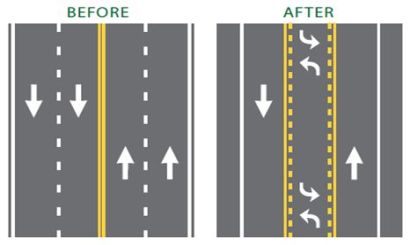 Changes for US-12 are in the works in the New Buffalo area. The Michigan Department of Transportation will hold an open house next Wednesday, November 6 at New Buffalo High School to discuss the road diet for the highway from the Indiana state line to Mayhew Street, and then from Wilson Street to Red Arrow Highway. MDOT's Nick Schirripa says it'll be done in 2021 as part of a resurfacing project.
"We're going to take it from four lanes down to three, so one lane in each direction along with a left turn lane," Schirripa explains. "That really does help to improve traffic flow. You get those left turners out of the traffic lane so the traffic lanes are continuous movement."
People can pop in whenever is convenient for them to hear about the plans between 4:30 and 6:30 p.m. next Wednesday. Schirripa says US-12 will not have the road diet within New Buffalo, just the stretch outside of town to the north and the south.