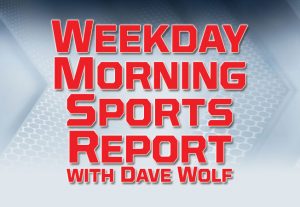 NBA – National Basketball Association – Regular Season Openers
Last Night
Atlanta Hawks 117, Detroit Pistons 100
Pistons 119, Pacers 110 – Trae Young has 38 points, Hawks beat Pistons 117-110
Trae Young had 38 points and nine assists and the Atlanta Hawks opened the season with a 117-100 victory over the Detroit Pistons on Thursday night.  John Collins added 20 points and 10 rebounds, and Jabari Parker had 18 points. Vince Carter checked in for Atlanta with 6:52 left in the first quarter, becoming the first player to see action in 22 NBA seasons.  Derrick Rose led Detroit with 27 points, and Andre Drummond had 21 points and 12 rebounds. On Wednesday night in Indiana, Drummond had 32 points and 23 rebounds in Detroit's season-opening victory.
Tonight
Chicago Bulls at Memphis Grizzlies, 8:00 p.m.
NFL – National Football League – Week 8
Last Night
Minnesota Vikings 19, Washington Redskins 9
Vikings 19, Redskins 9 – Cook, Vikings wear down Redskins 19-9 for 4th straight win
Dalvin Cook had 171 total yards and the game's only touchdown, helping Kirk Cousins beat his old team on the first try and carrying the Minnesota Vikings to a 19-9 victory over the Washington Redskins on Thursday night.  Cook, the NFL leader in yards from scrimmage, rushed 23 times for 98 yards and caught five passes for 73 yards for the Vikings (6-2) in their fourth straight victory.  Cousins went 23 for 26 for 285 yards without a turnover against the Redskins (1-7), who drafted him in 2012 and made him the full-time starter in 2015.  Case Keenum, the quarterback Cousins replaced, had his return to Minnesota spoiled by a concussion that kept him out of the second half. Keenum also lost a fumble on a first-quarter sack. Rookie Dwayne Haskins threw an interception deep in Minnesota territory when the Redskins trailed by only seven points.  Another former Vikings standout, Adrian Peterson, had 14 carries for 76 yards and in the process moved up to sixth place on the NFL's career rushing list.
Sunday
New York Giants at Detroit Lions, 1:00 p.m.                      WSJM Sports/Cosy-FM 11:00
Los Angeles Chargers at Chicago Bears, 1:00 p.m.
Denver Broncos at Indianapolis Colts, 1:00 p.m.
Green Bay Packers at Kansas City Chiefs, 8:20 p.m.            106.1 & 1400 WSJM Sports 7:30
NHL – National Hockey League
Last Night
Philadelphia Flyers 4, Chicago Blackhawks 1
Flyers 4, Blackhawks 1 – Hayes helps Flyers beat Blackhawks 4-1
Kevin Hayes scored after he lost a goal because of an offsides challenge, and the Philadelphia Flyers beat the Chicago Blackhawks 4-1 on Thursday night.  Claude Giroux, James van Riemsdyk and Oskar Lindblom also scored for Philadelphia, which beat Chicago 4-3 in Prague in the season opener on Oct. 4. Brian Elliott made 23 saves in his second straight start.  The Blackhawks closed out a disappointing 2-3-2 homestand with their third consecutive loss. They had just one shot on goal in the second, and the crowd of 21,315 booed during the final seconds of the period.  Brandon Saad scored for Chicago a minute into the third, and Lehner finished with 19 stops in his second straight start.
Tonight
Buffalo Sabres at Detroit Red Wings, 7:30 p.m.
MLB – 2019 World Series – (Best of 7)
Tonight
Houston (Greinke 8-1) at Washington (Sanchez 11-8), 8:07 p.m.           (WSH leads 2-0)
MLB – Chicago Cubs hire David Ross to replace Maddon as manager
The Chicago Cubs have hired former catcher David Ross to replace Joe Maddon as their manager, hoping he can help them get back to the playoffs after missing out for the first since 2014. The Cubs announced Thursday a three-year deal with Ross with a club option for the 2023 season.   Ross played the final two of his 15 major league seasons with the Cubs and was a revered leader on the 2016 team that won the World Series, ending a championship drought dating to 1908. He spent the past three years in Chicago's front office and was widely viewed as a potential replacement for Maddon, who compiled a 471-339-1 record in five seasons. Ross has no coaching or managing experience.
MLB – Astros fire Taubman over clubhouse incident with reporters
The Astros have fired assistant general manager Brandon Taubman for directing inappropriate comments at female reporters following Houston's pennant-winning victory over the New York Yankees.  The team released a statement Thursday that said Taubman's conduct did not reflect the organization's values "and we believe this is the most appropriate course of action."  Taubman has previously apologized for using language that was "unprofessional and inappropriate" in the clubhouse following the victory. Sports Illustrated reported he repeatedly yelled toward a group of female reporters about closer Roberto Osuna, who was suspended for 75 games last year for violating MLB's domestic violence policy before being traded from Toronto to the Astros. Taubman shouted "Thank God we got Osuna!" according to SI, which said he made similar remarks several times, punctuating them with a profanity.
MLB – Trump says he'll attend World Series if it goes to 5th game
President Donald Trump says he is planning to attend the World Series on Sunday if it goes to a fifth game. The president confirmed his plans Thursday while presenting the Presidential Medal of Freedom to Roger Penske, a businessman and founder of one of the world's most successful motorsports teams. The Washington Nationals and the House Astros are playing, with the fifth game scheduled for Sunday in Washington. The Nationals lead the series 2-0 and could conceivably win it before Sunday's game.
MLB – In a divided Washington, Nationals' World Series run unites
The unlikely World Series run of the Washington Nationals has become something truly unexpected: a unifying force in a city that hasn't known much unity recently.  Nationals red and the trademark swirling W have become common sights across the District of Columbia. For a city filled with transplants that went without a baseball team for more than 30 years, the underdog Nationals have become an easy thing to rally around.  Nationals fever has even replaced the traditional DC sport of politics. Last week, Washington's bars largely ignored the fourth Democratic presidential debate and instead showed the Nationals completing their sweep against the St. Louis Cardinals.  Now the Nationals are former underdogs returning home for game 3 with a commanding 2-0 lead series lead over the Houston Astros.
NCAAFB – College Football – Week 9
Saturday
Bowling Green at Western Michigan, 12:00 p.m.                                   
(6) Penn State at Michigan State, 3:30 p.m.                                  Superhits 103.7 Cosy-FM 2:00
Central Michigan at Buffalo, 3:30 p.m.
Eastern Michigan at Toledo, 3:30 p.m.
(8) Notre Dame at (19) Michigan, 7:30 p.m.    News/Talk 94.9 WSJM 6:30 & WSBT 96.1/960, Sunny 101.5
AHL – American Hockey League
Tonight
Manitoba Moose at Grand Rapids Griffins, 7:00 p.m.
MHSAA – High School Athletics
Last Night
Girls Volleyball
Lake Michigan Catholic 3, Howardsville Christian 0
Berrien Springs 3, Kalamazoo Hackett 1
New Buffalo 3, Lawrence 0
Edwardsburg 3, Paw Paw 0
South Haven 3, Dowagiac 0
Vicksburg 3, Otsego 0
Three Rivers 3, Allegan 0
Plainwell 3, Sturgis 2
Boys Soccer – Regional Championship
Division 2 at Eaton Rapids
Mattawan 6, Middleville-Thornapple Kellogg 1
Tonight
Football
SMAC
St. Joseph (6-2) at Portage Northern (7-1), 5:30 p.m.                  106.1 & 1400 WSJM Sports 5:00
Lakeshore (4-4) at Mattawan (4-4), 5:30 p.m.                              97.5 Y-Country 5:10
Portage Central (4-4) at Niles (2-6), 5:30 p.m.
Gull Lake (2-6) at Kalamazoo Central (2-6), 4:30 p.m.
Battle Creek Central (3-5) at Kalamazoo Loy Norrix (0-8), 4:30 p.m.
Non-Conference/Independent
Benton Harbor (4-4) at Berrien Springs (7-0), 7:00 p.m. (at St. Joseph)          News/Talk 94.9 WSJM 6:45
Brandywine (8-0) at Buchanan (3-5), 7:00 p.m.
Comstock (2-6) at Lawton (8-0), 5:00 p.m.
Wolverine
South Haven (0-8) at Dowagiac (5-3), 5:30 p.m.                           Superhits 103.7 Cosy-FM 5:15
Edwardsburg (8-0) at Paw Paw (8-0), 5:15 p.m.
Three Rivers (2-6) at Allegan (2-6), 5:00 p.m.
Sturgis (1-7) at Plainwell (4-4), 7:00 p.m.
Vicksburg (5-3) at Otsego (5-3), 5:30 p.m.
SW Michigan 8-Man
Lake Michigan Catholic (4-4) at Colon (8-0), 7:00 p.m.
Big Rapids Crossroads Academy (1-7) at Michigan Lutheran (1-7), 7:00 p.m.
North Adams Jerome (1-7) at Bridgman (7-1), 7:00 p.m.
Lawrence (3-5) at New Buffalo (1-6), 7:00 p.m.
Martin (8-0) at Climax-Scotts (7-1), 5:00 p.m.
Battle Creek St. Philip (3-5) at Wyoming Tri-Unity (4-4), 5:00 p.m.
SAC
Coloma (2-6) at Watervliet (2-6), 5:00 p.m.
Fennville (3-5) at Saugatuck (3-5), 4:30 p.m.
Kalamazoo United (4-4) at Schoolcraft (8-0), 5:00 p.m.
Galesburg-Augusta (1-7) at Gobles (3-5), 5:00 p.m.
Constantine (6-2) at Delton-Kellogg (4-4), 5:00 p.m.
Southwest 10
Marcellus (3-5) at Cassopolis (8-0), 5:00 p.m.
Eau Claire (0-8) at Bangor (0-7), 7:00 p.m.
Decatur (3-5) at Bloomingdale (1-7), 7:00 p.m.
Hartford (5-3) at White Pigeon (7-1), 7:00 p.m.
Mendon (6-2) at Centreville (6-2), 7:00 p.m.
Saturday
Football
Clinton (8-0) at Parchment (2-6), 12:00 p.m.
Boys Soccer – Regional Championship
Division 4 at Portage Northern
Dansville vs. Kalamazoo Hackett, 12:00 p.m.

Girls Volleyball
St. Joseph Invitational, 8:30 a.m.
St. Joseph, Lakeshore, Coloma, Dowagiac, Edwardsburg, Kalamazoo Hackett, Hartford, Niles, Paw Paw