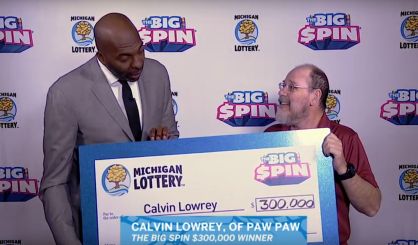 Calvin Lowrey of Paw Paw is one happy man thanks to taking part in the Michigan Lottery's The Big Spin show. Lottery officials say he walked away with a $300,000 win in a recent episode. After the broadcast, Lowrey was asked about his plans by Detroit Pistons legend and show host John Salley.
"You've got $300,000, congratulations. What does this mean to you and your family," Salley asked.
"It means we're going to get us a house!" proclaimed Lowrey.
The Big Spin show airs on Michigan TV stations after the evening Michigan Lottery drawings. Lowrey was selected at random to play by submitting non-winning The Big Spin instant tickets, and everyone who is on the show is guaranteed to win at least $100,000. The top prize on the wheel is $2 million. The next second chance drawings are set for October 31 and January 2.