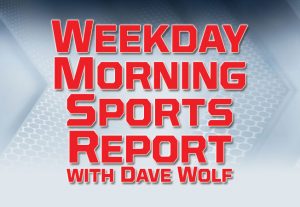 MLB – 2019 World Series – (Best of 7)
Last Night
Washington Nationals 5, Houston Astros 4                                           (WAS leads 1-0)
Nationals 5, Astros 4 – Nationals get series-opening win over Astros
Juan Soto drove in three runs and Max Scherzer provided a gritty effort on the mound as the Washington Nationals held off the Houston Astros, 5-4 in Game 1 of the World Series. Soto delivered a solo homer and a two-run double while the Nats were turning a 2-0 deficit into a 5-2 lead against Gerrit Cole. Scherzer needed 112 pitches to get through five innings, striking out seven and allowing two runs on five hits and three walks.
Tonight
Washington (Strasburg 18-6) at Houston (Verlander 21-6), 8:07 p.m.          (WAS leads 1-0)
NHL – National Hockey League
Last Night
Vancouver Canucks 5, Detroit Red Wings 2
Vegas Golden Knights 2, Chicago Blackhawks 1 – Shootout
Canucks 5, Red Wings 2 – Horvat scores 3 in 3rd, Canucks rally past Red Wings 5-2
Bo Horvat scored three of Vancouver's five goals in the third period for his first career hat trick, and the Canucks rallied from two down to defeat the skidding Detroit Red Wings 5-2 on Tuesday night.  Jake Virtanen got the game-winner and Tim Schaller also scored for Vancouver, which has won six of seven. Elias Pettersson and defenseman Quinn Hughes had two assists apiece. Jacob Markstrom stopped 31 shots. Anthony Mantha and defenseman Dennis Cholowski scored for Detroit, which lost its fifth in a row. Jimmy Howard made 35 saves. Horvat, the Canucks' captain, scored two power-play goals in a span of 1:31 early in the third to tie the game at 2. He put in a rebound at 1:42 and tipped in a shot from the point by Hughes at 3:13.
Golden Knights 2, Blackhawks 1 – SO – Fleury helps Golden Knights beat Blackhawks 2-1 in shootout
Marc-Andre Fleury made 31 saves through overtime and two more stops in the shootout, leading the Vegas Golden Knights to a 2-1 victory over the Chicago Blackhawks on Tuesday night.  Fleury was beaten by Jonathan Toews in the first round of the tiebreaker, and then turned away attempts by Patrick Kane and Alex DeBrincat. Jonathan Marchessault and Shea Theodore beat Robin Lehner on the other end, giving Vegas the victory after it lost 6-2 at Philadelphia on Monday night. It was win No. 446 for Fleury, snapping a tie with Terry Sawchuck for seventh on the NHL career list. The Golden Knights also improved to 7-0-0 against the Blackhawks since entering the league for the 2017-18 season. Kirby Dach scored his first goal in his second NHL game for Chicago, and Lehner had 33 saves in an impressive performance. Dach was selected by the Blackhawks with the No. 3 overall pick in this year's draft.
Tonight
Detroit Red Wings at Ottawa Senators, 7:30 p.m.
NHL – Red Wings put D Jonathan Ericsson on waivers
A person familiar with the decision says the Detroit Red Wings have put defenseman Jonathan Ericsson on waivers. The person spoke on condition of anonymity Tuesday because the Red Wings have not announced the move. The team did announce that Ericsson had been removed from injured reserve. Detroit also recalled forward Evgeny Svechnikov from Grand Rapids of the AHL and assigned defenseman Alex Biega to Grand Rapids. The Red Wings put forward Adam Erne on injured reserve, retroactive to Friday. The 35-year-old Ericsson has played over a decade with the Red Wings. He had three goals and two assists in 52 games last season. For his career, Ericsson has 27 goals and 98 assists in 662 games.
NFL – Seahawks acquire Quandre Diggs from Lions
A person with knowledge of the deal says the Seattle Seahawks have addressed depth concerns in the defensive backfield by acquiring Quandre Diggs from the Detroit Lions. The person spoked to The Associated Press on Tuesday on the condition of anonymity because neither team had announced the trade. NFL.com first reported the deal and said the Lions are receiving a fifth-round pick in 2020 as part of the deal.  Seattle has major depth worries at safety after Bradley McDougald and Lano Hill missed Sunday's loss to Baltimore with injuries. Hill is expected to be out a few weeks with an elbow injury, while Seattle is hoping McDougald will return soon after being sidelined by back spasms.  Diggs will add some needed versatility. He can play free safety and nickel and could be an option after free safety Tedric Thompson has struggled in coverage at times this season.
NBA – National Basketball Association – Regular Season Openers
Last Night
Toronto Raptors 130, New Orleans Pelicans 122 – OT
Los Angeles Clippers 112, Los Angeles Lakers 102
Tonight
Detroit Pistons at Indiana Pacers, 7:00 p.m.
Chicago Bulls at Charlotte Hornets, 7 p.m.
NBA – Detroit's Griffin to miss start of season
The Detroit Pistons will begin the season without star forward Blake Griffin, whose injury issues have flared up again. The Pistons said Tuesday that Griffin would not travel for Wednesday night's game at Indiana and would continue a treatment and conditioning regimen for left hamstring and posterior knee soreness. He will be re-evaluated for a return the first week of November. Griffin was mostly healthy last season until the very end, when he was limited in the playoffs. He had arthroscopic surgery on his left knee in the offseason. Griffin averaged 35.0 minutes per game last season, his most since 2014-15, and averaged a career-high 24.5 points. Coach Dwane Casey admitted at media day that the Pistons "rode him like a cheap horse" — and suggested that they might manage his minutes a bit more conservatively going forward. First-round draft pick Sekou Doumbouya (concussion protocol) is not traveling to Indiana either, and Markieff Morris (low back tightness) is questionable. Point guard Reggie Jackson (low back tightness) is probable.
NBA – Michigan native Jenna Schroeder becomes 4th woman on NBA referee staff
Jenna Schroeder has been added to the NBA's full-time refereeing staff. She becomes the fourth female official on the league's roster, joining Lauren Holtkamp-Sterling, Ashley Moyer-Gleich and Natalie Sago.  Schroeder has three years of experience in the G League and two in the WNBA. She also has spent seven seasons as a college official in the Atlantic Coast, Big East, Atlantic 10 and American Athletic conferences.  NBA vice president and head of referee development Monty McCutchen said Tuesday that Schroeder has shown the "requisite skill on the court and the knowledge of our rules to earn an opportunity to officiate NBA regular-season games."  Schroeder will continue to work some G League games as well, as is standard for all NBA referees with less than four years of service. She is the sixth woman to be a full-time referee in league history, joining the three other active colleagues, Dee Kantner and Violet Palmer.  She is a 2004 graduate of Clio High School and played college basketball at Saginaw Valley State.
NCAAFB – South Carolina football put on one-year probation by NCAA
South Carolina's football program was placed on probation for the next year by the NCAA for a former assistant coach's impermissible actions in recruiting a sophomore prospect in the spring of 2018.  South Carolina reported the infraction to the NCAA, which considered it a Level II violation. The school and the NCAA handled it through the governing body's negotiated resolution process. The probation, which runs until Oct. 21, 2020, does not include any restriction on postseason competition, according to the NCAA.  The violation involved impermissible texts and in-person contact between the ex-assistant and the high school sophomore. Neither were named in NCAA documents.  South Carolina coach Will Muschamp said he has taken "substantial corrective actions" to make sure such issues don't happen again.
AHL – American Hockey League
Today
Texas Stars at Chicago Wolves, 12:00 p.m.
Milwaukee Admirals at Grand Rapids Griffins, 7:00 p.m.
ECHL – ECHL Hockey
Tonight
Fort Wayne Komets at Kalamazoo Wings, 7:00 p.m.
MHSAA – High School Athletics
Last Night
Boys Soccer – Regional Semis
Division 1 at Rockford
Traverse City West 5, Portage Northern 2
Division 2 at Eaton Rapids
Mattawan 4, DeWitt 1
Middleville Thornapple-Kellogg 2, Marshall 1
Division 3 at GR South Christian
GR South Christian 2, Dowagiac 1
Division 4 at Portage
Dansville 2, Hartford 0
Girls Volleyball
Martin 3, Watervliet 0
Coloma 3, Gobles 1
Schoolcraft 3, Kalamazoo Christian 0
Girls Swimming and Diving
Portage Central 108, St. Joseph 73
Allegan 102, Otsego 82
Tonight
Girls Volleyball
Lakeshore at Kalamazoo Loy Norrix, 6:30 p.m.
Niles at Battle Creek Central, 6:30 p.m.
Mattawan at Battle Creek Lakeview, 6:30 p.m.
Michigan Lutheran at River Valley, 6:30 p.m.
Lawrence at New Buffalo, 6:30 p.m.
Covert at Countryside Academy, 6:00 p.m.
Vicksburg at Otsego, 6:30 p.m.
White Pigeon, Bangor at Bridgman, 5:00 p.m.
Boys Soccer – Regional Semis
Division 4 at Portage Northern
Kalamazoo Hackett at Kalamazoo Christian, 5:00 p.m.