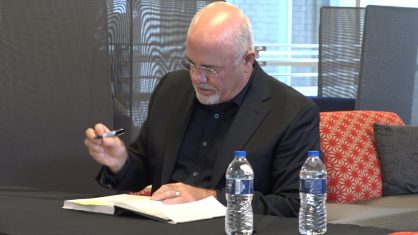 Military veterans and active duty service personnel are being invited by Berrien County Veterans Services to take a nine-week course to get their financial house in order. Lee Lull is the county's Veterans Services director and says offering the Military Edition of Dave Ramsey's Financial Peace University came about thanks to a county veterans service fund grant from the state of Michigan.
"One of the things I proposed we do is a Dave Ramsey Financial Peace military edition, because I'd been through Financial Peace University myself," Lull tells WSJM News. "And to have a military edition, it's geared more toward active duty and veterans."
This will be the second time the county has offered the course, which starts November 7 and will be held at The Chapel at 4250 Washington Avenue in St. Joseph from 6 to 8 p.m. every Thursday. As for the cost?
"It's absolutely free for veterans," says Lull.
More information is available by calling Berrien County Veterans Services at 269-983-7111, extension 8224. You can also follow this link to learn more about the program.
Dave Ramsey can be heard Monday through Friday on News/Talk 94.9 WSJM from 12:30 to 3 p.m.