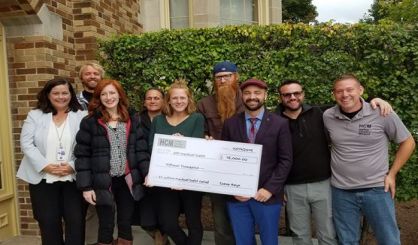 An effort to relieve medical debt for struggling residents of Berrien, Cass, and Van Buren counties is now well underway thanks to Harbor Country Mission, Lake Street Community Church, and the I CAN Cafe. They announced at Thursday's meeting of the Berrien County Board of Commissioners they have raised the $15,000 that will be the seed money for New York Charity "RIP Medical Debt" to buy up debt from collectors. Harbor Country Mission's David Heyn told WSJM News more about the program.
"The organization actually buys medical debt, pennies on the dollar, and by doing that, they're able to buy a massive amount of the debt with not a ton of money," Heyn said. "Either way, the person whose medical debt has gone into collections, it's still a burden to them. It's still on their credit report."
Heyn says the money announced Thursday can go a long way.
"The goal is $1.5 million. We're hoping to acquire that much debt in those tri-county areas."
On hand for Thursday's announcement were family of Robert Klint, who was killed along with his wife, daughter, and brother-in-law in a crash in Buchanan in August. Heyn says Klint worked with Harbor Country Mission, and urged it to take on the medical debt program.
"We had decided as a team to take this on, and then Bob and his family were killed in a drunk driving accident just days later. In lieu of flowers, the family wanted the money to go to this project."
Most of the money announced Thursday was collected through the Klint family. Heyn says anyone who wants to help grow the medical debt initiative can contact Harbor Country Mission. The three partner organizations say once the debt is purchased, the debtors will receive a letter in the mail letting them know their debt has been forgiven.
According to Harbor Country Mission:
"RIP buys and forgives "portfolios" of medical debt from health care providers and from the secondary debt market, which allows them to forgive thousands of people's debts at once. RIP is not yet able to handpick and forgive personal medical debt for individuals.
When they purchase a portfolio of medical debt, They abolish debt for those who:
Earn less than 2x the federal poverty level (varies by state, family size).
Debts are 5 percent or more of annual income.
Facing insolvency — debts are greater than assets."