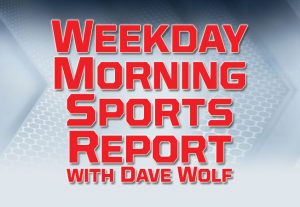 MLB – Major League Baseball – Division Series (best of 5)
Last Night
St. Louis Cardinals 13, Atlanta Braves 1                                                        (STL wins 3-2)
Washington Nationals 7, Los Angeles Dodgers 3 – 10 Innings                          (WSH wins 3-2)
Cardinals 13, Braves 1 – Cards dump Braves to reach NLCS
The Cardinals sent 14 batters to the plate while erupting for 10 runs on five hits, four walks and a huge error in the first inning of a 13-1 rout of the Braves. The Braves had a chance to get out of the frame trailing just 1-0, but first baseman Freddie Freeman botched a potential inning-ending double play grounder. Tommy Edman, Dexter Fowler and Kolten Wong provided two-run doubles following the error, allowing the Cardinals to turn the deciding game into a laugher. Pitcher Jack Flaherty walked with the bases loaded and Fowler reached base twice during the rally. The 10 runs is a major league record for a postseason game. Braves starting and losing pitcher Mike Foltynewicz (fohl-tih-NEH'-vihch) retired just one batter while surrendering seven runs – six earned – on three hits and three walks. Max Fried (freed) allowed three runs in the first and was lifted to start the third inning with Atlanta trailing 11-0. Flaherty breezed through six innings to get the win, limiting the Braves to one run and four hits while striking out eight. Flaherty had a shutout until Josh Donaldson homered in the fourth. The outcome puts St. Louis in the NLCS for the first time since 2014, when they fell to the Giants.
Nationals 7, Dodgers 3 – 10 Innings – Nats oust Dodgers
Former Dodger Howie Kendrick launched a grand slam off reliever Joe Kelly with nobody out in the 10th inning to send the Nats to a 7-3 triumph at Los Angeles. Kendrick's blast knocks out the team that posted the National League's best record during the regular season and puts the Nats in the NLCS for the first time. Max Muncy (MUHN'-see) and Kike (KEE'-kay) Hernandez homered off Stephen Strasburg to give the Dodgers a 3-0 lead through two innings before the Nationals rallied. Anthony Rendon (rehn-DOHN') and Juan Soto tied it with back-to-back solo blasts off Clayton Kershaw in the eighth, two innings after Soto's RBI single ended Walker Buehler's shutout bid. Daniel Hudson picked up the victory by tossing a scoreless ninth. Sean Doolittle closed it out by retiring the Dodgers in order in the 10th. Buehler had to settle for a no-decision after limiting the Nationals to a run and six hits while striking out seven over 6 2/3 innings.
Tonight
Division Series
Tampa Bay (Glasnow 6-1) at Houston (Cole 20-5), 7:07 p.m.                             (Series tied 2-2)
NHL – National Hockey League
Tonight
Detroit Red Wings at Montreal Canadiens, 7:00 p.m.
San Jose Sharks at Chicago Blackhawks, 8:30 p.m.
NFL – National Football League – Week 6
Tonight
New York Giants at New England Patriots, 8:20 p.m.         106.1 & 1400 WSJM Sports 8:00
NFL – Burfict's appeal denied
Vontaze Burfict's appeal to overturn his suspension for a helmet-to-helmet hit has been denied, keeping the Oakland Raiders linebacker off the field the rest of the season. Appeals officer Derrick Brooks has ruled that he would not reduce the longest suspension ever handed down for an on-field infraction. Brooks is appointed jointly by the NFL and the NFLPA and heard Burfict's appeal of the ban for the final 12 games of the regular season and the playoffs. Burfict was punished for his hit on Indianapolis tight end Jack Doyle on Sept. 29. It was the third time Burfict has been suspended for a dangerous hit on the field.
NBA – National Basketball Association Preseason
Last Night
Detroit Pistons 124, Dallas Mavericks 117
New Orleans Pelicans 127, Chicago Bulls 125
MCCAA – Junior College Athletics
Last Night
Men's Soccer
Muskegon Community College 3, Lake Michigan College 1
Today
Women's Volley
Lake Michigan College at Muskegon Community College, 6:30 p.m.
MHSAA – High School Athletics
Last Night
Boys Soccer – Districts
Division 2 (Plainwell)
Plainwell 1, Otsego 0
Division 2 (Harper Creek)
Gull Lake 5, Vicksburg 0
Harper Creek 1, Battle Creek Pennfield 0 – Shootout
Division 3 (Coloma)
Brandywine at Dowagiac, PPD to Saturday 9:00 a.m.
Division 3 (Fennville)
Delton-Kellogg 3, Hopkins 1
Division 4 (Lawton)
Lawton 8, Marcellus 0
Girls Volleyball
Mattawan 3, Lakeshore 0
Portage Central 3, St. Joseph 0
Niles 3, Portage Northern 2
Michigan Lutheran 3, Covert 0
Brandywine 3, Buchanan 0
Parchment 3, Comstock 1
Tonight
Boys Soccer – Districts
Division 2 (Paw Paw)
Sturgis at St. Joseph, 5:00 p.m.
Lakeshore at Paw Paw, 5:00 p.m.
Three Rivers at Mattawan, 5:30 p.m.
Niles at Edwardsburg, 4:30 p.m.
Division 3 (Coloma)
Constantine at Coloma, 5:00 p.m.
Buchanan at Berrien Springs, 5:00 p.m.
Division 3 (Fennville)
Bloomingdale at Holland Christian, 6:00 p.m.
Division 4 (Hartford)
Covert at Cassopolis, 5:00 p.m.
Michigan Lutheran at New Buffalo, 5:00 p.m.
Lake Michigan Catholic at Hartford, 5:00 p.m.
Bridgman at Bangor, 5:00 p.m.
Division 4 (Lawton)
Kalamazoo Heritage at Howardsville Chr. 5:00 p.m.
Kalamazoo Lakeside at Schoolcraft, 5:00 p.m.
Division 1 (Portage Central)
Battle Creek Central at BC Lakeview, 5:00 p.m.
Kal. Loy Norrix at Kal. Central, 5:00 p.m.
Jackson at Portage Northern, 5:30 p.m.
Girls Volleyball
River Valley at Lake Michigan Catholic, 6:30 p.m.
South Haven at Allegan, 6:00 p.m.
Sturgis at Dowagiac, 6:00 p.m.
Vicksburg at Paw Paw, 6:00 p.m.
Edwardsburg at Three Rivers, 6:00 p.m.
Otsego at Plainwell, 6:00 p.m.
Centreville at Bangor, 7:00 p.m.
Marcellus at Bloomingdale, 7:00 p.m.
Eau Claire at Cassopolis, 7:00 p.m.
Decatur at Hartford, 7:00 p.m.
Mendon at White Pigeon, 7:00 p.m.
Lawrence at Fennville, 6:30 p.m.