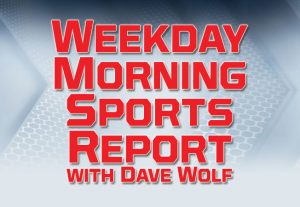 NHL – National Hockey League
Last Night
Anaheim Ducks 3, Detroit Red Wings 1
Ducks 3, Red Wings 1 – Ritchie gets key goal, Ducks beat Red Wings to stay unbeaten
Nick Ritchie scored the tiebreaking goal midway through the third period, and the Anaheim Ducks beat the Detroit Red Wings 3-1 on Tuesday night.  Jakob Silfverberg had a goal and an assist and Rickard Rakell also scored for the Ducks. John Gibson made 31 saves. Filip Hronek scored for Detroit, which lost for the first time this season. Jimmy Howard stopped 26 shots.  An apparent goal by the Red Wings' Dylan Larkin 8:06 into the third period was overturned because it was ruled the play went into the zone offside, and Ritchie scored on a rebound 1:04 later to give the Ducks a 2-1 lead. Silfverberg made it 3-1, beating Howard from the inside edge of the left circle off the rush, 47 seconds after that. Rakell tied it at 1, 4:52 into the third, when Hampus Lindholm's shot bounced off Rakell, past Howard and into the net. Rakell's first goal followed a turnover by Detroit's Tyler Bertuzzi at his own blue line. Hronek scored with 5 seconds left in the second period after hitting the goal post twice during the previous 15 seconds or so.
MLB – Major League Baseball – Division Series (best of 5)
Last Night
Tampa Bay Rays 4, Houston Astros 1                                                        (Series tied 2-2)
Rays 4, Astros 1 – Rays square ALDS against Astros
Tommy Pham and Willy Adames homered as the Tampa Bay Rays chased Justin Verlander early and beat the Houston Astros 4-1 to even their AL Division Series at two games apiece. Nick Anderson and three other relievers combined on a five-hitter to beat Verlander, who was pitching on short rest after dominating the Rays in Game 1 of the best of five series that shifts back to Houston for a decisive fifth game.
Tonight
Division Series
St. Louis (Flaherty 11-8) at Atlanta (Foltynewicz 8-6), 5:02 p.m.                    (Series tied 2-2)
Washington (Strasburg 18-6) at L.A. Dodgers (Buehler 14-4), 8:37 p.m.            (Series tied 2-2)
MLB – Three stadiums weren't full for playoff games
Three of four playoff games failed to sell out Monday, leaving lots of empty seats at Tampa Bay, St. Louis and Washington. Sub-capacity crowds have become an expectation at Tropicana Field — even in October — but they were more striking elsewhere.  The Cardinals, whose fans tout themselves as the best in baseball, hosted the Braves in front of 42,203 supporters, about 2,000 fewer than Busch Stadium's listed capacity. Meanwhile, entire sections in the upper deck were nearly empty as Max Scherzer pitched for Washington against the Dodgers. Prior to Monday, the only 2019 postseason games that failed to sell out were NLDS Games 1 and 2 at Dodger Stadium. Attendance during the regular season fell 1.7% this year for its fourth straight decline.
NBA – NBA, China at odds over Rockets owner Hong Kong tweet
NBA Commissioner Adam Silver says he's still planning to go to China on Wednesday in advance of preseason games there between the Los Angeles Lakers and the Brooklyn Nets later in the week.  Silver also says the league is "apologetic" over the outcome and reaction that followed Houston general manager Daryl Morey's tweet showing support for protesters in Hong Kong, but will continue to back Morey's right to freedom of expression.  Silver says "we are not apologizing for Daryl exercising his freedom of expression." He added that he "regrets" how so many Chinese people and NBA fans were upset by the since-deleted tweet.  Silver says it would be appropriate for people involved with the league "to be sensitive" to different cultures when tweeting or communicating. He spoke in Tokyo before a preseason game between the NBA champion Toronto Raptors and the Rockets — the team at the center of this China squabble.

NBA – National Basketball Association Preseason
Tonight
Dallas Mavericks at Detroit Pistons, 7:00 p.m.
New Orleans Pelicans at Chicago Bulls, 8:00 p.m.
WNBA – Sun force Game 5 in WNBA Finals with 90-86 win over Mystics
Alyssa Thomas had 17 points, 11 assists and eight rebounds to help the Connecticut Sun stave off elimination and force a decisive Game 5 of the WNBA Finals with a 90-86 win over the Washington Mystics on Tuesday night.  The title will be decided Thursday night in Washington with a first-time champion crowned. Thomas fell just short of the first triple-double in Finals history.  Jonquel Jones had 18 points and 13 rebounds to lead the Sun.  Connecticut blew a 16-point halftime lead as Washington used a huge third quarter to tie the game at 68. The Mystics kept it going to start the fourth, opening up a five-point lead. With its season on the line, the Sun responded.
NFL – Titans add K Cody Parkey after waiving Cairo Santos
The Tennessee Titans have signed kicker Cody Parkey one day after waiving Cairo Santos. Santos missed three field-goal attempts and had a fourth blocked Sunday in a 14-7 loss to the Buffalo Bills. The Titans signed Santos had been signed Sept. 4 when they put veteran Ryan Succop on injured reserve. Succop remains three weeks away from being eligible to be activated off injured reserve. Parkey played for the Chicago Bears last season but was released after missing a 43-yard field goal in the closing seconds of a 16-15 playoff loss to the Philadelphia Eagles. Parkey went 23 of 30 on field-goal attempts and 42 of 45 on extra points during the regular season.
NCAAFB – USC frosh QB Kedon Slovis returns to start at Notre Dame
Freshman quarterback Kedon Slovis will return from injury to start for Southern California at No. 9 Notre Dame on Saturday night.  USC coach Clay Helton made the announcement Tuesday night after practice.  Slovis missed most of the Trojans' last two games after incurring an apparent concussion on the opening series of USC's win over then-No. 10 Utah on Sept. 20. He sat out of a loss at Washington on Sept. 28 for the Trojans (3-2), who had last week off.  The 18-year-old Slovis took over for injured starter J.T. Daniels at halftime of the Trojans' season opener. He led USC past Stanford one week later with a record-setting performance for a freshman quarterback.  Matt Fink replaced Slovis for the past two games.
NCAAMBB – Krzyzewski says California law a needed conversation starter
Mike Krzyzewski believes it's time for college sports to get in step with the times when it comes to paying athletes, though the Duke coach said getting there raises a lot of challenging questions.  Krzyzewski said Tuesday at ACC media day that college sports can no longer stick its head in the sand on that issue and others.  "We need to look at that, as a whole issue, not just this one thing for image and likeness," Krzyzewski said. "What's best for these kids? We need to stay current with what's happening."  The pay-for-play discussion has gained momentum since California Gov. Gavin Newsom signed a law that goes into effect in 2023. The law allows athletes at universities in California to make money from their images, names or likenesses.  Krzyzewski predicted dozens of states will follow suit with similar legislation.  He said college athletics has been too reactionary in dealing with changes as opposed to proactively seeking reforms to the collegiate model.
Gymnastics – Biles sets new record as US wins world gymnastics team gold
Simone Biles won a record 21st medal at the world gymnastics championships on Tuesday as the United States retained its women's team all-around title.  Biles' 15th career gold medal brings her a total of 21 medals, breaking a tie with the Russian gymnast Svetlana Khorkina for the most medals by a woman at the world championships. She's now two short of Vitaly Scherbo's all-time record among men or women of 23. The U.S. team scored 172.330 points to beat second-placed Russia by 5.801 points and win its seventh consecutive team title at an Olympics or world championships. Biles posted the best individual scores on the vault, balance beam and floor. Italy took bronze, as China failed to win a women's team medal for the first time since the 2003 world championships.
MCCAA – Junior College Athletics
Last Night
Women's Volleyball
Lansing Community College 3, Lake Michigan College 1
Today
Men's Soccer
Muskegon Community College at Lake Michigan College, 2:00 p.m.
MHSAA – High School Athletics
Last Night
Boys Soccer – Regular season
SMAC Tournament Finals
Gull Lake 6, St. Joseph 0                                    SMAC Championship game
Mattawan 4, Battle Creek Lakeview 1                   SMAC 3rd place game
Portage Northern 5, Lakeshore 0                        SMAC 5th place game
Kalamazoo Central 3, Portage Central 0               SMAC 7th place game
Kalamazoo Loy Norrix 4, Niles 0                          SMAC 9th place game
Battle Creek Central (bye)                                 SMAC 11th place
Other Games
New Buffalo 8, Lake Michigan Catholic 0
Covert 2, South Haven 0
Fennville 2, Kalamazoo Hackett 1                        Fennville wins SAC Conference championship
Girls Volleyball
Coloma 3, Watervliet 0
Mendon 3, Bangor 0
Centreville 3, Decatur 2
Marcellus 3, Hartford 0
White Pigeon 3, Eau Claire 0
Lawton at Delton-Kellogg, 6:30 p.m.
Schoolcraft at Martin, 6:30 p.m.
Galesburg-Augusta 3, Constantine 1
Girls Swimming and Diving
St. Joseph 111, Battle Creek Central 69
Harper Creek 112, South Haven 69
Tonight
Boys Soccer – Districts
Division 2 (Plainwell)
Plainwell at Otsego, 5:00 p.m.
Division 2 (Harper Creek)
Vicksburg at Gull Lake, 5:00 p.m.
Battle Creek Pennfield at Harper Creek, 5:00 p.m.
Division 3 (Coloma)
Brandywine at Dowagiac, 4:30 p.m.
Division 3 (Fennville)
Hopkins at Delton-Kellogg, 5:00 p.m.
Comstock at Parchment, 6:00 p.m.
Division 4 (Lawton)
Marcellus at Lawton, 5:00 p.m.
Girls Volleyball
Lakeshore at Mattawan, 6:30 p.m.
St. Joseph at Portage Central, 6:30 p.m.
Portage Northern at Niles, 6:30 p.m.
Michigan Lutheran at Covert, 6:00 p.m.
Kalamazoo Central at Gull Lake, 6:30 p.m.
New Buffalo at Countryside, 6:00 p.m.
Brandywine at Buchanan, 6:00 p.m.