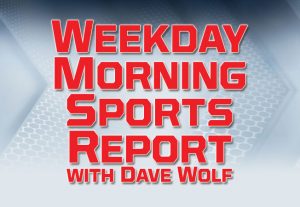 Other NFL Scores
L.A. Chargers 30, Miami 10
N.Y. Giants 24, Washington 3
Tennessee 24, Atlanta 10
Carolina 16, Houston 10
Cleveland 40, Baltimore 25
New England 16, Buffalo 10
Seattle 27, Arizona 10
Jacksonville 26, Denver 24
Tampa Bay 55, L.A. Rams 40
New Orleans 12, Dallas 10
NFL – National Football League – Week 4
Last Night
Kansas City Chiefs 34, Detroit Lions 30
Chicago Bears 16, Minnesota Vikings 6
Oakland Raiders 31, Indianapolis Colts 24
Chiefs 34, Lions 30 – Chiefs score late, stay undefeated with 34-30 win over Lions
Darrel Williams ran for a go-ahead, 1-yard touchdown with 23 seconds left for his second score in the fourth quarter, lifting the Kansas City Chiefs to a 34-30 win over the Detroit Lions.  Detroit drove to the Kanas City 44 on the final drive and Matthew Stafford heaved two passes toward the end zone that were incomplete, ending the game.  The Chiefs (4-0) went ahead for the first time Sunday early in the third quarter when Bashaud Breeland recovered Kerryon Johnson's fumble and returned it 100 yards, taking advantage of everyone on the field appearing to stop momentarily and the officials not blowing a whistle. The pivotal play stood after review.  The Lions (2-1-1) scored the first 10 points and, after Kansas City pulled into two ties, went back ahead late in the second, third and fourth quarters.  Stafford was 21 of 34 for 291 yards with three touchdowns, including two to Golladay and one to T.J. Hockenson. Stafford's second touchdown pass of the game — and first to Golladay — put Detroit up 23-20 and followed a fifth fumble in the third quarter. Johnson had 125 yards rushing on 26 carries.
Bears 16, Vikings 6 – Bears lose Trubisky, shut down Cook in 16-6 win over Vikings
Chase Daniel threw for 195 yards and a touchdown after Mitchell Trubisky got knocked out of the game with a left shoulder injury on the opening possession, and the Chicago Bears swarmed NFL rushing leader Dalvin Cook in a 16-6 victory over the Minnesota Vikings on Sunday.  The defending NFC North champions avoided an 0-2 start at Soldier Field and another home loss to a division rival to go with the one they suffered against Green Bay in the NFL's 100th season opener. But they lost their quarterback soon after the opening kickoff.  The No. 2 overall pick in the 2017 draft, Trubisky was scrambling when Danielle Hunter dragged him down. The quarterback's non-throwing arm got pinned awkwardly under his body as the ball popped out. Minnesota made the recovery, but a holding penalty against Anthony Harris negated the play.  Trubisky headed to the sideline and walked to the locker room a few minutes later.  Daniel came on and connected with Tarik Cohen on a 10-yard touchdown to complete a 14-play drive. The 10th-year pro completed 22 of 30 passes.  The Bears (3-1) held Cook to 35 yards on 14 attempts after he ran for at least 110 in the first three games, even though Akiem Hicks (knee) and linebacker Roquan Smith (personal) missed the game.
Raiders 31, Colts 24 – Raiders use fast start, interception return to beat Colts
Oakland Raiders quarterback Derek Carr turned things around in a hurry Sunday.  He hooked up with open receivers, watched the running game establish itself and enjoyed seeing Oakland transform itself from a struggling offense to the kind coach Jon Gruden envisioned.  Carr led the Raiders to touchdowns on three of their first four drives, and safety Eric Harris returned a late interception 30 yards for a touchdown to secure a 31-24 victory at Indianapolis.
Tonight
Cincinnati Bengals at Pittsburgh Steelers, 8:15 p.m.                   106.1 & 1400 WSJM Sports 7:30
NFL – NFL, game officials agree on labor deal through 2025 season
The NFL has agreed with game officials on a seven-year labor contract that will run through the 2025 season.  The deal announced Saturday came with the current contract set to expire in May. The new agreement lasts through May 2026.  League executive vice president Troy Vincent says the agreement "solidifies the working partnership between the league and officials toward the common goal of developing and training the best officials in the world."  The new collective bargaining agreement covers compensation and benefits and emphasizes efforts to train and develop officials.  Union president Tony Steratore is in his 20th season as an official. He says it's good to have the contract settled because "we all must keep pace with the speed and skill of the players, not to mention to increased use of technology."
MLB – Major League Baseball
Yesterday
Chicago White Sox 5, Detroit Tigers 3
St. Louis Cardinals 9, Chicago Cubs 0
White Sox 5, Tigers 3 – Anderson earns AL batting title at .335 as White Sox win
Tim Anderson became the third Chicago White Sox player to win an American League batting title, finishing at .335 after going 0 for 2 in a season-ending 5-3 win over the worst-in-the-majors Detroit Tigers on Sunday.  Anderson joined Luke Appling (1936 and 1943) and Frank Thomas (1997) as batting champions for the White Sox. The 26-year-old Anderson hit .240 in 567 at-bats last season.  Chicago went 72-89, up from 62-100 last year.  Detroit skidded to a 47-114 mark from last year's 64-98 and wound up with the second-most losses in franchise history behind 119 in 2003. The Tigers will pick first in the amateur draft next June for the second time in three years. Chicago trailed 2-1 before a four-run sixth inning. Yoán Moncada hit an RBI groundout, Eloy Jiménez followed with a run-scoring double against Spencer Turnbull (3-17) and Welington Castillo hit a two-run homer off David McKay.  Turnbull was 0-13 in his last 18 starts after beating Atlanta on May 31. Turnbull allowed four runs and three hits in 5 1/3 innings.
Cardinals 9, Cubs 0 – Cardinals clinch NL Central; Cubs lose in Maddon's finale
The St. Louis Cardinals clinched the NL Central on the final day of the regular season, using Jack Flaherty's arm and Matt Carpenter's bat Sunday to win their first division title since 2015 with a 9-0 victory over the Chicago Cubs.  The Cubs lost on Joe Maddon's final day as their manager. It was announced before the game that he won't return next year.  Flaherty tossed seven impressive innings and Carpenter led a three-homer attack with a three-run drive to help St. Louis advanced to the NL Division Series, starting Thursday at Atlanta.  Manager Mike Shildt and the Cardinals began the day with a one-game lead over Milwaukee. The second-place Brewers will play at Washington in the NL wild-card game Tuesday night, with the winner going on to play Los Angeles in the NLDS.  Paul Goldschmidt and Dexter Fowler also homered for St. Louis, which is back in the postseason after a three-year absence. The Cardinals have won or shared 12 division titles since the current format was developed in 1995.  St. Louis (91-71) finished three games better than last season (88-74).  The Cubs had a four-year postseason run snapped.
End regular season
Tuesday
NL Wildcard
Milwaukee at Washington, 8:08 p.m.
Wednesday
AL Wildcard
Tampa Bay at Oakland, 8:00 p.m.
MLB – Manager Joe Maddon won't be back with Cubs next season
Chicago Cubs manager Joe Maddon will not be back with the team next season after it failed to make the playoffs for the first time in five years. Maddon and Cubs president of baseball operations Theo Epstein announced the move before the team's season finale at St. Louis. Maddon's contract expires after Sunday's game.  The change in the dugout begins what could be an active offseason for the Cubs, and Maddon once again becomes one of baseball's top free agents.  While Maddon is out after five seasons, he is tied to Chicago forever after managing the Cubs to the 2016 World Series title for the franchise's first championship in 108 years.  Chicago also made it to the NL Championship Series in 2015 and 2017, but it faltered in September each of the last two seasons. The Cubs finished third in the NL Central this year.
NASCAR – Elliott takes Charlotte race
Chase Elliott overcame a major mistake to win NASCAR's Cup playoff race at Charlotte Motor Speedway. Elliott recovered from an earlier gaffe when he was leading on a restart, locked his wheels headed into the first turn and drove directly into a tire barrier. Alex Bowman finished second in the race and managed to advance to the second round when Ryan Newman missed a chicane, an error that cost him his shot at joining the final 12. Kevin Harvick finished third and was followed by Stewart-Haas Racing teammate Clint Bowyer, who was in danger of being eliminated from the playoffs before his fourth-place finish.
AP TOP 25

1

Alabama (29)

5-0

2

Clemson (18)

5-0

3

Georgia (4)

4-0

4

Ohio State (7)

5-0

5

LSU

4-0

6

Oklahoma

4-0

7

Auburn

5-0

8

Wisconsin

4-0

9

Notre Dame

3-1

10

Florida

5-0

11

Texas

3-1

12

Penn State

4-0

13

Oregon

3-1

14

Iowa

4-0

15

Washington

4-1

16

Boise State

4-0

17

Utah

4-1

18

UCF

4-1

19

Michigan

3-1

20

Arizona State

4-1

21

Oklahoma State

4-1

22

Wake Forest

5-0

23

Virginia

4-1

24

SMU

5-0

25

Texas A&M

3-2

tie

Michigan State

4-1
NCAAFB – Alabama jumps to No. 1
Alabama is No. 1 in The Associated Press college football poll for the first time this season, replacing preseason No. 1 Clemson following the Tigers' 21-20 win at North Carolina. The last time a No. 1 team won and dropped was Ohio State in November 2015, after the Buckeyes beat Minnesota 28-14 at home. Alabama received 29 of 61 first-place votes from the media panel, while second-ranked Clemson claimed 18. Third-ranked Georgia picked up four first-place votes and No. 4 Ohio claimed seven. LSU, Oklahoma, Auburn, Wisconsin, Notre Dame and Florida round out the top 10. No. 24 SMU is ranked for the first time since the program received the so-called death penalty for NCAA rules violations in 1987 and did not compete for two seasons.           
NCAAFB – Big Ten – Rutgers fires coach Ash after 3-plus seasons
Rutgers has fired football coach Chris Ash four games into a season where the hapless Scarlet Knights are showing little progress.   Athletic director Pat Hobb announced the firing less than 24 hours after Rutgers (1-3) was embarrassed 52-0 by Michigan. The Scarlet Knights were 1-11
last season and have not won a Big Ten game since 2017. Hobbs also announced offensive coordinator John McNulty has been fired and tight ends coach Nunzio Campanile will serve as interim head coach for the remainder of the season. The 45-year-old Ash posted an 8-32 record in three-plus years, including a 3-26 mark in the Big Ten Conference.  Rutgers will host Maryland on Saturday.
MCCAA – Junior College Athletics
Yesterday
Women's Soccer
Lakeland Community College 2, Lake Michigan College 1
Men's Soccer
Lakeland Community College 5, Lake Michigan College 1
MHSAA – High School Athletics
Tonight
Girls Volleyball
Three Rivers at St. Joseph, 6:30 p.m.
Saugatuck at Watervliet, 5:00 p.m.
Boys Soccer
Lake Michigan Catholic at Lawrence, 5:00 p.m.
Berrien Springs at Michigan Lutheran, 5:00 p.m.
New Buffalo at Covert, 5:00 p.m.
Vicksburg at Edwardsburg, 5:30 p.m.
Sturgis at Otsego, 6:30 p.m.
Paw Paw at Plainwell, 6:30 p.m.
Dowagiac at South Haven, 6:30 p.m.
Allegan at Three Rivers, 4:45 p.m.
Bloomingdale at Cassopolis, 5:00 p.m.
Bangor at Eau Claire, 5:00 p.m.
Hartford at Marcellus, 5:00 p.m.
Kalamazoo Christian at Delton-Kellogg, 6:00 p.m.
Coloma at Kalamazoo Hackett, 6:00 p.m.
Constantine at Lawton, 6:00 p.m.
Fennville at Saugatuck, 5:00 p.m.
Watervliet at Schoolcraft, 5:30 p.m.