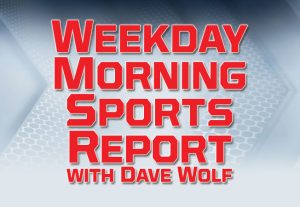 NFL – National Football League – Week 3
Yesterday
Detroit Lions 27, Philadelphia Eagles 24
Indianapolis Colts 27, Atlanta Falcons 24
Lions 27, Eagles 24 – Stafford, Agnew lead Lions over Eagles 27-24
Matthew Stafford threw a touchdown pass to Marvin Jones, Jamal Agnew returned a kickoff 100 yards for a score and the Detroit Lions held on for a 27-24 victory over the Philadelphia Eagles on Sunday.  The Eagles had a chance after Malcolm Jenkins blocked Matt Prater's 46-yard field goal try with 1:53 left. Rasul Douglas returned it to the Lions 22, but an illegal block on Jenkins pushed it back to midfield.  On fourth-and-5, Darren Sproles caught a pass for a first down but got called for Philadelphia's third offensive pass interference. Wentz's deep pass to J.J. Arcega-Whiteside fell incomplete with 41 seconds left.  The Lions (2-0-1) remain undefeated and the Eagles (1-2) have lost two in a row.  Jones had six catches for 116 yards, including a 12-yard TD reception that extended Detroit's lead to 27-17 on the first play of the fourth quarter.
Colts 27, Falcons 24 – Brissett's fast start helps Colts hold off Falcons 27-24
Jacoby Brissett threw two touchdown passes in the first half, and Marlon Mack scored on a 4-yard run in the fourth quarter to lead the Indianapolis Colts past Atlanta 27-24. Indy has won two straight overall and seven in a row at home. The Falcons rallied from a 20-3 halftime deficit to get within three on Matt Ryan's 14-yard touchdown pass with 4:11 to play. But the Falcons opted to kick deep and never got the ball back.
Tonight
Chicago Bears at Washington Redskins, 8:15 p.m.              106.1 & 1400 WSJM Sports 7:30
MLB – Major League Baseball
Yesterday
Detroit Tigers 6, Chicago White Sox 3
St. Louis Cardinals 3, Chicago Cubs 2
Tigers 6, White Sox 3 – 4 homers lead Tigers to 6-3 win over White Sox
Willi Castro hit his first major league homer, one of four connections by the Detroit Tigers in a 6-3 win over the Chicago White Sox on Sunday.  Jeimer Candelario, Gordon Beckham and Victor Reyes also went deep for Detroit, which came into the game having allowed 100 more homers than it had hit.  Detroit's Matthew Boyd (9-11), who missed his last start after the death of his grandfather, gave up three runs, eight hits and two walks in five innings.  The White Sox got a homer from Wellington Castillo but lost for the 17th time in 25 games.  Joe Jimenez pitched the ninth for his eighth save.
Cardinals 3, Cubs 2 – Goldschmidt, Cards clinch playoff spot, rally past Cubs 3-2
Paul Goldschmidt hit a tiebreaking double in the ninth inning and the St. Louis Cardinals clinched a playoff spot by rallying past the Chicago Cubs 3-2 on Sunday for their first four-game sweep at Wrigley Field in almost a century.  Pinch hitter José Martínez sparked the winning rally with a leadoff triple that glanced off the glove of diving center fielder Albert Almora Jr. Dexter Fowler followed with a sacrifice fly, tying it at 2.  After rookie Tommy Edman singled and stole second, Goldschmidt hit a grounder down the third-base line to put the Cardinals in front for good in the Cubs' rainy home finale.  NL Central-leading St. Louis qualified for the postseason for the first time since 2015 and stayed three games ahead of Milwaukee.   It was the first four-game series sweep for St. Louis (89-67) at Chicago's famed ballpark since May 1921.  The Cubs have lost their 6th straight game and sit 4 games out of the final wild card spot with 6 games to play.
Today
Tigers, Cubs, and White Sox are off
AP TOP 25

1

Clemson (55)

4-0

2

Alabama (6)

4-0

3

Georgia (1)

4-0

4

LSU

4-0

5

Ohio State

4-0

6

Oklahoma

3-0

7

Auburn

4-0

8

Wisconsin

3-0

9

Florida

4-0

10

Notre Dame

2-1

11

Texas

3-1

12

Penn State

3-0

13

Oregon

3-1

14

Iowa

3-0

15

California

4-0

16

Boise State

4-0

17

Washington

3-1

18

Virginia

4-0

19

Utah

3-1

20

Michigan

2-1

21

USC

3-1

22

UCF

3-1

23

Texas A&M

2-2

24

Kansas State

3-0

25

Michigan State

3-1
NCAAFB – Wisconsin cracks top 10
Wisconsin moved into the top 10 for the first time this season, landing at No. 8 in The Associated Press college football poll after a weekend during which seven ranked teams lost. The top of the AP Top 25 presented by Regions Bank remained mostly unchanged, with Clemson staying No. 1, followed by three Southeastern Conference teams: No. 2 Alabama, No. 3 Georgia and No. 4 LSU. Ohio State edged past Oklahoma to No. 5. Clemson received 55 first-place votes from the media panel. Alabama had six and Georgia received one. Auburn moved up a spot to No. 7 after beating Texas A&M 28-20 and Wisconsin jumped five spots to No. 8 after defeating Michigan 35-14. Florida remained No. 9 and Notre Dame slipped three spots to No. 10 after losing 23-17 at Georgia.
NHL – National Hockey League Preseason
Last Night
Detroit Red Wings 3, Pittsburgh Penguins 2 – OT
Tonight
Detroit Red Wings at New York Islanders, 7:00 p.m.
Golf – PGA – Munoz gets first PGA win
Sebastian Munoz of Colombia closed with a 2-under 70 and rallied to earn his first PGA victory, taking the Sanderson Farms Championship in Mississippii.  Munoz made a 15-foot birdie putt on the 18th hole to force a playoff before  defeating Sungjae Im with a par on the first extra hole.
Golf – Champions – Mediate rallies to win
Rocco Mediate birdies his last two holes for a 6-under 64 and won the Sanford International by two shots when Ken Duke made double bogey on the final hole. Duke had needed a par to force a sudden-death playoff but took four shots to reach the green. Mediate won on the PGA Tour Champions for the first time in three years.
MHSAA – Loy Norrix leaving SMAC for football
Kalamazoo Loy Norrix announced that the school will be leaving the Southwest Michigan Athletic Conference for football as of 2020.   Loy Norrix says that they are unable to compete in the SMAC, playing against traditional state powerhouse teams like Portage Northern, Portage Central, St. Joseph and Lakeshore.  Despite being the 2nd largest school in terms of enrollment, the team only has 33 players on their varsity team, with only 9 seniors, 11 juniors, and the last of the 13 players on the roster sophomores.   Norrix will compete as an independent for football, but remain in the SMAC for all other league sports.   In a report in the Kalamazoo Gazette, the schedule for 2020 will continue to have rival Kalamazoo Central, but also games against Benton Harbor and Niles.  They also have games scheduled against Delton-Kellogg, Lansing Eastern, and Ottawa Lake Whiteford who has just 256 students compared to the 1,606.    Norrix was the home for former Michigan State Spartan and Detroit Lion T.J. Duckett.  Norrix has won 20 games since the start of the 2004 season with one of those wins coming via a forfeit.  Loy Norrix is currently 0-4 and will be at 4-0 St. Joseph on Friday at 5:00 p.m.
MHSAA – High School Sports
Tonight
Boys Soccer
Lawrence at Michigan Lutheran, 5:00 p.m.
South Haven at Three Rivers, 4:45 p.m.
Paw Paw at Vicksburg, 6:00 p.m.
Dowagiac at Sturgis, 6:00 p.m.
Otsego at Allegan, 6:00 p.m.
Plainwell at Edwardsburg, 5:30 p.m.
Bridgman at Berrien Springs, 5:00 p.m.
Covert at Brandywine, 5:00 p.m.
Howardsville Christian at New Buffalo, 6:00 p.m.
Cassopolis at Bangor, 5:00 p.m.
Marcellus at Eau Claire, 5:00 p.m.
Bloomingdale at Hartford, 5:00 p.m.
Constantine at Coloma, 6:00 p.m.
Kalamazoo Christian at Fennville, 4:30 p.m.
Schoolcraft at Lawton, 6:00 p.m.
Kalamazoo Hackett at Saugatuck, 6:00 p.m.
Girls Volleyball
Fennville at River Valley, 6:30
Boys Tennis
St. Joseph at Mattawan, 4:00 p.m.
Paw Paw at South Haven, 4:00 p.m.