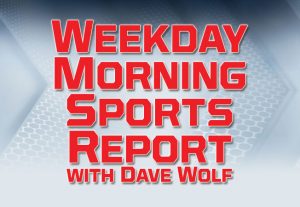 MLB – Major League Baseball
Yesterday
Cleveland Indians 2, Detroit Tigers 1 – 10 Innings
Chicago White Sox 3, Minnesota Twins 1
Cincinnati Reds 3, Chicago Cubs 2 – 10 Innings
Indians 2, Tigers 1- 10 Innings – Puig single in 10th lifts contending Indians over Tigers 2-1
Yasiel Puig hit an RBI single off the top of the right field wall with two outs in the 10th inning and the Cleveland Indians kept up their playoff push, beating the Detroit Tigers 2-1 Wednesday night.  The Indians entered the day one-half game behind Tampa Bay for the second AL wild-card spot. Cleveland stayed 2 ½ games behind wild-card leader Oakland.  Cleveland beat the Tigers for the 16th straight time this season, one shy of its franchise record set against Baltimore in 1954. The Indians are 17-1 against the Tigers this year, outscoring them 109-38.  The Tigers, with the worst record in the majors at 45-106, matched their longest losing streak against an opponent. They also dropped 16 in a row to Minnesota in 2002-03.
White Sox 3, Twins 1 – Twins lose 3-1 to White Sox, division lead trimmed to 4
Held without a hit until the sixth inning, the Minnesota Twins managed only three in 3-1 loss to the Chicago White Sox that shrunk their AL Central lead Wednesday night.  Minnesota is four games ahead of Cleveland after the Indians beat Detroit 2-1 in 10 innings. The surprising Twins still have a magic number of seven to clinch their first division title since 2010.  Zack Collins homered and Yoán Moncada doubled twice for the White Sox. A trio of Chicago pitchers combined to take a no-hitter into the sixth.  Eddie Rosario had an RBI single for Minnesota. Jake Odorizzi (14-7) struck out nine in 5 2/3 innings but lost for the second time in nine starts. He allowed two earned runs and seven hits.  Jace Fry (3-4) pitched 1 2/3 innings to get the win for Chicago, which had lost 4 straight and 16 of 21. Alex Colomé earned his 28th save in 30 chances with a perfect 9th.
Reds 3, Cubs 2 – 10 Innings – Iglesias' double in 10th leads Reds past Cubs 3-2
José Iglesias had an RBI double in the 10th inning and five Cincinnati pitchers combined for a four-hitter as the Reds recorded their second straight win over the playoff-contending Chicago Cubs 3-2 on Wednesday night.  With two outs and none on in the top of the 10th, Cincinnati's Aristides Aquino started the winning rally against James Norwood (0-1) with a single to left. After Aquino advanced on a wild pitch, Josh VanMeter walked, putting runners on first and second. Iglesias then doubled to right to score Aquino with the go-ahead run.  Amir Garrett (5-3) struck out Kyle Schwarber to end the ninth and Raisel Iglesias worked around a one-out double in the 10th for his 33rd save. The Reds finished with an 11-8 record against the Cubs this season.  Chicago opens a four-game series against St. Louis on Thursday night at Wrigley Field. 
Tonight
Detroit (Zimmermann 1-11) at Cleveland (Clevinger 11-3), 7:10 p.m.          Superhits 103.7 Cosy-FM 6:45
St. Louis (Flaherty 10-8) at Chicago Cubs (Hendricks 11-9), 7:15 p.m.
White Sox are off
NFL – National Football League – Week 3
Tonight
Tennessee Titans at Jacksonville Jaguars, 8:20 p.m.                               106.1 & 1400 WSJM Sports 8:00
NFL – Brees has surgery on right hand
New Orleans Saints quarterback Drew Brees will miss several weeks while recovering from surgery to repair a ligament near his right thumb. Coach Sean Payton wouldn't discuss a timetable for Brees' return, but said it's unlikely he will be placed on injured reserve. That means doctors think Brees will be able to return this season. Payton declined to name a starter for the Sunday's game at Seattle. Teddy Bridgewater entered last Sunday's loss to the Rams after Brees injured the thumb on his throwing hand while attempting a pass.
NHL – National Hockey League Preseason
Last Night
Chicago Blackhawks 2, Detroit Red Wings 1
MCCAA – Junior College Sports
Tonight
Women's Volleyball
Kalamazoo Valley Community College at Lake Michigan College, 6:30 p.m.
MHSAA – High School Sports
Last Night
Girls Volleyball
Mattawan 3, St. Joseph 0
Lakeshore 3, Niles 1
Michigan Lutheran 3, Lake Michigan Catholic 1
Brandywine 3, Comstock 0
Parchment 3, Berrien Springs 0
Bridgman 3, Buchanan 0
Boys Tennis
Allegan 6, Kalamazoo Hackett 2
Boys Soccer
New Buffalo 8, Michigan Lutheran 0
Edwardsburg 2, South Haven 0
Paw Paw 4, Three Rivers 0
Plainwell 5, Dowagiac 0
Vicksburg 3, Otsego 2
Allegan 5, Sturgis 0
Berrien Springs 7, Parchment 0
Bridgman 8, Buchanan 2
Brandywine 2, Comstock 1
Bloomingdale 8, Marcellus 0
Hartford 5, Bangor 3
Fennville 7, Coloma 2
Watervliet 9, Lawton 1
Saugatuck 2, Constantine 2 – TIE
Kalamazoo Christian 7, Schoolcraft 4
Girls Golf
SMAC West at The Moors G.C.
St. Joseph      184               (Medalist) Maya Hunter (SJ)
Mattawan       195
P. Central      200
Niles             204
Lakeshore       208
P. Northern    209
Tonight
Boys Soccer
Niles at St. Joseph, 6:30 p.m.
Lakeshore at Portage Central, 6:30 p.m.
Gull Lake at Mattawan, 6:30 p.m.
Kal. Loy Norrix at Battle Creek Central, 6:30 p.m.
Kalamazoo Central at Battle Creek Lakeview, 6:30 p.m.
Fennville at Three Rivers, 5:00 p.m.
Howardsville Christian at Bridgman, 5:00 p.m.
Constantine at Brandywine, 5:00 p.m.
Comstock at Schoolcraft, 5:00 p.m.
Hartford at Kalamazoo Christian, 5:00 p.m.
Saugatuck at Holland Black River, 5:00 p.m.
Delton-Kellogg at Kalamazoo Hackett, 5:00 p.m.
Girls Volleyball
Paw Paw at Dowagiac, 6:00 p.m.
Plainwell at South Haven, 6:00 p.m.
Allegan at Otsego, 6:00 p.m.
Three Rivers at Sturgis, 6:00 p.m.
Edwardsburg at Vicksburg, 6:00 p.m.
Howardsville Christian at New Buffalo, 6:00 p.m.
Bloomingdale at Bangor, 7:00 p.m.
Marcellus at Eau Claire, 7:00 p.m.
Centreville at Hartford, 7:30 p.m.
Cassopolis at Mendon, 7:00 p.m.
Decatur at White Pigeon, 7:00 p.m.
Martin at Galesburg-Augusta, 5:00 p.m.
Girls Swimming and Diving
South Haven at St. Joseph, 6:00 p.m.