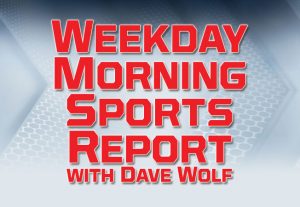 NFL – National Football League – Week 2
Yesterday
Detroit Lions 13, Los Angeles Chargers 10
Chicago Bears 16, Denver Broncos 14
Indianapolis Colts 19, Tennessee Titans 17
Lions 13, Chargers 10 – Stafford overcomes mistakes to help Lions top Chargers
Matthew Stafford threw a go-ahead, 31-yard touchdown pass to Kenny Golladay midway through the fourth quarter and Darius Slay made an interception in the end zone with 1:03 left, allowing the Detroit Lions to beat the Los Angeles Chargers 13-10 Sunday despite a slew of mistakes.  Detroit (1-0-1) overcame Stafford's two interceptions, Slay giving up a lot of receptions and Matt Prater missing an extra point and a field goal.  The Chargers (1-1) were in a position to attempt a 45-yard field goal to tie the game, but Philip Rivers tried to force a pass to Keenan Allen and Slay picked it off.  Stafford was 22 of 30 for 245 yards with two TDs and two interceptions. Rivers was 21 of 36 for 293 yards and an interception.
Bears 16, Broncos 14 – Pineiro's 53-yard field goal lifts Bears past Broncos 16-14
Eddy Pineiro kicked a 53-yard field goal as time expired, giving the Chicago Bears a wild 16-14 win over the Broncos and their former defensive coordinator Vic Fangio, whose gutsy 2-point call 31 seconds earlier had given Denver the lead.  The Broncos (0-2) thought time had expired when Mitchell Trubisky stepped up and threw a 25-yard pass to Allen Robinson on fourth-and-15 from his 40-yard line. Robinson was tackled at the Denver 35 by Chris Harris Jr.  The clock showed all zeroes and both teams milled around on the field not knowing whether to celebrate a win or lament a loss. Then referee Adrian Hill announced there was 1 second remaining and Chicago was using its last timeout.  Pineiro's winner sent the Bears (1-1) streaming back onto the field in celebration of a victory that seemed so unlikely after they'd surrendered the lead moments earlier.
Colts 19, Titans 17 – Brissett spoils Titans' opener, rallying Colts to 19-17 win
Another quarterback, another victory for the Colts against the Titans. Jacoby Brissett became the latest Indianapolis quarterback to top Tennessee, throwing a 4-yard touchdown pass to T.Y. Hilton with 4:38 left to lead the Colts to a 19-17 victory Sunday in the Titans' home opener.  Brissett had come up empty for Indianapolis against Tennessee, losing both games he started against the Titans in 2017. After Andrew Luck retired with a perfect 11-0 record against the Titans, Brissett picked up right where Luck left off. He passed for 146 yards and three TDs.  The Colts (1-1) also sacked Marcus Mariota four times on a day when Adam Vinatieri, the NFL's oldest player and career scoring leader, missed two extra points. It was Indianapolis' 14th win in its last 16 games against Tennessee overall.  The Titans (1-1) missed their chance for payback against Indianapolis after losing the 2018 regular-season finale, along with a playoff berth on the line for the winner. They haven't started 2-0 since 2008 when they won their first 10 games and last won the AFC South.
Tonight
Cleveland Browns at New York Jets, 8:15 p.m.                   106.1 & 1400 WSJM Sports 7:30
NFL – NFL to meet with Antonio Brown accuser Monday
The NFL plans to meet Monday with a woman who says she was raped by New England Patriots wide receiver Antonio Brown.  A person with direct knowledge of the situation confirmed the meeting to The Associated Press on condition of anonymity because of the sensitivity of the situation. Britney Taylor accused Brown of rape and sexual assault in a federal lawsuit filed Tuesday in the Southern District of Florida. Brown has denied the allegations by his former trainer. Taylor said Tuesday in a statement she will cooperate with the NFL and any other agencies. Darren Heitner, a lawyer representing Brown, said Brown and Taylor had "a consensual personal relationship." He told the AP on Tuesday his client plans to countersue.  The Boston Globe first reported the meeting. Brown was active for Sunday's game at Miami after he wasn't placed on the commissioner's exempt list. No criminal charges have been filed and the NFL hasn't fully developed its investigation, so Brown is able to make his debut with the Patriots, who acquired him after Brown requested and got his release from Oakland.
MLB – Major League Baseball
Yesterday
Baltimore Orioles 8, Detroit Tigers 2
Seattle Mariners 11, Chicago White Sox 10
Chicago Cubs 16, Pittsburgh Pirates 6
Orioles 8, Tigers 2 – Tigers lose 104th game, move closer to first overall pick
Edwin Jackson allowed five runs in five innings, and the Detroit Tigers took control of the race for the top pick in next June's amateur draft with an 8-2 loss to the Baltimore Orioles on Sunday. Detroit (44-104) has lost two of the first three games of the four-game series against the Orioles (49-100), opening a 41/2-game advantage for the worst record in the major leagues. Any combination of 10 Tigers losses and Orioles wins would clinch the top pick for Detroit in a draft highlighted by Arizona State first baseman Spencer Torkelson and Georgia pitcher Emerson Hancock. Baltimore took Oregon State catcher Adley Rutschman with the top pick this year after finishing 47-115 last season. Detroit selected Auburn pitcher Casey Mize with the No. 1 selection in 2018, a year after going 64-98. Jackson (3-10) gave up seven hits and two walks in five-plus innings, dropping to 0-6 with a 11.47 ERA in his last five starts.
Mariners 11, White Sox 10 – White Sox walk home winning run, Lewis HRs in Mariners' win
Jose Ruiz walked Tom Murphy with the bases loaded in the ninth inning and the Seattle Mariners won via walk-off for the second straight game, beating the Chicago White Sox 11-10 on Sunday.
A day after former White Sox catcher Omar Narvaez hit a game-ending homer in the 10th, Seattle rallied from five runs down to again beat Chicago.  Top prospect Kyle Lewis hit a three-run homer in the eighth inning, his fourth connection in six major league games. Mallex Smith then tied it at 10 with a single that scored pinch-runner Keon Broxton from second base.  Austin Adams (2-2) struck out Chicago's top three batters in the ninth for the win. He got Tim Anderson and Yoan Moncada on three pitches each.
Cubs 16, Pirates 6 – Cubs' Rizzo sprains right ankle during 16-6 win over Pirates
Star first baseman Anthony Rizzo was pulled from a game Sunday with a sprained right ankle, putting a damper on the Chicago Cubs' 16-6 victory over the Pittsburgh Pirates. Rizzo was injured fielding a bunt at first base in the third inning. He had to be helped off the field and could not put pressure on the leg. X-rays taken at Wrigley Field showed no fractures, and an MRI has been scheduled for Monday. Chicago's postseason pursuit has already been hindered by an injury to shortstop Javier Baez, who is out for the rest of the regular season with a hairline fracture of his left thumb.  The Cubs maintained their one-game lead over Milwaukee for the second NL wild card. The Nationals are 1 1/2 games ahead of Chicago for the first wild card. Kris Bryant homered twice, and Ian Happ, Kyle Schwarber and Jonathan Lucroy also connected as Chicago battered Pittsburgh for a third straight day. The Cubs scored a total of 47 runs on 49 hits in completing the three-game sweep. Chicago starter Jose Quintana was pulled after allowing five runs in the third inning, when he fell apart following Rizzo's injury.
Today
Baltimore (Means 10-10) at Detroit (Alexander 0-3), 4:10 p.m.             WSJM Sports/Cosy-FM 3:45
Chicago White Sox (Lopez 9-13) at Minnesota (Perez 10-7), 7:40 p.m.
Cincinnati (Gray 10-7) at Chicago Cubs (Hamels 7-7), 8:05 p.m.
NASCAR – Truex wins NASCAR's opening playoff race
Martin Truex Jr. has won the opening race of NASCAR's playoffs to earn an automatic berth into the second round. Truex's victory Sunday at Las Vegas Motor Speedway was his series-best fifth of the season and again cemented Joe Gibbs Racing as the team to beat in this 10-race playoff series. JGR has 14 wins this season. Truex chased down Kevin Harvick, who was slowed by traffic, to cut into Harvick's lead and eventually make the pass for the win on the outside with 20 laps remaining. The top nine finishers were all playoff contenders as Truex was followed by Harvick, Brad Keselowski, Chase Elliott, Ryan Blaney, Alex Bowman, William Byron, Kyle Larson and reigning series champion Joey Logano.
AP Top 25

1

Clemson (57)

3-0

2

Alabama (5)

3-0

3

Georgia

3-0

4

LSU

3-0

5

Oklahoma

3-0

6

Ohio State

3-0

7

Notre Dame

2-0

8

Auburn

3-0

9

Florida

3-0

10

Utah

3-0

11

Michigan

2-0

12

Texas

2-1

13

Wisconsin

2-0

Tie

Penn State

3-0

15

UCF

3-0

16

Oregon

2-1

17

Texas A&M

2-1

18

Iowa

3-0

19

Washington State

3-0

20

Boise State

3-0

21

Virginia

3-0

22

Washington

2-1

23

California

3-0

24

Arizona State

3-0

25

TCU

2-0
NCAAFB – Cal, Arizona St move in to give Pac-12 6 ranked
California and Arizona State have moved into the AP Top 25 college football poll to give the Pac-12 six ranked teams, the most for the conference in almost four years. A weekend filled with blowouts left the top half of the AP media poll presented by Regions Bank mostly unchanged. Clemson remains No. 1, with 57 of the 62 first-place votes, as the top nine held their spots Sunday. Alabama was No. 2, receiving five first-place votes, followed by Georgia, LSU, Oklahoma, Ohio State, Notre Dame, Auburn and Florida. The ninth-ranked Gators were the only top-10 team to play a competitive game. The others won by a combined 428-97. Utah, the highest ranked Pac-12 team, moved up to No. 10. The last time the Pac-12 had six ranked teams was Nov. 8, 2015.
NCAAFB – Pac-12 acknowledges officiating error in ASU's win
The Pac-12 Conference acknowledged an officiating error on the last play of Arizona State's 10-7 victory at Michigan State on Saturday. The conference said Sunday night that the Sun Devils should have been called for leaping on Michigan State's missed field goal attempt as time expired.  "An Arizona State defensive player took a running start and leapt over the kicking team's line in an attempt to block the kick," the Pac-12 said in a statement. "In the process, he leapt into the frame of the body of an opponent. The penalty would have been 15 yards from the previous spot and an automatic first down. In this case, it would have been administered as half the distance to the goal and Michigan State would have been provided one untimed down." Michigan State had a tying field goal in the final seconds negated for having too many men on the field, setting up the second attempt that Matt Coghlin hooked well left.
MWL – 2019 Midwest League Baseball Championship Series (Best of 5)
Saturday
South Bend Cubs 5, Clinton Lumberkings 0                                   (SB wins 3-0)
South Bend wins 2019 Midwest League Championship
MCCAA – Junior College Sports
Yesterday
Women's Soccer
Muskegon Community College 7, Lake Michigan College 1
MHSAA – High School Sports
Tonight
Boys Soccer
New Buffalo at Lake Michigan Catholic, 5:00 p.m.
Michigan Lutheran at Buchanan, 5:00 p.m.
Lawrence at Covert, 5:00 p.m.
Watervliet at Berrien Springs, 5:30 p.m.
Dowagiac at Edwardsburg, 5:30 p.m.
Allegan at Plainwell, 6:00 p.m.
Paw Paw at South Haven, 6:30 p.m.
Otsego at Three Rivers, 6:00 p.m.
Sturgis at Vicksburg, 6:00 p.m.
Bloomingdale at Bangor, 6:00 p.m.
Hartford at Eau Claire, 5:00 p.m.
Cassopolis at Marcellus, 5:00 p.m.
Delton-Kellogg at Constantine, 5:00 p.m.
Fennville at Lawton, 6:00 p.m.
Saugatuck at Schoolcraft, 5:00 p.m.
Girls Volleyball
Lakeshore at Buchanan, 6:00 p.m.
St. Joseph at Paw Paw, 6:00 p.m.
Girls Golf
Niles Invitational, 12:00 p.m.
Boys Tennis
Otsego at Plainwell, 4:00 p.m.
South Haven at Allegan, 4:00 p.m.
Sturgis at Edwardsburg, 4:00 p.m.