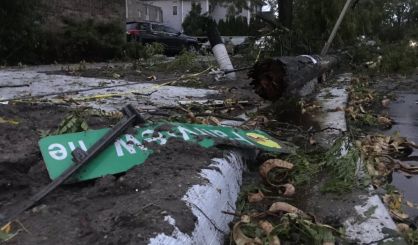 Severe weather in west Michigan last night produced what the National Weather Service is investigating as a possible tornado north of downtown Grand Rapids.
"There was a strong storm that moved in off of the lake and it got stronger as it moved east and collided with an outflow boundary from storms that were farther north," says NWS meteorologist Walt Felver in the Grand Rapids office. "When that happened, that outflow boundary provided a catalyst to spin up a potentially small tornado."
Felver says there's lots of damage, with windows being blown out of eleven cars. Trees and power lines were knocked down, but there are no reports of injuries. Consumers Energy has 25,000 without power, most in Kent County. There was some thunder and lightning and a bit of rain in the St. Joseph, Benton Harbor, and South Haven areas last night, but nothing along the lines of the severe weather around Grand Rapids.
Image courtesy of Lynsey Mukomel, WOOD-TV, Grand Rapids