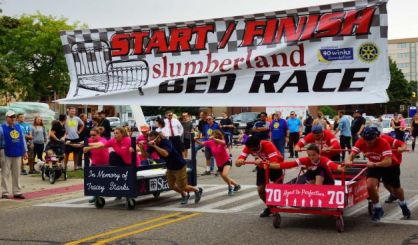 Coming up on Friday, September 20 will be the Benton Harbor Sunrise Rotary's Great Bed Race. It's a team competition in which several local businesses race each other on wheeled beds down Lake Boulevard in downtown St. Joseph. The Rotary's Bryan Tutton tells WSJM News the event is more than just good fun. It's also a fundraiser that sends dollars to Slumberland Furniture's 40 Winks campaign. It buys beds for children in need, and Tutton says there is great demand.
"Everything from foster children to women's shelters, you name it," Tutton said.
Tutton says the registration fees from the teams of racers go toward the bed purchases, and those who stop by to watch the Great Bed Race can also chip in. The event will begin with a bed parade at 4:30 p.m. on the 20th. The actual racing action will start at 5. A big sponsor of the day is Rock 107 WIRX, and you can find more information at their website.
Photo from Moody on the Market.