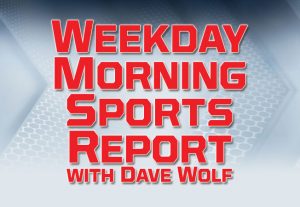 106.1 & 1400 WSJM Sports     @wsjmsports     wsjmsports.com     Tuesday, September 10, 2019
MLB – Major League Baseball
Yesterday
Chicago Cubs 10, San Diego Padres 2
Tigers and White Sox were off
Cubs 10, Padres 2 – Hoerner 3 hits, 4 RBIs in debut, Cubs beat Padres 10-2
Touted prospect Nico Hoerner had three hits and four RBIs in his big league debut and made some nice plays at shortstop for the Chicago Cubs, who beat the San Diego Padres 10-2 Monday night to snap a three-game losing streak. The 22-year-old Hoerner, the Cubs' first-round draft pick out of Stanford in 2018, was promoted from Double-A Tennessee earlier in the day because All-Star shortstop Javier Baez and Addison Russell are sidelined by injuries.  The Cubs hold the NL's second wild-card spot.  Hoerner singled to right in his first big league at-bat, in the second inning. He reached on a fielder's choice in the fourth and eventually scored his first run on a wild pitch. He collected his first two RBIs on a bouncer that landed just inside the line and rolled into the left field corner for a triple in the fifth. With the pro-Cubs crowd cheering for him in the sixth, he hit a two-run single up the middle. He received another loud ovation in the 8th before grounding out.
Tonight
N.Y. Yankees (TBD) at Detroit (Jackson 3-9), 6:40 p.m.                WSJM Sports/Cosy-FM 6:15
Kansas City (Junis 9-12) at Chicago White Sox (Nova 9-12), 8:10 p.m.
Chicago Cubs (Quintana 13-8) at San Diego (Bolanos 0-1), 10:10 p.m.
NFL – National Football League – Week 1
Last Niht
New Orleans Saints 30, Houston Texans 28
Oakland Raiders 24, Denver Broncos 16
Saints 30, Texans 28 – Lutz kicks Saints to victory
The New Orleans Saints have opened their NFL schedule with a comeback win. Will Lutz drilled a 58-yard field goal as time expired to kick the Saints to a 30-28 victory against the Houston Texans. Lutz also hit a 47-yarder late in the fourth quarter to give New Orleans a 27-21 cushion in the final minute, but New Orleans needed his sturdy leg again after DeShaun Watson hit Kenny Stills for a 37-yard touchdown with 37 seconds to play. The Saints trailed 14-3 and 21-10 before getting the victory. Drew Brees was 32 of 43 for 370 yards, two touchdowns and one interception. Alvin Kamara rushed for 97 yards on 13 carries, Michael Thomas caught 10 passes for 123 yards and Ted Ginn Jr. had seven receptions for 101 yards. Watson was 20 of 30 passing for 268 yards, three scores and an interception for the Texans.
Raiders 24, Broncos 16 – Raiders beat Broncos 24-16 in 1st game after Brown's release
Derek Carr threw a touchdown pass on the opening drive of the season, rookie Josh Jacobs ran for two scores and the Oakland Raiders responded to a tumultuous week surrounding former receiver Antonio Brown by beating the Denver Broncos 24-16 on Monday night. The Raiders (1-0) took out all the frustration over the drama surrounding Brown with a convincing win over the AFC West rival Broncos (0-1). The offensive line cleared holes for Jacobs and protected Carr, and the defense harassed Joe Flacco into three sacks and kept Denver out of the end zone until 2:15 remained in the game. The win spoiled the Denver debuts for Flacco and coach Vic Fangio and ended the NFL's longest opening weekend winning streak at seven games.
NFL – Funchess put on injured reserve following collarbone surgery
Coach Frank Reich says receiver Devin Funchess will be placed on injured reserve after having surgery on a broken collarbone. Funchess was injured during Sunday's 30-24 loss at the Los Angeles Chargers while diving to catch a pass in the end zone in the final minute of regulation. T.Y. Hilton later scored and Marlon Mack added a 2-point conversion run to send the game to overtime. The 6-foot-4, 225-pound Michigan product signed a one-year contract with Indy in March. Reich expects Funchess to return later this season, noting he was starting to develop chemistry with new starting quarterback Jacoby Brissett. Funchess spent his first four seasons in Carolina after the Panthers selected him in the second round of the 2015 draft.

NCAA – California closer to letting college athletes make money
The California Assembly has passed a bill to let college athletes make money. The bill would let college athletes hire agents and be paid for the use of their name, image or likeness. And it would stop universities and the NCAA from banning athletes who take the money. The bill also sets up a confrontation with the NCAA that could jeopardize the athletic futures of programs at USC, UCLA and Stanford. Universities oppose the bill, and the NCAA has warned the bill could mean California universities would be ineligible for national championships.
NCAA – Michigan facing questions in off week
Jim Harbaugh hired Josh Gattis and handed him the keys to Michigan's offense last winter, hoping the offensive coordinator would bring the program up to speed in college football. Harbaugh envisioned and touted a new brand of football that would put some of the team's talent in open spaces to make big plays. So far, the 10th-ranked Wolverines are sputtering on offense and the preseason talk is getting called into question. Michigan has turned the ball over seven times in two games.
MWL – 2019 Midwest League Baseball Playoffs – Round 2 (best of 3)
Last Night
Clinton 6, Cedar Rapids 2                                                   (CLI wins 2-1)
Wednesday
Midwest League Championship Series – Best of Five
Clinton Lumberkings at South Bend Cubs, 8:05 p.m.           (Game 1)
MHSAA – High School Sports
Last Night
Boys Soccer
Michigan Lutheran 7, Lake Michigan Catholic 1
Niles 5, Bridgman 0
Plainwell 2, Sturgis 0
Dowagiac 7, Three Rivers 0
Edwardsburg 7, Otsego 1
Allegan 5, Vicksburg 2
Kalamazoo Christian 9, Lawton 2
Kalamazoo Hackett 8, Constantine 0
Watervliet 7, Saugatuck 1
Schoolcraft 3, Coloma 2
New Buffalo 6, New Prairie (IN) 0
Bangor 8, Marcellus 0
Hartford 5, Cassopolis 0
Kalamazoo Central 3, Parma-Western 1
Fennville 3, Delton-Kellogg 1
Boys Tennis
Kalamazoo Hackett 8, Berrien Springs 0
Kalamazoo Christian 7, Bridgman/New Buffalo/LMC Co-Op 1
Buchanan 6, Brandywine 2
Girls Volleyball
Niles 3, South Bend St. Joseph (IN) 2
Tonight
Boys Soccer
St. Joseph at Portage Central, 6:30 p.m.
Portage Northern at Lakeshore, 6:30 p.m.
Mattawan at Kalamazoo Central, 6:30 p.m.
Kal. Loy Norrix at Battle Creek Lakeview, 6:30 p.m.
Battle Creek Central at Gull Lake, 6:30 p.m.
Boys Tennis
Niles at St. Joseph, 4:00 p.m.
Lakeshore at Mattawan, 4:00 p.m.
Girls Volleyball
Watervliet at Paw Paw, 6:00 p.m.
Martin at Coloma, 6:30 p.m.
Fennville at Delton-Kellogg, 6:30 p.m.
Gobles at Saugatuck, 6:30 p.m.
Galesburg-Augusta at Lawton, 6:30 p.m.
Schoolcraft at Kalamazoo Hackett, 6:30 p.m.
Constantine at Kalamazoo Christian, 6:30 p.m.
Girls Golf
SMAC West at Berrien Hills, 3:30 p.m.       (St. Joseph host)
St. Joseph, Lakeshore, Niles, Mattawan, Portage Central, Portage Northern