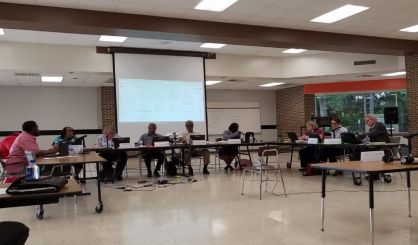 The proposed Community Engagement and Advisory Committee to draft a plan for turning around Benton Harbor Area Schools is a step closer to becoming a reality. The state has proposed the creation of the autonomous committee that would have six months to issue recommendations for the district, and at a Tuesday meeting, the Benton Harbor Area Schools Board of Education signaled initial support. Vice President Joseph Taylor spoke with us after the meeting.
"Tonight, it was just to pass a resolution for the concept," Taylor said. "So the board accepts the concept. That's what tonight was about. In two weeks, we'll come right back out in probably a special meeting, and we'll have a list — it might not be names on it — but it will be a list of positions for the advisory board."
Taylor said they're still working out who will be on the committee. At Tuesday's meeting, he said he didn't see the need for clergy to be included. Another question is how many school board members will serve. Michigan Deputy Treasurer Joyce Parker told us the goal is to have the committee established in October and its report out by April.
"Whatever the advisory committee recommends would have to be approved by the school board as well as the Michigan Department of Treasury and the Michigan Department of Education."
Parker said what the board approved may have been different from the state's recommendation, but she's pleased action has been taken. More will be known about the committee's membership in two weeks.