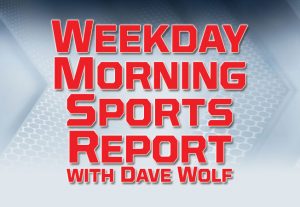 NFL – National Football League – Week 1
Tonight
Green Bay Packers at Chicago Bears, 8:20 p.m.         106.1 & 1400 WSJM Sports 7:30
NFL – Cowboys, Elliott agree on $90 million deal that ends holdout
Ezekiel Elliott has a new contract with the Dallas Cowboys, just in time for the regular season. The star running back and the club agreed on a $90 million, six-year extension that will make him the NFL's highest-paid player at his position and end a holdout that lasted the entire preseason. Elliott will get $50 million guaranteed. The $15 million-per-year average on the extension surpasses the $14.4 million Todd Gurley got from the Los Angeles Rams last summer. Gurley's guarantee was $45 million. The breakthrough was finalized on the morning of the team's first full workout before Sunday's opener against the Giants. The 24-year-old has a contract that totals $103 million over the next eight seasons.
MLB – Major League Baseball
Yesterday
Kansas City Royals 5, Detroit Tigers 4
Cleveland Indians 8, Chicago White Sox 6
Cubs were off
Royals 5, Tigers 4 – Soler extends Royals record with 40th HR in win vs Tigers
Jorge Soler extended his team record with his 40th homer, Hunter Dozier and Alex Gordon had three hits each, and the Kansas City Royals beat the Detroit Tigers 5-4 on Wednesday night.  The Royals are the last team in baseball history to have a player reach 40 home runs in a season. Prior to Tuesday, Mike Moustakas held the club record with 38 in 2017.  Jakob Junis (9-12) gave up four runs and seven hits over seven innings for Kansas City.  Ian Kennedy pitched the ninth for his 26th save in 30 chances. He blew his first save in 15 chances Tuesday night against Detroit, but he was perfect Wednesday.  Edwin Jackson (3-9) allowed four runs and nine hits in five innings for the Tigers. Detroit scored three runs in the second inning on four consecutive hits. Christin Stewart led off with a single, Jeimer Candelario doubled and Harold Castro drove in both runners with a double. Castro then scored on a single by Dawel Lugo.
Indians 8, White Sox 6 – Bieber strikes out nine, Indians beat White Sox 8-6
Shane Bieber struck out nine over seven innings to snap a three-game losing streak and Franmil Reyes hit a two-run homer as the Cleveland Indians beat the Chicago White Sox 8-6 on Wednesday night.  All-Star Game MVP Bieber (13-7) allowed two runs and six hits in winning for the first time in five starts since Aug. 9. The right-hander also earned his first victory over the White Sox in three outings this season.  The Indians are in a tight race with Oakland and Tampa Bay for the second wild card spot in the AL.  Reyes belted his 34th home run — his seventh since being acquired from San Diego — to extend Cleveland's lead to 6-2 in the fifth. He is batting .400 with five homers and 15 RBIs over his last 12 contests.  The Indians held an 8-2 advantage in the eighth before José Abreu and Tim Anderson each hit two-run homers for Chicago, the latter off closer Brad Hand.  Chicago starter Iván Nova (9-12) gave up six runs and 11 hits in 4 1/3 innings. The right-hander entered the day with the highest opponent batting average in the majors at .294 and ranks second with 198 hits allowed.  Anderson had three hits and two runs. Daniel Palka went hitless in four at-bats, making him 1-for-53 on the season.
Today
Chicago White Sox (Lopez 8-12) at Cleveland (Plesac 7-5), 1:10 p.m.
Detroit (Boyd 7-10) at Kansas City (Sparkman 3-10), 1:15 p.m.    WSJM Sports/Cosy-FM 12:50
Chicago Cubs (Quintana 12-8) at Milwaukee (Anderson 6-4), 7:10 p.m.
Tennis – US Open – Rafael Nadal reaches 33rd Slam SF at US Open
Rafael Nadal has reached his 33rd Grand Slam semifinal and prevented Diego Schwartzman from making it to his first. Nadal beat Schwartzman 6-4, 7-5, 6-2 in Arthur Ashe Stadium to move a step closer to a fourth U.S. Open championship and 19th major title in all, which would be just one short of Roger Federer's record. Nadal will meet No. 24 Matteo Berrettini of Italy in the semifinals Friday. In other action: Belinda Bencic powered her way into her first Grand Slam semifinal, wearing down Donna Vekic for a 7-6, 6-3 victory at the U.S. Open. The No. 12 seed from Switzerland advances to face either 15th-seeded Bianca Andreescu or No. 25 Elise Mertens. Matteo Berrettini advanced to his first Grand Slam semifinal after nearly four exhausting hours, edging Gael Monfils 3-6, 6-3, 6-2, 3-6, 7-6 (5). Bianca Andreescu became the first teenager to reach the U.S. Open semifinals in a decade, beating Elise Mertens 3-6, 6-2, 6-3.
Golf – Kyle Berkshire wins World Long Drive Championship
Kyle Berkshire won the World Long Drive Championship, beating two-time champion Tim Burke with a 406-yard drive at WinStar World Casino and Resort. After Burke got to 374 on his eighth and final attempt, Berkshire missed the grid on his first three shots before nailing the winner for his first world title and third tour victory of the season. South Africa's Chloe Garner won the women's title.
NCAAMBB – NCAA denies BYU's appeal of sanctions
The NCAA has upheld sanctions against BYU's basketball program, which was forced to vacate 47 wins as a result of an improper-benefits case involving former player Nick Emery. BYU's appeal of penalties announced in November was denied by the NCAA's Infractions Appeals Committee on Wednesday. The NCAA said a player, later revealed by BYU to be Emery, received more than $12,000 in benefits from four boosters. It ruled the school must vacate the wins and BYU was placed on probation for two years. BYU voiced its disappointment in the NCAA's decision in a statement, calling the penalties "unprecedented for a case in which the institution had no knowledge of or involvement in the infractions." BYU said the penalties were too harsh because no one within the coaching staff or athletic department was aware of the infractions.
NHL – Coyotes sign forward Keller to 8-year contract extension
The Arizona Coyotes have locked up forward Clayton Keller through the 2027-28 season, signing him to an eight-year contract extension.     The deal announced Wednesday has an average annual salary of $7.15 million. The 21-year-old Keller led the Coyotes in scoring last season with 14 goals and 33 assists in 82 games. He also joined Dale Hawerchuk and Teemu Selanne as the only players in franchise history to have four separate points streaks of at least six games within the first 100 games of his career. Keller has 37 goals and 77 assists in 167 career games since Arizona selected him with the seventh overall pick of the 2016 NHL draft.
NHL – Bettman, Thomas among US Hockey Hall of Fame inductees
NHL Commissioner Gary Bettman headlines the 2019 class of the United States Hockey Hall of Fame. Bettman, former Boston Bruins goaltender Tim Thomas, longtime NHL forward Brian Gionta, Washington youth hockey staple Neal Henderson and U.S women's star Krissy Wendell will be inducted at a ceremony Dec. 12. Bettman was inducted into the Hockey Hall of Fame in Toronto last year.
MWL – 2019 Midwest League Baseball Playoffs – Round 1 (best of 3)
Tonight
South Bend Cubs 2, Bowling Green Hot Rods 1                                       (SB leads 1-0)
Great Lakes Loons 6, Lake County Captains 4                                          (GL leads 1-0
Clinton Lumberkings 7, Kane County Cougars 3                                      (CLI leads 1-0)
Quad Cities River Bandits 4, Cedar Rapids Kernels 1                              (QC leads 1-0)
Tonight
South Bend at Bowling Green, 6:35 p.m.                                                (SB leads 1-0)
Lake County at Great Lakes, 7:05 p.m.                                                    (GL leads 1-0
Clinton at Kane County, 6:30 p.m.                                                          (CLI leads 1-0)
Cedar Rapids at Quad Cities, 7:35 p.m.                                                   (QC leads 1-0)
MCCAA – Junior College Sports
Yesterday
Men's Soccer
Ancilla College 2, Lake Michigan College 1 – OT
Today
Women's Volleyball
Lake Michigan College at Lansing Community College, 6:30 p.m.
MHSAA – High School Sports
Last Night
Boys Soccer
Lawrence 5, Lake Michigan Catholic 2
Gull Lake 8, Niles 0
Portage Central 2, Kalamazoo Central 0
Allegan 3, Edwardsburg 2
Paw Paw 1, Otsego 0
Plainwell 7, Three Rivers 0
Dowagiac 3, Vicksburg 1
Watervliet 8, Constantine 0
Buchanan 3, Brandywine 0
New Buffalo 5, Covert 2
Bloomingdale 1, Hartford 0
Cassopolis 5, Bangor 3
Eau Claire 8, Marcellus 2
Fennville 8, Kalamazoo Lakeside 0
Boys Tennis
St. Joseph 8, Kalamazoo Central 0
Bridgman/Lake Michigan Catholic 4, Brandywine 4 – TIE
South Haven 7, Three Rivers 1
Tonight
Boys Soccer
Portage Northern at St. Joseph, 6:30 p.m.
Paw Paw at Lakeshore, 6:30 p.m.
Lake Michigan Catholic at Berrien Springs, 5:00 p.m.
Niles at Portage Central, 6:30 p.m.
Kalamazoo Loy Norrix at Mattawan, 6:30 p.m.
Kalamazoo Central at Gull Lake, 6:30 p.m.
Battle Creek Lakeview at Battle Creek Central, 6:30 p.m.
Three Rivers at Coloma, 6:00 p.m.
Edwardsburg at Mishawaka Marian, 7:00 p.m.
Otsego at Schoolcraft, 5:00 p.m.
Bangor at Saugatuck, 6:00 p.m
Girls Volleyball
Benton Harbor at Eau Claire, 6:30 p.m.
Cassopolis at Lawton, 6:30 p.m.
Bloomingdale at River Valley, 5:00 p.m.
Three Rivers at Dowagiac, 6:00 p.m.
Edwardsburg at Otsego, 6:00 p.m.
Allegan at Paw Paw, 6:00 p.m.
South Haven at Sturgis, 6:00 p.m.
Plainwell at Vicksburg, 6:00 p.m.
New Buffalo at Brandywine, 6:00 p.m.
Fennville at Constantine, 6:30 p.m.
Watervliet at Galesburg-Augusta, 6:30 p.m.
Coloma at Kalamazoo Christian, 6:30 p.m.
Martin at Kalamazoo Hackett, 6:30 p.m.
Gobles at Schoolcraft, 6:30 p.m.
Saugatuck at Delton-Kellogg, 6:30 p.m.