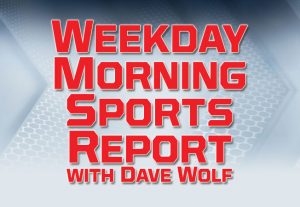 MLB – Major League Baseball
Yesterday
Kansas City Royals 6, Detroit Tigers 5
Chicago White Sox 6, Cleveland Indians 5
Chicago Cubs 6, Seattle Mariners 1
Royals 6, Tigers 5 – Soler breaks KC home run record, Royals beat Tigers
Jorge Soler broke the Kansas City home run record with his 39th homer of the season and Ryan O'Hearn hit a game-ending home run to lift the Royals to a 6-5 win over the Detroit Tigers on Tuesday night.  O'Hearn sent the first pitch he saw from Zac Reininger in the ninth inning over the fence in right field after a seesaw final three innings. Tigers' starter Daniel Norris grooved Soler a 2-2 fastball in the third inning and the Royals' slugger didn't miss. The three-run shot broke a tie with Mike Moustakas, who set the previous record with 38 home runs in 2017. The home run also gave Soler 100 RBIs on the season, becoming the first Royal to cross the century mark since Eric Hosmer in 2016. Mike Montgomery was solid once again, allowing one run on six hits in 5 2/3 innings. Montgomery has now allowed one earned run or fewer in four of his last five starts and has a 2.10 ERA and 30 strikeouts in 30 innings over that span.
White Sox 6, Indians 5 – White Sox spoil Carrasco's home return, beat Indians 6-5
Carlos Carrasco received a standing ovation in his first appearance at Progressive Field since being diagnosed with leukemia, but gave up home runs to James McCann and Eloy Jiménez in the eighth inning that lifted the Chicago White Sox over the Cleveland Indians 6-5 Tuesday night. Carrasco entered the game with a 5-2 lead, but gave up a three-run homer to McCann, which was followed by Jiménez's second homer of the game.  Cleveland missed a chance to move into a virtual tie with Tampa Bay for the AL wild-card lead. The White Sox ended a season-high seven-game losing streak.  The crowd of 17,397 came to its feet when Carrasco ran through the bullpen gate and chanted "Cookie" — the right-hander's nickname.  Carrasco (4-7) entered the game after Roberto Pérez's three-homer in the seventh gave Cleveland a 5-2 lead. Carrasco gave up singles to Leury García and Tim Anderson, but struck out José Abreu and Yoán Moncada.
Cubs 6, Mariners 1 – Castellanos homers again as Cubs beat Mariners 6-1
Nicholas Castellanos homered and drove in four runs, and the Chicago Cubs celebrated the return of Willson Contreras and Ben Zobrist by topping the Seattle Mariners 6-1 on Tuesday night.  Jon Lester (12-9) escaped three bases-loaded jams while working six innings in his second straight win, helping Chicago stay three games back of NL Central-leading St. Louis. The Cubs also remained 2½ games ahead of Philadelphia for the second NL wild card.  Daniel Vogelbach's pinch-hit RBI single in the eighth accounted for Seattle's only run in its fourth loss in five games.  Félix Hernández (1-5) lasted just three innings in his third start since coming off the injured list after being sidelined for more than three months with right shoulder stiffness.
Today
Chicago White Sox (Nova 9-11) at Cleveland (Bieber 12-7), 7:10 p.m.
Detroit (Jackson 3-8) at Kansas City (Junis 8-12), 8:15 p.m.        WSJM Sports/Cosy-FM 7:50
Cubs are off
NHL – Detroit defenseman Niklas Kronwall retires after 15 seasons
Niklas Kronwall is retiring after 15 seasons with the Detroit Red Wings. The hard-hitting defenseman announced his retirement in a video Tuesday on the team's Twitter account, saying he would be taking a new role within the organization. Kronwall played 953 games in his NHL career and was part of the Detroit team that won the Stanley Cup in 2008. Kronwall had three goals and 24 assists in 79 games last season. The rebuilding Red Wings are in their first offseason since the return of Steve Yzerman as general manager. They've missed the postseason three straight years.  Kronwall's future was uncertain when 2018-19 ended, but he'd shown over the past couple seasons that he could stay healthy. The Swede said in his retirement video that it was an honor to wear the Red Wings' jersey, and that Detroit has become home for him and his family.
Tennis – US Open – Federer can be oldest male Slam semifinalist since Connors
Serena Williams picked up her 100th match win at the US Open to reach the semifinals in dominating fashion. Williams won 6-1, 6-0 in 44 minutes against Wang Qiang of China. She next faces No. 5 seed Elina Svitolina for a berth in the final.  The men are following that match with Roger Federer facing unseeded Grigor Dimitrov (GREE'-gohr DIH'-mih-trahv). The 38-year-old Federer was trying to become the oldest male Grand Slam semifinalist since Jimmy Connors. Connors was 39 during his 1991 run at the U.S. Open.  In other action: Elina Svitolina reached the U.S. Open semifinals for the first time with a 6-4, 6-4 victory over Johanna Konta. The No. 5 seed followed her first appearance in the final four of a major at Wimbledon in July by getting right back there at Flushing Meadows, where she will face either six-time champion Serena Williams or Wang Qiang.
NCAAFB – Rankings mostly unchanged after top teams win
The Top 25 went 23-0 against unranked teams to open the season, leaving the rankings mostly unchanged: No. 1 Clemson and No. 2 Alabama are at the top of the first regular-season AP college football poll of 2019. The Tigers received 54 first-place votes out of 62 in the media poll, up two from the preseason. The Crimson Tide received the remaining eight in the poll presented by Regions Bank. The only Top 25 team to lose was Oregon, which slipped to 16 after dropping a thriller to Auburn. The Tigers moved up to 10th. The top seven teams in the preseason rankings held their spots Tuesday. Clemson and Alabama were followed by No. 3 Georgia, No. 4 Oklahoma, No. 5 Ohio State, No. 6 LSU and No. 7 Michigan. Notre Dame moved up a spot to No. 8 and Texas was ninth. Florida slipped three spots to No. 11.
AP TOP 25

1

Clemson (54)

1-0

2

Alabama (8)

1-0

3

Georgia

1-0

4

Oklahoma

1-0

5

Ohio State

1-0

6

LSU

1-0

7

Michigan

1-0

8

Notre Dame

1-0

9

Texas

1-0

10

Auburn

1-0

11

Florida

1-0

12

Texas A&M

1-0

13

Utah

1-0

14

Washington

1-0

15

Penn State

1-0

16

Oregon

0-1

17

Wisconsin

1-0

18

UCF

1-0

19

Michigan State

1-0

20

Iowa

1-0

21

Syracuse

1-0

22

Washington State

1-0

23

Stanford

1-0

24

Boise State

1-0

T25

Iowa State

1-0

T25

Nebraska

1-0
NCAAFB – Irish still have questions
There are some questions marks for No. 8 Notre Dame after a somewhat lackluster showing on the road to open the season, even if it ended with a 35-17 win over Louisville. The silver lining for coach Brian Kelly: He was able to give inexperienced players some valuable playing time. Notre Dame is off this week and plays its home opener Sept. 14 against New Mexico, which is led by former Irish coach Bob Davie. But, a Lobos spokesman says New Mexico has not yet reached the point of making coaching decisions for the Sept. 14 game against Notre Dame. Coach Bob Davie had a "serious medical incident" Saturday following New Mexico's season-opening victory against Sam Houston State.
NCAAFB – Dantonio wants to focus on offense, not record
One more win would give Mark Dantonio a share of the Michigan State record. The coach says he is more concerned with getting the offense straightened out. The Spartans beat Tulsa 28-7 in their opener. They were plagued by mistakes, especially on offense. Michigan State hosts Western Michigan on Saturday night.
NCAAFB – Louisville dance team member suffers broken nose in Notre Dame game
A Louisville dance team member will have to visit a specialist to repair a broken nose she sustained when she was hit by an errant pass thrown by Notre Dame's Ian Book. Elizabeth Scott was hit in the fourth quarter of the eighth-ranked Irish's 35-17 victory over the Cardinals on Monday night. Book, under pressure, threw the ball out of bounds and struck Scott as she performed with other dancers near Cardinal Stadium's south end zone.
MWL – 2019 Midwest League Baseball Playoffs – Round 1 (best of 3)
Tonight
Bowling Green at South Bend, 7:05 p.m.                                                (Game 1)
Lake County vs. Great Lakes, 7:00 p.m.                                                   (Game 1)
Clinton vs. Kane County, 7:30 p.m.                                                         (Game 1)
Cedar Rapids vs. Quad Cities, 7:35 p.m.                                                  (Game 1)
MCCAA – Junior College Sports
Yesterday
Women's Volleyball
Ancilla College 3, Lake Michigan College 2
Tonight
Men's Soccer
Lake Michigan College at Ancilla College, 4:00 p.m.
MHSAA – High School Sports
Last Night
Boys Soccer
Mattawan 3, St. Joseph 1
Battle Creek Lakeview 2, Lakeshore 1
Portage Northern 5, Kalamazoo Loy Norrix 1
Dowagiac 8, Brandywine 0
Allegan 8, Saugatuck 0
Kalamazoo Christian 5, Battle Creek Pennfield 0
Kalamazoo Heritage 6, Lawton 6 – TIE
Marshall 2, Kalamazoo Hackett  0
Girls Swimming and Diving
Kalamazoo Loy Norrix 113, St. Joseph 73
Bridgman/Lakeshore 113, Kalamazoo Central 61
Boys Tennis
Portage Northern 7, Lakeshore 1
Girls Volleyball
Hartford 3, Lawrence 0
Tonight
Boys Soccer
Lawrence at Lake Michigan Catholic, 5:00 p.m.
Niles at Gull Lake, 6:30 p.m.
Kalamazoo Central at Portage Central, 6:30 p.m.
Edwardsburg at Allegan 6:00 p.m.
Otsego at Paw Paw, 6:00 p.m.
Plainwell at Three Rivers, 6:00 p.m.
Dowagiac at Vicksburg, 6:00 p.m.
Watervliet at Constantine, 6:00 p.m.
Brandywine at Buchanan, 5:00 p.m.
Covert at New Buffalo, 5:30 p.m.
Comstock at Parchment, 5:00 p.m.
Hartford at Bloomingdale, 6:00 p.m.
Bangor at Cassopolis, 6:00 p.m.
Eau Claire at Marcellus, 5:00 p.m.
Kalamazoo Lakeside at Fennville, 6:00 p.m.
Boys Tennis
St. Joseph at Kalamazoo Central, 4:00 p.m.