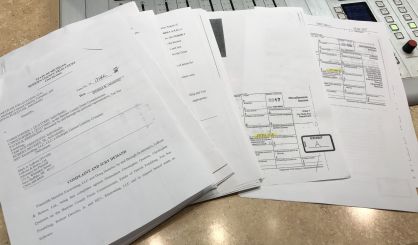 By Michael Arney and Doug Cunningham
A civil lawsuit accuses Berrien County Commissioner Teri Sue Freehling of fraud, alleging she and her late husband were improperly paid $444,841 dollars for drain commission projects. The suit also asserts that Freehling failed to recuse herself from voting on contracts with Hartzler Excavating – contracts that she knew would put money in her pocket. Sources tell WSJM News she did inform the commission about a conflict of interest involving her husband and the drain commission and recused herself from at least some of the votes.
The suit also accuses Berrien County Drain Commissioner Christopher Quattrin of breach of contract. A hearing on the suit is set for Tuesday.
The suit details an alleged scheme by Patrick Freehling to convince Doug Hartzler to form Hartzler Excavating, and then steer money from Berrien County drain commission work contracts to the Freehlings through equipment rentals to the excavating company.
Commissioner Freehling's husband Patrick died in what was police described as a farm accident in May.
A hearing is set for Tuesday. The lawsuit, which has been obtained by WSJM News, was filed July 1 accusing Quattrin of breach of contract and the Freehlings of fraud.
According to court documents, Patrick and Teri Freehling rented equipment to Doug Hartzler and his company for work on drain commission projects in 2017 and 2018, on which Commissioner Freehling voted without recusing herself. Tax forms 1099-MISC from those two tax years show payments to Patrick Freehling of $237,641 for the equipment in 2017 and $207,200 in 2018. Hartzler's attorney argues after paying for the equipment, Hartzler earned only about $1,000 a month doing the work while the Freehlings were paid nearly a half-million dollars at $444,841.
The situation began when Patrick Freehling approached Doug Hartzler with a proposal to form his own excavating company and leave the Berrien County Road Department, with the promise that he could get him work through the Berrien County Drain Commissioner's office. In all, Hartzler received contracts and did work on 57 such jobs between February 2017 and August 2018, with nearly all the work done with equipment rented from Patrick Freehling. The lawsuit alleges Commissioner Freehling knew about the agreement between her late husband and Hartzler.
Hartzler's attorney writes in court filing that Berrien County Administrator Bill Wolf and corporate counsel James McGovern have reviewed the financial records over the year and a half that Hartzler was receiving drain commission contracts, and found county data matched with the payment information supplied by the law office. After that review, a criminal investigation was launched by the Berrien County Prosecutor's Office, which is believed to be ongoing.
The contracts between Hartzler and the drain commission ended in August 2018 after Doug Hartzler fired two employees he had brought on at the request of Patrick Freehling. One of them, Robert DeVries Jr., then formed REV Excavating LLC and has been receiving the drain commission jobs. Additionally, the lawsuit alleges the county has not paid Hartzler for multiple jobs, and is seeking payment and damages of over $200,000 and a jury trial.
Quattrin is accused of improperly deducting $9,200 in payment to Hartzler for a drain job to cover the costs of equipment that was stolen from the site, but has not been replaced. The drain commissioner's attorney has filed a motion saying he is entitled to "absolute and qualified immunity against all tort claims," noting legal precedent under state law and as applied in rulings from the Michigan Supreme Court.
Attorneys for the Freehlings have also moved for summary disposition in their favor and to have their court costs and attorneys' fees.
Berrien County Commission Chairman Mac Elliott tells WSJM News they are aware of the lawsuit, but given the county is currently not directly involved in the proceedings, the commission is maintaining a no comment policy.
Tuesday's hearing will be before Judge Dennis Wiley.