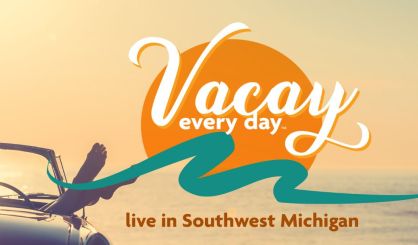 A campaign intended to attract new residents to southwest Michigan has been launched by Cornerstone Alliance. Cornerstone's Christina Frank tells WSJM News Vacay Every Day will extol the virtues of southwest Michigan to those who visit the region from all over the country. The campaign aims to increase the region's population by 10% over 10 years.
"It's a lofty goal that's going to take a lot of heavy lifting, but we know if the community really stands behind this, and we come together to do something, we're all competing on a global level," Frank said. "Human capital is what we're after and if we can all stand together and do that, I think we've got a really good shot with this campaign."
VacayEveryDay.com is the website for the new campaign, created by King Media out of St. Joseph. It boasts of "a booming job market, award winning schools, an affordable housing market, and being 90 miles from Chicago." Cornerstone Alliance President Rob Cleveland says the region needs more people to attract businesses looking to expand.
"Those are the kinds of things that companies look for. In addition to workforce and in addition to proximity to a highway, they want to know how many people you have in your community, and if you don't have what they need, you're off the list."
Cleveland says Cornerstone expects money spent on Vacay Every Day to be leveraged by other community partners who see the importance of increasing the region's population. He also stresses it's not just a marketing campaign, but a recruitment campaign. Cleveland compares Vacay Every Day to the Michigan's Great Southwest slogan used to tout the region, telling us he wants it to catch on and stick around in a similar fashion.