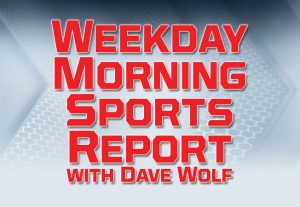 MLB – Major League Baseball
Last Night
Houston Astros at Chicago White Sox, PPD, Rain
Tigers and Cubs were off
Astros at White Sox, PPD – Greinke's 2nd start with Astros postponed by rain
Zack Greinke's second start with the Houston Astros has been postponed by rain. The Astros were scheduled to begin a three-game series against the Chicago White Sox, but the rain started to pick up in the afternoon and the game was quickly called. The teams will play a doubleheader today.
Today
Houston (Greinke 11-4) at Chicago White Sox (Cease 2-4), 4:40 p.m. – Game 1
Houston (Cole 14-5) at Chicago White Sox (Nova 7-9), 8:10 p.m. – Game 2
Chicago Cubs (Quintana 10-7) at Philadelphia (Vargas 6-6), 7:05 p.m.
Seattle (Kikuchi 4-8) at Detroit (Boyd 6-8), 7:10 p.m. WSJM Sports/Cosy-FM 6:45
MLB – Baseball gets early jump in 2020 with March 26 openers
Major League Baseball will open its 2020 season on March 26th, its earliest start other than international games. The schedule also features an April series in Puerto Rico between the New York Mets and Miami Marlins.  Globe Life Field, the new home of the Texas Rangers, opens March 31st.  The commissioner's office said all 30 teams could play on opening day for the first time since 1968. The 2020 regular season is to end September 27th, putting the World Series on track to run from October 20th-28th. The All-Star Game is at Dodger Stadium in Los Angeles on July 14th. The Cubs and Cardinals will play two games in London in June. The Yankees and White Sox will play August 13th at a ballpark next to the Field of Dreams in Dyersville, Iowa.
NFL – Raiders Brown loses helmet grievance
Oakland Raiders receiver Antonio Brown has lost his grievance with the NFL over his use of an old helmet that is no longer certified as safe to use for practice or play. The arbitrator issued the ruling Monday after holding a hearing last week with Brown, representatives from the league and the players' union. Brown said in a statement on Twitter that he disagreed with the decision. He
also said he looks forward to getting back on the field as soon as he is fully healthy. Brown has not participated in a full practice for the Raiders after starting training camp on the non-football injury list with injuries to his feet that reportedly came from frostbite suffered while getting cryotherapy treatment in France. Brown was cleared to practice on July 28 and participated in part of two sessions but wasn't around the team last week when he had a grievance hearing with the NFL over his helmet.
NFL – Report: Petition with NLRB seeks union for NFL running backs
A petition reportedly has been filed with the National Labor Relations Board seeking to create a separate union for NFL running backs.  According to the website Law360, the petition was filed Thursday by the International Brotherhood of Professional Running Backs and focuses on the shorter careers for players at the position.  "These employees have unique career structures; and the current one-size fits all unit is inappropriate," the petition says of players' representation by the NFL Players Association. "Excluded: All other player groups," it said. The NFL Management Council and the union have begun preliminary negotiations on a collective bargaining agreement. The current 10-year deal expires in March 2021. A message to the players' union seeking comment was not immediately answered.'
NFL – Saints working on new lease for Superdowe
Louisiana Gov. John Bel Edwards says the state is working on lease extensions with the New Orleans Saints designed to keep the NFL club in the Superdome for up to 30 additional years. Edwards says the lease talks are running in conjunction with plans for "extensive and needed" renovations to the Superdome. The Louisiana state bond commission is scheduled on Thursday to consider approval of about $500 million in financing for project.
NBA – NBA 2019-20: Some tip-offs earlier, back-to-backs down again
The NBA schedule is a little bit easier on players.  Fans might be catching a break — and some more sleep — as well.  The league announced its 2019-20 schedule on Monday, featuring another dip in back-to-back games for teams and a major change in the number of nationally televised games starting at 10:30 p.m. on the East coast. Golden State and the Los Angeles Lakers will start several games a half-hour earlier than usual, while broadcasters ESPN and Turner are going to earlier start times on many of their midweek doubleheader nights.  Such a change has been on NBA Commissioner Adam Silver's mind for some time, especially since roughly half of the nation's television homes are in the East time zone — but now, a number of the league's biggest stars play on the West coast. It wasn't uncommon for nationally televised midweek games to end around 1 a.m. or even later last season, and that was not good for ratings.
NBA – Ex-NBA player Sebastian Telfair gets prison time in gun case
Former NBA player Sebastian Telfair was sentenced on Monday to 3 1/2 years in prison in his New York City gun case.  Telfair — a once highly touted point guard with a disappointing pro basketball career and a history of brushes with the law — had been convicted earlier this year of carrying a loaded handgun in his pickup truck.  "The mandatory prison sentence he received today is required by law and he has now been held accountable for the unlawful conduct," Brooklyn District Attorney Eric Gonzalez said in a statement.  There was no immediate response to a phone message on Monday seeking comment from Telfair's attorney.
NCAA – Judge approves settlement in concussion lawsuit against NCAA
A federal judge has approved an amended settlement in a class-action concussion lawsuit against the NCAA that will establish a 50-year medical-monitoring program for college athletes. The settlement was announced Monday by Hagens Berman, the law firm representing the plaintiffs. The case originated with a claim against the NCAA in 2011 by former Eastern Illinois football player Adrian Arrington. The case was later consolidated with other claims. Initially, a settlement was reached in 2016. It created $70-million fund for monitoring of current and former college athletes for brain trauma. Arrington opposed that agreement because it did not pay damages. According to Hagens Berman, the settlement approved by U.S. District Judge John Z. Lee changes the NCAA's approach to concussion treatment and establishes a $5 million fund for concussion research.
Tennis – US Open – 2004 champ Kuznetsova into US Open when Cibulkova withdraws
Two-time major champion Svetlanta Kuznetosva has moved into the main draw of the U.S. Open after Dominika Cibulkova withdrew because of an injured left foot. Kuznetsova won the U.S. Open in 2004 and the French Open in 2009. She becomes the seventh past champion at Flushing Meadows to enter the field for women's singles this year. Tournament play begins Aug. 26.
NHL – Carolina re-signs GM Don Waddell to multi-year extension
The Carolina Hurricanes have re-signed team president and general manager Don Waddell to a contract extension. Owner Tom Dundon announced the signing of the multi-year deal Monday, but team officials did not disclose its specific length or terms. The 60-year-old Waddell had been mentioned as a candidate for the Minnesota Wild's GM vacancy. He has been with the organization since 2014, and the Hurricanes made their first playoff appearance in a decade during his first season as the team's full-time GM. Dundon says Waddell's "leadership and experience are invaluable to our organization." He was the Atlanta Thrashers' GM from 1998-2010.
MWL – Midwest League Baseball
Last Night
Bowling Green 4, Great Lakes 1
Lake County 13, West Michigan 6
Lansing 4, Dayton 3
Fort Wayne 3, South Bend 1
Today
No games today