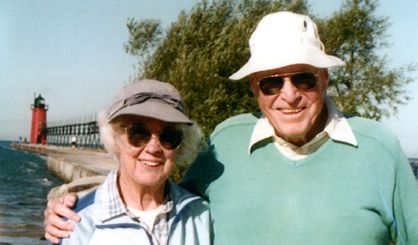 The memory of the late Norris and Irene Johnson of South Haven is being honored by their adopted daughter and her husband with a $350,000 scholarship endowment at Ferris State University for foster children aging out of the system and wanting to attend the school. That daughter is Patsy Eisler, the wife of Ferris State University President Dr. David Eisler, and she tells our newsroom it was her husband's idea after recently receiving a bonus from the university.
"When he suggested it to me, first, I cried," she said. "Then I said 'absolutely.' I wish my parents were here to see it."
In a statement, FSU President Eisler said "When discussing our gift, scholarship support for Ferris' foster care youth was an especially meaningful way to honor Patsy's parents. We both have been moved to tears by our foster youth's personal stories of adversity. Patsy and I are deeply passionate about doing everything we can to give these students the hope and support to succeed and to make them feel welcome at Ferris, which, for most, is their only home."
The endowment will be matched by The Ferris Foundation to create $700,000 in scholarship support. Eisler says the Norris and Irene Johnson Scholarship Endowment will be available in three years, and she's hoping it can serve as many as 20 students a year.
Photo of Norris and Irene Johnson courtesy of Ferris State University Communications.