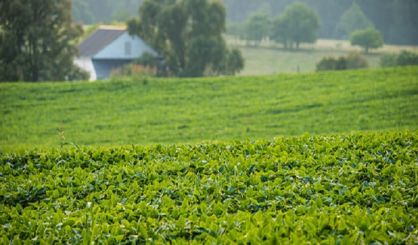 By Doug Cunningham
On top of horrible weather that has made the fall harvest uncertain, Michigan farmers are now also reeling from the latest escalation in the U.S.-China trade war.
China, responding to Trump threats to levy more tariffs, now says it's suspending U.S. agriculture purchases. That could wipe out what in 2018 was an export market of $9.1 billion for U.S. farmers. In 2017 before the trade war started U.S. agriculture exports to China totaled $19.5 billion.
We talked with the Michigan Farm Bureau's Ernie Birchmeier, who says "artificial trade barriers do no one any good when we talk about free and fair trade. We hope that we can get these trade issues figured out. We hope that we can level the playing field and we hope that we can resume our opportunity to trade with them. But in the very near future that is looking very unlikely."
Compounding this dire picture for Michigan farmers is the unprecedented wet weather that nearly prevented any crops from getting planted. Birchmeier says what suffering farmers in Michigan want and need is a return to normal international trade.
"What we want to see happen is for both sides to sit down and figure this out and get us back to some type of a normal trade relation that allows us to move goods and services back and forth between our country and the rest of the world," added Birchmeier.
In addition to resolving the trade war with China, the Michigan Farm Bureau wants Congress to quickly approve the new trade agreement with Canada and Mexico.