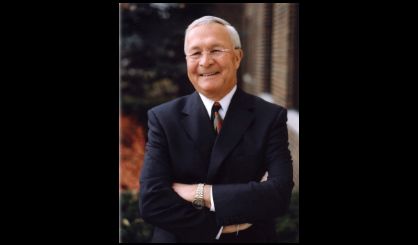 Longtime Oakland County Executive L. Brooks Patterson has died at his suburban Detroit home months after announcing he had pancreatic cancer. The 80-year-old Patterson died Saturday in Independence Township, halfway through a seventh term leading the affluent county. Detroit Free Press columnist Carol Cain was a longtime friend and remembered Patterson in comments on Michigan's Big Show.
"He probably left a bigger impact on business and politics than any other politician in recent memory in our state than I can think of," Cain said. "But he also said what he thought, and often times that got him into trouble and headlines and things he apologized for." One of those was saying he'd rather join the Ku Klux Klan than have Oakland County be part of a group of CEOs of metro Detroit business leaders looking to improve the business climate in Detroit just last year.
He had been Oakland County's chief since 1993 and served as its prosecutor from 1973 to 1988. In 1972, he served as attorney for a group opposing a federal judge's order for school busing integration. The outspoken Patterson had a history of verbally sparring with other regional leaders, especially those in Detroit. Still, he had the respect of even adversaries like former Michigan Governor Jim Blanchard, a Democrat.
"He really was married to Oakland County. He loved the job, loved the service, and he would laugh when I'd say this, but he was an Oakland County icon and really one of the great characters of Michigan politics the last 48 or 50 years," said Blanchard.
Patterson announced his pancreatic cancer diagnosis in March. Oakland County's deputy executive Gerald Poisson has been sworn in as executive until a replacement is appointed or a special election is held.