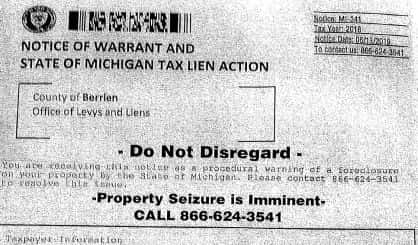 Berrien County Treasurer Bret Witkowski is warning everyone about a scam aimed at local property owners. He tells WSJM News people have been getting letters marked as being from Berrien County and stating "Property Seizure is Imminent." The letter says the recipient must call an included phone number and pay the balance of a lien on their property over the phone. Witkowski says it's a scam. The letter is not from the county.
"What our concern is, people are getting this letter saying if they don't pay, their property is going to get seized," Witkowski said. "Well, we're about to release on Monday the auction book at the same time, and I don't want people to think that their properties are going to get seized because they didn't pay a bill. There's a legal process, and we at the county level will never tell you to call us, or otherwise we're seizing it."
Witkowski says if you get that letter, throw it away and don't call the included number. He says when someone owes the county taxes, they'll get a letter just telling them to contact the treasurer. Everyone is reminded to never provide any banking information over the phone to an unknown party.