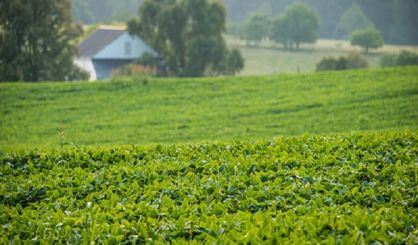 Farmers in Michigan will be eligible for low-interest loans soon thanks to action by the state House and Senate to help provide financial relief due to what is so far the third-wettest year on record. Just how bad is it in the fields? WSJM News put that question to Michigan State University Extension's field crop specialist Bruce MacKellar.
"A lot of times it's just a little rainfall that doesn't allow things to dry out," said MacKellar. "It's been consistent. It's been hard to find a window where you get two or three days without rain, which is what we need to dry out the soil."
He shared rainfall totals for all of 2016 in Lawton, which he calls a normal year, with 7.78 inches. For comparison, MSU's weather station in Berrien Springs recorded 10.3 inches of rain just from April 1 to June 18 this year, and Van Buren County got soaked with three-and-a-half inches of rain Wednesday night into Thursday morning. MacKellar says most of what will be this year's corn crop is in the ground, which is less than 65-percent of what's normally planted by this time, while farmers still have a few more weeks to get the soybean crop planted.
MSU Extension experts said earlier this month that the polar vortex at the end of January did significant damage to peach trees in southwest Michigan, wiping out most of the crop for the next several years.