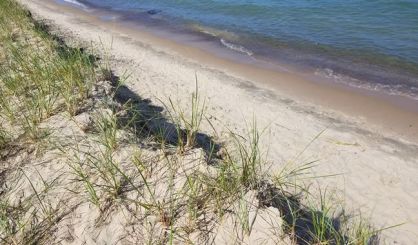 The U.S. Army Corps of Engineers is going to take action to reduce shoreline erosion in the New Buffalo area. That's according to Berrien County Commissioner Ezra Scott, who tells WSJM News federal dollars have been set aside for the issue.
"We had put in for what's called section 1-11 money, and what that is is that's for the Army Corps to do a study to determine the best way to fix the erosion problem from the break wall in New Buffalo south to the state line," Scott said.
Scott says the funds were approved faster than usual by Congress. He got word of it last week from Army Corps Major General Mark Toy, who visited New Buffalo last year.
"They approved the project, and once they approve a project, then it releases money to the Army Corps."
Scott says dredging was just done to build up the shoreline beaches south of New Buffalo, but high water levels in Lake Michigan coupled with storms undid the progress that was made. He isn't sure of the Army Corps timetable for taking action now that it's gotten the go-ahead.
Pictured: Weko Beach in Bridgman.