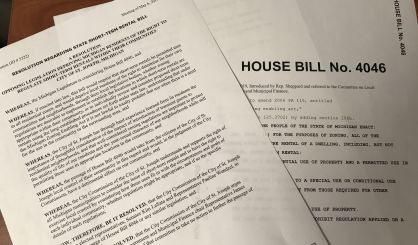 The issue of short term rentals is back in southwest Michigan. This time, the cities of St. Joseph and South Haven are both speaking up in opposition to House Bill 4046, which would wipe out local ordinances regarding where those rentals can be located. St. Joseph City commissioner Jeff Richards says it's about local control.
"If you don't have control of your neighborhoods locally, then your communities are not yours. They belong to the state," said Richards. He also chastised former state Senator John Proos for not taking a position on bills previously introduced, which didn't go anywhere, saying he sent Proos a letter saying if someone wanted to put a short term rental next to his mother's house, the city would be powerless to stop it.
Mayor Mike Garey noted New Buffalo officials testified in favor of the bill, but he and other commissioners said that's because they don't have full-time residents like the city of St. Joseph.
Mayor Pro Tem Laura Goos echoed remarks by Richards and Mayor Garey opposing the legislation.
"To me, it's fixing a problem we don't really have," said Goos. "It's making a one-size fits all" approach for the state.
A day after St. Joseph City Manager John Hodgson and South Haven Assistant City Manager Kate Hozier both testified against the bill last week in a House committee hearing, a ten-bill package was introduced which Hodgson says appears to have made the changes to retain local control. Regardless, the St. Joseph City Commission passed a resolution last night opposing House Bill 4046.