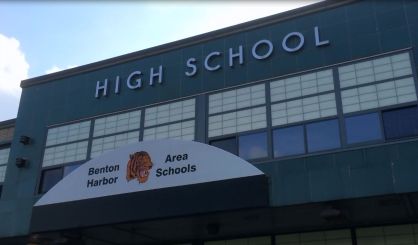 Of 138 seniors at Benton Harbor High School this year, only 38 are currently on track to graduate. That was one of many things Benton Harbor Area Schools CEO Robert Herrera told the community at a Tuesday meeting. He said a recent audit of the graduation numbers of this year and last year found many students far off track. Herrera told WSJM News when they can be helped, they will be.
"The numbers are 68 are very unlikely to graduate, 38 we know are on track to graduate, and so that leaves another [32] kind of caught in between right now. That's our focus group, to work with those students and their parents to try to make sur ethat they're caught up."
Herrera also said during his CEO meeting there were more than 100 seniors who did graduate last year but shouldn't have. He said the problem was poor administration.
"Some very poor record keeping, very poor school processes at the high school, and very poor administration of programs during that time."
Herrera said his administration had to make last minute schedule changes to make sure seniors would be on the right path this year. It's caused some confusion, but he said it was needed. A big reform coming is an effort to ensure all students know how many credits they have and how many they need to be considered caught up. Herrera said, often, a student will identify as a senior when they have not earned enough credits to be considered at that level.