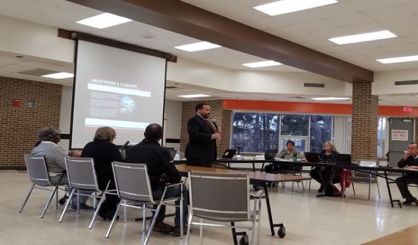 A consulting firm out of Southfield that has helped Detroit Public Schools Community District reduce student losses could soon be helping Benton Harbor Area Schools do the same. Eric Foster with Banks and Company told school board trustees at a Thursday meeting the district needs to adopt a five-year turnaround plan that focuses on outreach and appealing to the community. That's as the board looks to improve enrollment numbers and overcome debt. Foster said the public needs to be kept informed.
"You have to tell it exactly as it is, as brutally honest as it is," Foster said. "That will gain you engagement and support much more than any other spin."
Foster said the turnaround plan should include partnerships with local industry, non-profits, and other community stakeholders. The board was told Banks and Company could come in and form a plan quickly.
"You need something that can give you, within three or four months, how you're going to make this work," Foster said. "You don't have a year. You don't have, really, six months. So we're not coming in to waste your time and give you garbage."
Foster said the key to success is sticking to that five-year plan. He told the board his company helped slow down student losses at in the Detroit district from around 8,000 per year to 1,000, and then none. Trustees could hire the firm once they're back in control of the Benton Harbor schools in July.