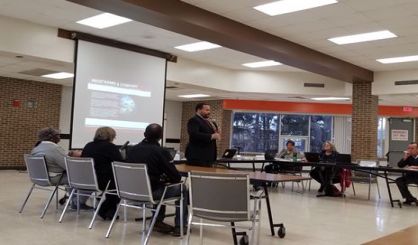 The Benton Harbor Area Schools Board of Education is looking to turn the school district around, and it took the first step at a meeting on Thursday. Last week, the board was told it's facing a possible payless payday in June if it doesn't seek a Tax Anticipation Note, borrowing operating funds against expected tax revenue. The board approved the TAN Thursday. Trustee Joseph Taylor told WSJM News talk about there being a crisis in the district is overblown.
"We have a loss of students, about 5% a year, but we'll work on stabilizing that," Taylor said. "But there is no emergency. That is made up. We're just like any other district. Sometimes, you need to borrow on your TAN."
The board was told last week the district's state aid borrowing power is decreasing as enrollment goes down. As a result, the district could find itself unable to borrow enough for future operations. A representative of the Michigan Department of Treasury said then that chartering or even dissolution could be options. Taylor doesn't think either of those things will be necessary.
"Why would you even mention charters? Why would you mention annexation? Why would you mention dissolution? You don't mention things like that as a scare tactic to communities because once you mention things like that, parents flee."
Taylor said the goal is to stop declining enrollment and then get back on track. To that end, the board heard a presentation Thursday from Banks and Company, a consulting firm that has worked with Detroit Public Schools on slowing student losses and improving academics. The company's Eric Foster said a five-year plan needs to be formed and put into action within a few months. The board could work with Banks and Company when it resumes control in July.