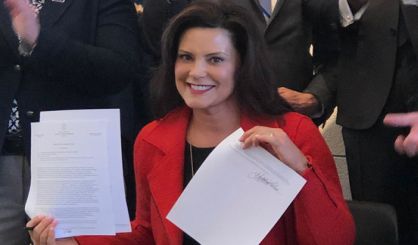 By Doug Cunningham
Despite her concerns about the GOP passed requirement tying work rules to Healthy Michigan benefits, Governor Whitmer is still approving the new policy. That's because she has little choice. The Michigan League for Public Policy says Governor Whitmer's hand is being forced on Medicaid work requirements. Whitmer is being forced to either accept the work rules or risk eliminating the Healthy Michigan Plan altogether. And that would put healthcare for 680,000 people in the state in jeopardy. Emily Schwarzkopf is Senior Policy Analyst with the Michigan League For Public Policy.
"The legislation was written very tightly that gives very little leniency on what the new administration can do without legislative action. And obviously the legislation passed through a Republican led legislature, which we still have."
Manatt, a national consulting firm, says in a new report that these work rules could lead to between 61,000 and 183,000 people losing their Healthy Michigan Medicaid expansion coverage within a year.