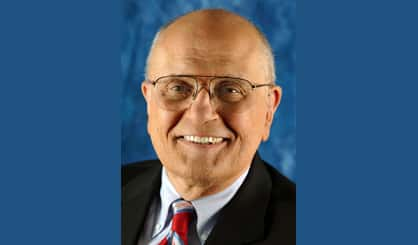 The longest-serving member of Congress in history has died. Dearborn's John Dingell represented the Detroit area from a 1955 special election following the death of his father until his retirement in 2015, and died Thursday at the age of 92. It was revealed this week that he had entered hospice care, with his wife, Congresswoman Debbie Dingell, skipping the State of the Union address to be by his side.
Dingell was a staunch advocate in Washington of the entire state of Michigan along with the American auto industry and introduced healthcare reform bills every year he was in office until the Affordable Care Act was approved. He was succeeded in Congress by his wife after he announced his retirement.
Governor Whitmer says "John Dingell will forever be remembered as 'The Dean' of Congress not simply for the length of his service, but for his unparalleled record of legislative accomplishments." Those include not only the ACA but also the Clean Water Act, Clean Air Act, and Medicare. Whitmer adds the nation is stronger, safer, and healthier because of Dingell's work over 59 years in Congress. She says his grit, humility and humor taught everyone we can disagree without being disagreeable and still find common ground and work together to solve issues.
In a show of Dingell's ability to work with both sides, the Michigan House Republican Caucus also tweeted a statement saying "John Dingell, the longest serving member of Congress, a World War II vet and proud Michigander, was a tireless advocate for us all. May he rest in peace knowing he improved the lives of MI residents and protected our country's precious freedoms in and outside of Washington, D.C."
Congressman Fred Upton has also released a statement regarding the death of his friend.
"John Dingell's colleagues – and I was proud to be one of them – were always educated, inspired, and in fact awed by him. With John you always knew where you stood. If you disagreed you better have a damn good reason why. Simply reverting to rhetoric or the party line would not fly because he knew the issues 'inside and out' and always did his homework. John would outthink, outwork, and outfox nearly everyone.
"John was enormous in stature, integrity, and accomplishments. When he put his hand on your shoulder and spoke, you listened. Representing the great state of Michigan was truly a labor of love and John Dingell fiercely fought to support and rescue our auto industry in the toughest of times.
"There is a reason why a Dingell has represented Southeast Michigan for some 86 years. Their constituents know they always put country over everything else. They have all been chiseled from the same block of gold.
"My wife Amey and I want to express our deep condolences to his family. Especially his wife, and our good friend, Debbie during this difficult time."
Former Michigan Lieutenant Governor Brian Calley also remembered Dingell as a "national treasure," adding his memory and his legacy will be long remembered and celebrated.