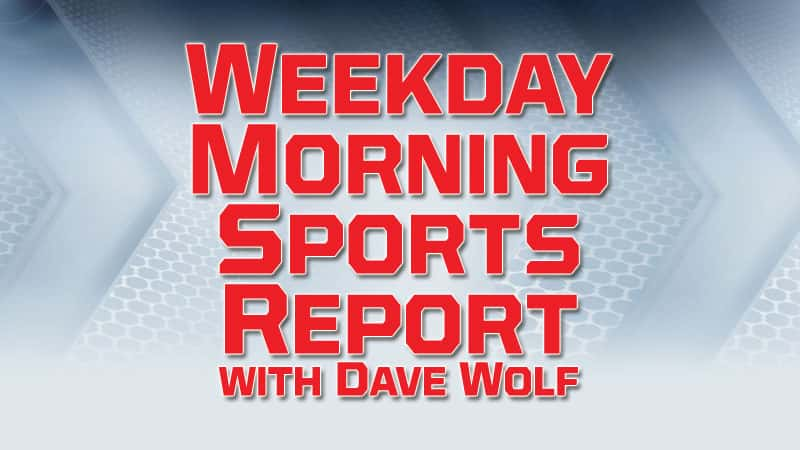 NBA – National Basketball Association
Last Night
Indiana Pacers 110, Toronto Raptors 106
Atlanta Hawks 121, Chicago Bulls 101
Detroit Pistons 98, New Orleans Pelicans 94
Pacers 110, Raptors 106 – Pacers beat Raptors after losing Oladipo with knee injury
The Indiana Pacers' shot at a berth in the NBA Finals this spring may have crumbled in the first half of Wednesday's 110-106 victory over the Toronto Raptors. Pacers All-Star guard Victor Oladipo had to be taken off on a stretch in the second period after suffering a serious right knee injury. Oladipo's leg bent awkwardly as he fell to the floor while trying to disrupt an outlet pass to the Raptors' Pascal Siakam.  The team announced that he will undergo an MRI on Thursday, but the severity of the injury was evident. Oladipo is averaging a team-high 19.2 points for the Pacers, who are currently third in the Eastern Conference. Indiana went 7-4 when Oladipo missed 11 games earlier this season with a sore right knee. Thaddeus Young had 23 points and 15 rebounds to lead the Pacers. Darren Collison added 16 points as Indiana won its third straight.
Hawks 121, Bulls 101 – Collins scores 35 as Hawks beat Bulls 121-101
John Collins scored a career-high 35 points, Trae Young had 12 assists and the Atlanta Hawks beat the Chicago Bulls 121-101 on Wednesday night. Collins was 14 for 16 from the field as Atlanta kicked off a season-high, seven-game road trip with its first victory against Chicago in two years, stopping a five-game slide against the Bulls. Jeremy Lin, Young's backup, had 15 points, and Dewayne Dedmon finished with 14. Chicago lost for the 11th time in its last 12 games. Zach LaVine scored 23 points, and Lauri Markkanen had 22 in the opener of a three-game homestand. The Bulls trimmed a 20-point deficit all the way down to six when Markkanen made a 3-pointer at the halftime buzzer. But the Hawks pulled away with an 11-2 run at the end of the third quarter.
Pistons 98, Pelicans 94 – Griffin scores 37, Pistons hold off Pelicans 98-94
Blake Griffin scored 20 of his game-high 37 points in the first quarter, and Reggie Bullock grabbed a loose ball and slammed home a dunk with 14.5 seconds left to lift the Detroit Pistons to a 98-94 victory over the New Orleans Pelicans on Wednesday night. Reggie Jackson added 17 points for the Pistons, who withstood a late rally by New Orleans to stop a two-game skid. Jrue Holiday scored 29 points and Jahlil Okafor added 17 for the Pelicans, who have lost four of six and were playing without star forward Anthony Davis. The Pistons led 95-87 with 1:32 remaining, but New Orleans cut the deficit to 95-92 on a drive by Jrue Holiday and a 3-pointer by Darius Miller with 52.5 seconds left.  Griffin scored 20 of Detroit's 31 points in the first quarter and had 26 by halftime on 9-of-14 shooting, with the Pistons leading 57-47.
NHL – National Hockey League
Tonight
No games, all star break
NCAAMBB – Men's College Basketball
Tonight
(6) Michigan State at (19) Iowa, 7:00 p.m.               Superhits 103.7 Cosy-FM 6:00
NCAAWBB – Women's College Basketball
Last Night
Eastern Michigan 81, Bowling Green 74
Toledo 62, Central Michigan 59
Tonight
Michigan at Indiana, 6:00 p.m.
(1) Notre Dame at Tennessee, 7:00 p.m.
Illinois at (23) Michigan State, 7:00 p.m.
NFL – Fitzgerald staying with Cardinals
There's still no quit in wide receiver Larry Fitzgerald. The Arizona Cardinals have announced that they signed the 35-year-old Fitzgerald to a one-year contract. Team president Michael Bidwell says, "No player has meant more to this franchise or this community than Larry Fitzgerald." Fitzgerald remains one of the team's top offensive threats, recording team highs with 69 catches, 734 receiving yards and six scoring grabs in 2018. The 35-year-old Fitzgerald caught the 116th touchdown pass of his career this season and became the third player with at least 1,300 career receptions.  He shares the franchise record with 234 games played and is one of two receivers in NFL history with 2,000 yards receiving against three different teams, joining Jerry Rice. Fitzgerald's future was one of the big questions going into the Cardinals' offseason. Arizona fired coach Steve Wilks and replaced him with former Texas Tech coach Kliff Kingsbury.
NFL – Rams kicker Zuerlein listed on injury report with foot issue
Kicker Greg Zuerlein appears on the Los Angeles Rams' first injury report before the Super Bowl. Zuerlein is listed with a foot injury on the report distributed Wednesday by the Rams, who had the day off. The right-footed Zuerlein was spotted with a walking boot on his left foot Monday after the Rams returned from New Orleans, but coach Sean McVay said the Rams didn't pick up any serious injuries while winning the NFC championship game.  Zuerlein is among the NFL's most powerful and most reliable kickers. He comfortably made a 57-yard field goal in overtime to send the Rams to their first Super Bowl in 17 years. He also made a 48-yarder with 15 seconds left in regulation to force OT.
Tennis – Kvitova advances
Petra Kvitova has advanced to a Grand Slam final for the first time since winning Wimbledon in 2014.  The 28-year-old Kvitova stayed alive in the Australian Open with a 7-6, 6-0 win over American Danielle Collins. Kvitova was more aggressive throughout, mixing big lefty forehands and well-timed pushes forward to the tune of a 30-9 edge in total winners. The eighth-seeded Kvitova is now on an 11-match winning streak after warming up for the Australian Open with a title run in Sydney. Collins entered the Australian Open with an 0-5 record in Grand Slam matches, but took out three seeded players en route to the semifinals. Kvitova will take on either fourth seed Naomi Osaka or No. 7 Karolina Pliskova (PLIHSH'-koh-vah) for the title.
AHL – American Hockey League
Last Night
Grand Rapids Griffins 2, Manitoba Moose 1 – OT
MCCAA – Junior College Sports
Tonight (both games rescheduled from yesterday)
Women's Basketball
Lansing Community College at Lake Michigan College, 5:30 p.m.  
Men's Basketball
Lansing Community College at Lake Michigan College, 7:30 p.m.  
MHSAA – High School Sports
Last Night
Boys Basketball
Brandywine 68, New Buffalo 34
Edwardsburg at Sturgis, PPD
Girls Basketball
Brandywine 51, New Buffalo 26
Berrien Springs at Lake Mich. Cath., PPD
Sturgis at Edwardsburg, PPD
Mendon at Bloomingdale, PPD
Wrestling
Mattawan 43, Lakeshore 33
Portage Northern at St. Joseph, PPD
Niles at Portage Central, PPD
Tonight
Boys Basketball
Countryside at Michigan Lutheran, 7:30 p.m.
Girls Basketball
Bridgman at Buchanan, 7:30 p.m.
Gull Lake at Comstock, 7:30 p.m.
Boys Swimming
Portage Northern at St. Joseph, 6:00 p.m.
Mattawan at Bridgman/Lakeshore, 6:00 p.m.