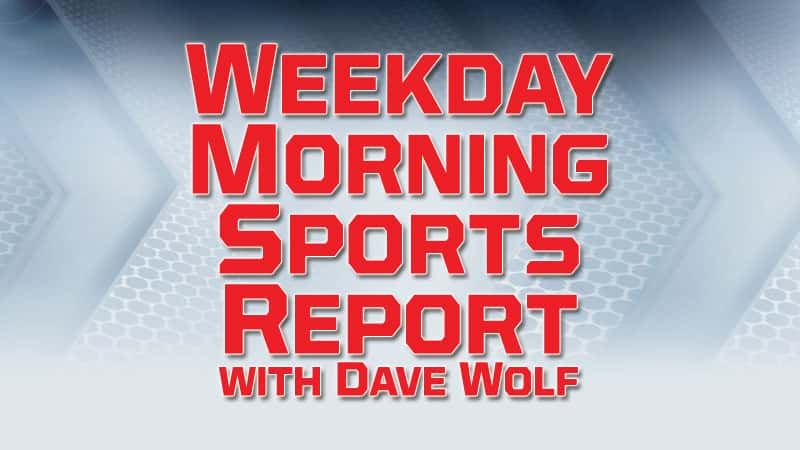 NCAAMBB – Men's College Basketball
Last Night
(5) Michigan 59, Minnesota 57
Georgia Tech 63, Notre Dame 61
Ohio 81, Western Michigan 76
Bowling Green 80, Eastern Michigan 67
Akron 70, Central Michigan 67
(5) Michigan 59, Minnesota 57 – Matthews beats buzzer, No. 5 Michigan edges Minnesota 59-57
Charles Matthews made a baseline floater at the buzzer to lift No. 5 Michigan to a 59-57 win over Minnesota on Tuesday night after the Golden Gophers scored 10 straight points to tie the game late. On the final possession, Iggy Brazdeikis drove to the basket and had his shot blocked by Eric Curry, but the ball bounced right to Matthews to the left of the rim and he had time to release a shot that went high in the air and dropped through with no time remaining. Brazdeikis scored 13 of his 18 points in the second half. He was held scoreless at Wisconsin on Saturday when the Wolverines lost for the first time this season. Michigan (18-1, 7-1 Big Ten) struggled through much of the game against Minnesota and was down by seven before Brazdeikis made a 3-pointer and a three-point play to cut the deficit to one. That was the start of a 23-3 run by the Wolverines.
Georgia Tech 63, Notre Dame 61 – Gueye's big putback leads Ga Tech past Notre Dame 63-61
Abdoulaye Gueye had a huge putback with 52 seconds left, Jose Alvarado hit two clutch free throws and Georgia Tech held off Notre Dame for a 63-61 victory in the Atlantic Coast Conference on Tuesday night. Alvarado and James Banks III scored 16 points apiece to lead the Yellow Jackets (11-8, 3-3), who snapped a two-game losing streak. Notre Dame (11-8, 1-5) lost for its third in a row despite another big game from John Mooney, who had 22 points and 14 rebounds.  Mooney made a meaningless shot at the buzzer, ripping at his shirt in frustration as the Fighting Irish dropped another one in the ACC, falling to last all by themselves in the conference standings.
Ohio 81, Western Michigan 76 – Block scores 16 to lead Ohio past Western Michigan 81-76
Gavin Block scored 16 points with five 3-pointers as Ohio beat Western Michigan 81-76 on Tuesday night. Jason Carter had 14 points and seven rebounds for Ohio (10-8, 2-4 Mid-American Conference). James Gollon added 13 points, Teyvion Kirk 11 and freshman Jason Preston had a career-high nine assists. The Bobcats used 22 assists on 28 field goals. Ohio trailed by as many as 14 points early in the game. Michael Flowers had 24 points and six 3-pointers for the Broncos (6-13, 0-6), who have lost six games in a row. Seth Dugan added 23 points and 15 rebounds for his seventh double-double of the season. Freshman William Boyer-Richard chipped in with 12 points in just his fifth career start.
Bowling Green 80, Eastern Michigan 67 – Bowling Green wins 10th straight game, 80-67 over EMU
Justin Turner scored 19 points, Demajeo Wiggins had 13 points and 10 rebounds and Bowling Green won its 10th straight game with an 80-67 victory over Eastern Michigan on Tuesday night. Bowling Green (14-5, 6-0 Mid-American Conference) is off to its best start in league play since the 1961-62 team won seven straight. BGSU is one of just four teams in the country with active winning streaks of at least 10 games, including Hofstra, Tennessee and Michigan State.  Jeffrey Uju and Dylan Frye each scored 11 points for BGSU. Bowling Green led 36-27 at the break with nine points from Wiggins and eight by Turner, including a 3-pointer just before the halftime buzzer. James Thompson IV had 16 points and 12 rebounds to lead five starters in double-digit scoring for Eastern Michigan (8-11, 2-4). It was his eighth double-double of the season.
Akron 70, Central Michigan 67 – Akron leads entire way in 70-67 win over Central Michigan
Tyler Cheese had 20 points and 12 rebounds to lead Akron to a 70-67 victory over Central Michigan on Tuesday night.  The Chippewas never led but kept within single digits in the second half, and Dallas Morgan's 3-pointer pulled them to 67-65 with 14 seconds to play. Cheese made a pair of free throws on the next possession, and Jimond Ivey added one more with four seconds to go.  Akron (11-8, 3-3 Mid-American Conference) avenged an 88-86 overtime road loss to Central Michigan on January 8, and improved to 3-0 at home in conference play. Central Michigan (14-5, 3-3) has lost three of its last four games since having its seven-game win streak snapped.
NHL – National Hockey League
Last Night
Chicago Blackhawks 3, New York Islanders 2 – Shootout
Detroit Red Wings 3, Edmonton Oilers 2
Blackhawks 3, Islanders 2 – SO – Toews, Kane score in shootout to lift Blackhawks over Isles
Jonathan Toews and Patrick Kane scored in the shootout to send the Chicago Blackhawks to a 3-2 win over the Islanders on Tuesday night, ending New York's five-game winning streak. Toews scored on a backhander and Kane beat Robin Lehner between the pads after nearly pulling to a stop. Chicago goalie Cam Ward stopped Josh Bailey and Mathew Barzal to give the Blackhawks their second straight victory following a five-game slide. Toews and Dylan Strome scored power-play goals in regulation for Chicago. Strome connected during a 5-on-3 advantage at 6:05 of the second period to end the Islanders' shutout streak at 158 minutes, 58 seconds. Valtteri Filppula and Barzal scored in regulation as the Metropolitan Division-leading Islanders lost for just the third time in 15 games. Cam Ward stopped 34 shots through overtime for Chicago.
Red Wings 3, Oilers 2 – Glendening scores twice, Red Wings top Oilers 3-2
Luke Glendening scored twice and the Detroit Red Wings headed into the All-Star break with a 3-2 victory over the Edmonton Oilers on Tuesday night. Dylan Larkin had a goal for the Red Wings, who snapped their two-game skid. Jimmy Howard made 32 saves. Leon Draisaitl and Matt Benning scored for the Oilers, who have lost three in a row. Detroit got on the board four minutes into the second period when Larkin scored his 21st of the season on a quick wrist shot. The Oilers got caught scrambling midway through the second, leading to a backhand goal by Glendening. Draisaitl swatted in a puck out of midair for his 27th at 4:30 of the third period as Edmonton finally scored. Detroit restored its two-goal lead when Glendening somehow squeezed in a bad-angle shot past goalie Mikko Koskinen. The Oilers pulled Koskinen early and it paid off with 2:26 left on a point drive from Benning, but they were unable to tie it.
NBA – National Basketball Association
Tonight
Toronto Raptors at Indiana Pacers, 7:00 p.m.
Atlanta Hawks at Chicago Bulls, 8:00 p.m.
Detroit Pistons at New Orleans Pelicans, 8:00 p.m.
NCAAWBB – Women's College Basketball
Tonight
Bowling Green at Eastern Michigan, 7:00 p.m.
Central Michigan at Toledo, 7:00 p.m.
MLB – Rivera unanimous; Halladay, Edgar, Mussina voted to HOF
Baseball's all-time saves leader has become the game's first unanimous Hall of Fame selection. Former New York Yankees closer Mariano Rivera received all 425 votes in balloting by the Baseball Writers' Association of America announced. He had 652 regular-season saves during his 19-year career spent entirely with the Yanks. He was at his best in October, getting 42 saves with a 0.70 ERA over 16 postseasons, including 11 saves in the World Series.  The Hall's Class of 2019 also includes Roy Halladay, Mike Mussina and Edgar Martinez. Halladay was an ace with the Toronto Blue Jays and Philadelphia Phillies, going 203-105 with a 3.38 ERA. The right-hander received 85.4 percent of the vote and will be the first posthumous inductee since Deacon White in 2013 and Ron Santo in 2012.  Mussina was a steady right-hander for the Yankees and Baltimore Orioles who went 270-153 with 2,813 strikeouts over 18 seasons. He received 76.7 percent, getting seven more votes than the 319 required for election.  Martinez was a .312 hitter with 309 home runs and 1,261 over 18 seasons with Seattle. He got 85.4 percent in his 10th and final try on the writers' ballot.   The quartet will be enshrined in Cooperstown along with Today's Game Era Committee selections Harold Baines and Lee Smith on July 21. Barry Bonds and Roger Clemens made gains but again fell short in their seventh time on the ballot. Bonds got 59.1 percent and Clemens 59.5.
NFL – Sources say NFL to consider expanding replay reviews
Two people with direct knowledge of the NFL's plans tell The Associated Press that the league's competition committee will consider expanding replay reviews to include certain penalties, including pass interference. Officiating once more became a hot topic during Sunday's NFC championship game. A missed call by referee Bill Vinovich's crew of a blatant pass interference penalty and helmet-to-helmet hit by Rams cornerback Nickell Robey-Coleman on Saints receiver Tommylee Lewis likely cost New Orleans a spot in the Super Bowl. Saints coach Sean Payton said NFL senior vice president of officiating Al Riveron told him afterward that a flag should have been thrown.
NFL – Bonamego back with Lions as special teams coordinator
Former Central Michigan coach John Bonamego is returning to the Detroit Lions. The Lions announced Tuesday that they have hired Bonamego as special teams coordinator. That's the same position he held with the Lions before becoming CMU's coach for the past four seasons. Bonamego's tenure at CMU ended when the team went 1-11 in 2018. Bonamego was special teams coordinator for the Lions in 2013 and 2014. He's also coached special teams for the Jaguars, Packers, Saints and Dolphins. Bonamego went 22-29 as CMU's coach.
NFL – Blown-call lawsuit seeks do-over of Rams-Saints game
In the legal equivalent of a Hail Mary pass, two New Orleans Saints season ticket holders have asked a judge to reverse the result of the NFC championship game that sent the Los Angeles Rams to the Super Bowl _ or order a o-over. Tuesday's state court filing says NFL Commissioner Roger Goodell should implement a league rule governing "extraordinarily unfair acts." Remedies include reversal of a game's result or the rescheduling of a game _ in its entirety or from the point when the act occurred. At issue is the failure of officials to call interference or roughness penalties when a Rams player leveled a Saints receiver with a helmet-to-helmet hit at a crucial point in Sunday's game. The NFL hasn't yet responded. A hearing is scheduled Monday.
Tennis – Serena ousted by Pliskova
Seventh seed Karolina Pliskova has ended Serena Williams' latest bid for a record-tying 24th Grand Slam title. Pliskova advanced to the Australian Open women's semifinals by winning the last five games and fighting off four match points in a 6-4, 4-6, 7-5 victory over Williams. That sets up a match between Pliskova and No. 4 Naomi Osaka, who won her quarterfinal match by a 6-4, 6-1 margin over No. 6 Elina Svitolina.
MCCAA – Junior College Sports
Tonight
Women's Basketball
Lansing Community College at Lake Michigan College, 5:30 p.m.   106.1 & 1400 WSJM Sports
Men's Basketball
Lansing Community College at Lake Michigan College, 7:30 p.m.   106.1 & 1400 WSJM Sports
MHSAA – High School Sports
Last Night
Boys Basketball
Edwardsburg at Sturgis, 7:15 p.m.
Brandywine at New Buffalo, 7:30 p.m.
Girls Basketball
Berrien Springs at Lake Michigan Catholic, 7:30 p.m.
Sturgis at Edwardsburg, 7:15 p.m.
Brandywine at New Buffalo, 7:30 p.m.
Mendon at Bloomingdale, 7:30 p.m.
Wrestling
Lakeshore at Mattawan, 6:00 p.m.
Portage Northern at St. Joseph, 6:00 p.m.
Niles at Portage Central, 6:00 p.m.