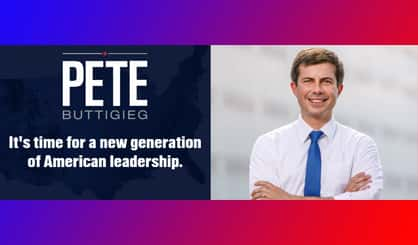 The U.S. will likely have its first openly gay candidate for President in 2020. South Bend Mayor Pete Buttigieg has released a video launching his exploratory committee for the Democratic nomination.
"We can't look for greatness in the past. Right now, our country needs a fresh start," he says in the video.
Buttigieg was first elected mayor in 2011 and won re-election in 2015 with 80% of the vote. In the video, he's touting his work revitalizing South Bend to show he's prepared for an improbable jump from local politics to a national presidential campaign.
"When I arrived in office at the beginning of this decade, the national press said our city was dying. People on the outside didn't believe our city had a future," says Buttigieg. "We propelled our city's comeback by taking our eyes off the rear-view mirror, being honest about change, and insisting on a better future."
Buttigieg, better known around Michiana as "Mayor Pete," ran unsuccessfully in 2017 for the Democratic National Committee chairman office. He is a Rhodes scholar, a Navy Reserve lieutenant, and a veteran of the Afghanistan war. Buttigieg and his husband married last year.
The Democratic field seeking to challenge President Trump is getting more crowded. Buttigieg joins U.S. Senators Kirsten Gillibrand of New York, Kamala Harris of California, and Elizabeth Warren of Massachusetts in launching bids along with Congressman John Delaney of Maryland, Congresswoman Tulsi Gabbard of Hawaii, former U.S. Housing and Urban Development Secretary Julian Castro, and West Virginia state Senator Richard Ojeda in the race.