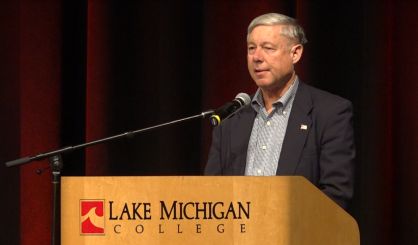 The country needs to do better on race relations. That's the message from Congressman Fred Upton on Martin Luther King Jr. Day during a speech at Lake Michigan College. He called for the removal of Iowa Congressman Steve King from office over long-standing allegations that he is a white supremacist who questioned when the term became offensive last week.
"My answer is how about at the beginning of time? Last week, I was pleased to join my colleagues to kick Mr, King off his House committees. He needs to leave the Congress," said Upton to applause. He also criticized Missouri Republican Congressman Jason Smith for yelling "Go back to Puerto Rico" on the House floor last week.
"I fear that after his 'I Have a Dream,' he would now say 'this is my nightmare,'" said Upton regarding Dr. Martin Luther King Jr. "This is our nightmare, and we must stop the madness."
The St. Joseph Republican called on everyone to do more.
"You might my remember my remarks last year after the violence in Charlottesville (Virginia)," said Upton, adding "where the President said that violence and blame could be on bad people on both sides. No. There is right, and yes, there is wrong. There is good and there is evil, and as Dr. King said 'he who passively accepts evil is as much involved in it as he who helped perpetrate it.'"
He made his remarks at Lake Michigan College's annual MLK Day Breakfast on Monday.