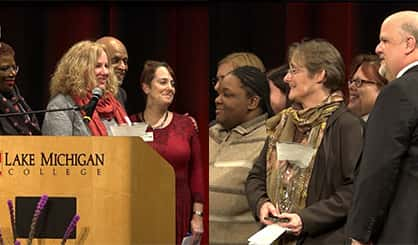 100 Women Strong and the OutCenter are this year's recipients of the Martin Luther King, Jr. Diversity Award from Lake Michigan College. Each year, LMC gives the Diversity Award to a person or an entity that has made a positive difference in southwest Michigan. Speaking at Monday's MLK breakfast, 100 Woman Strong's Lynne Christiano quoted Dr. King.
"Not everybody can be famous, but everybody can be great because greatness is determined by service," Christiano said. "You only need a heart full of grace and a soul generated by love."
100 Women Strong provides emergency financial assistance to women in need. Speaking for the OutCenter, Mary Jo Schnell said everyone needs to remember Martin Luther King's message.
"Now more than ever, we must journey together in all our diversity toward justice and equality," Schnell said.
Schnell said the past two years have been rough for marginalized groups, but young people, women, and others have risen to work for what's right. She also noted it is still legal to discriminate against LGBTQ people under Michigan law.