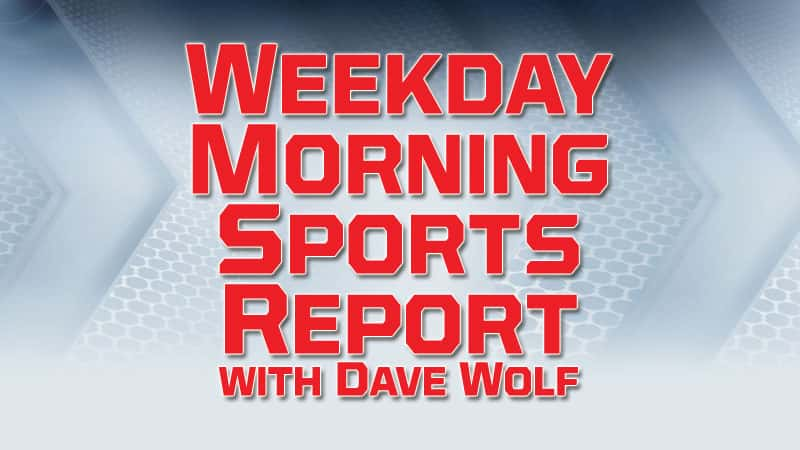 NCAAMBB – Men's College Basketball
Last Night
(13) North Carolina 75, Notre Dame 69
(16) Buffalo 88, Western Michigan 79
Akron 51, Eastern Michigan 49
Central Michigan 78, Northern Illinois 69
(13) North Carolina 75, Notre Dame 69 – Little, No. 13 North Carolina hold off Notre Dame 75-69
Nassir Little got rolling, No. 13 North Carolina didn't have to worry much about yet another home loss.  Little scored all 11 of his points in the final 11 minutes, and the Tar Heels beat Notre Dame 75-69 on Tuesday night.  Coby White had 17 points while Luke Maye added 14 points and 10 rebounds and Cameron Johnson finished with 11 points for the Tar Heels (13-4, 3-1 Atlantic Coast Conference). UNC used a late 12-1 run to bounce back from its most lopsided home loss under Hall of Fame coach Roy Williams.  Prentiss Hubb scored 18 points, John Mooney had 16 points and 19 rebounds, and D.J. Harvey added 15 points for the Fighting Irish (11-6, 1-3).
 (16) Buffalo 88, WMU 79 – No. 16 Buffalo holds off upset-minded WMU 88-79
Jeremy Harris had 22 points and 11 rebounds, and the 16th-ranked Bulls held off upset-minded Western Michigan 88-79 on Tuesday night, but this game was close throughout after Buffalo won its first three Mid-American Conference games by a combined 70 points.  Nick Perkins added 14 points for the Bulls (16-1, 4-0), who trailed by 11 in the first half and struggled to shake free of WMU until the very end. The Bulls led by just four when star guard CJ Massinburg — who had been scoreless in the second half — connected from 3-point range to make it 86-79 with under 90 seconds remaining.  The Broncos (6-11, 0-4) went on a 15-0 run in the first half and led 33-22, but Buffalo rebounded quickly and led 43-39 at halftime. Josh Davis scored 24 points for WMU.
CMU 78, Northern Illinois 69 – Central Michigan downs Northern Illinois 78-69
Shawn Roundtree hit five 3-pointers and scored 21 points, David DiLeo added 18 points with five 3s, and Central Michigan pulled away late to beat Northern Illinois 78-69 on Tuesday night. A DiLeo 3-pointer capped a 13-2 run for an 11-point lead early in the second half as the Chippewas were 7 of 9 from distance. Rob Montgomery scored 16 points and Kevin McKay added 10 for Central Michigan (14-2, 3-1 Mid-American Conference), which made 13 of 29 3s but was outscored 40-26 in the paint.  Bradley scored 27 points, Dante Thorpe added 18 and German had 13 for the Huskies (10-7, 3-1), who saw their three-game win streak end.
Akron 51, EMU 49 – Utomi, Ivey help Akron hold off Eastern Michigan 51-49
Daniel Utomi and Jimond Ivey scored 12 points each and Akron held off Eastern Michigan 51-49 on Tuesday night despite poor shooting from both teams late.  Eastern Michigan (8-9, 2-2 Mid-American Conference) shot 2 of 9 from the floor and had a turnover over the last five minutes while the Zips (10-7, 2-2) missed three field goals and a free throw, and turned the ball over four times.  Boubacar Toure scored 15 points and grabbed 10 rebounds for Eastern Michigan. Paul Jackson added 15 points, five assists and four steals.  Thompson finished with six points and 11 rebounds.
NCAAWBB – Women's College Basketball
Tonight
#1 Notre Dame at Virginia Tech, 7:00 p.m.
Eastern Michigan at Akron, 7:00 p.m.
Miami (OH) at Central Michigan, 7:00 p.m.
Toledo at Western Michigan, 7:00 p.m.
NCAAFB – Wimbush leaving ND for UCF
Former Notre Dame quarterback Brandon Wimbush says he is transferring to UCF, where he will be eligible to play next season as a graduate transfer.  Wimbush started 16 games for the Fighting Irish over the last two seasons, including the first three of 2018 before losing the job to Ian Book. He passed for 2,606 yards and 20 touchdowns and ran for 1,155 yards and 16 scores at Notre Dame.
NHL – National Hockey League
Last Night
Detroit Red Wings 3, Anaheim Ducks 1
Red Wings 3, Ducks 1 – Red Wings beat Ducks 3-1, extend record losing streak to 12
Gustav Nyquist broke a 1-1- tie with 4:16 left and Darren Helm scored a little later, lifting the Detroit Red Wings over the Ducks 3-1 on Tuesday night to extend Anaheim's franchise-record losing streak to 12 games.  For the third straight setback, Anaheim went into the third period with a one-goal lead and failed to win.  The Ducks' losing streak is the NHL's longest single-season skid since the Buffalo Sabres lost 14 games in a row four years ago.  John Gibson stopped 22 shots for the Ducks, who haven't won since Dec. 17. Prior to the skid, they had won nine of 10.  Anthony Mantha also scored for Detroit.  Jimmy Howard finished with 23 saves for the Red Wings, who won two straight for the first time in more than a month.
NBA – National Basketball Association
Last Night
Indiana Pacers 131, Phoenix Suns 97
Pacers 131, Suns 97 – Pacers dominate Suns
Indiana has its sights set on the top of the Eastern Conference standings.  On Tuesday night, the Phoenix Suns found themselves directly in the way of a determined Pacers team.  Bojan Bogdanovic scored 20 points and the Pacers wasted little time cruising to a 131-97 victory.  The Pacers got off to a fast start thanks to Bogdanovic, who scored the Indiana's first 10 points. The Pacers doubled the Suns' total in the first quarter, leading 38-19 at the end of the period. Myles Turner returned for the first time in four games to finish with 18 points and six rebounds. Turner was nursing a sore right shoulder over the last week. The Pacers led by as many as 37 in a game in which they never trailed. T.J. Warren led Phoenix with 18 points.
Lakers 107, Bulls 100 – Ball scores 19 as Lakers deal Bulls eighth straight loss
Lonzo Ball scored 19 points, Kentavious Caldwell-Pope added 17 and the Los Angeles Lakers won for just the fourth time since LeBron James' groin injury, beating the reeling Chicago Bulls 107-100 on Tuesday night. Ball, who also had eight rebounds and six assists, scored 13 points during the second half as Los Angeles was able to break open what was a close game for the first 28 minutes. Brandon Ingram and Kyle Kuzma scored 16 apiece. The Lakers are 4-7 since James was injured in a Dec. 25 game at Golden State. Jabari Parker scored 18 points and Lauri Markkanen added 17 for Chicago, which has dropped eight straight.
Tonight
Orlando Magic at Detroit Pistons, 7:00 p.m.
NFL – Chargers, Cowboys coaching staffs to lead Pro Bowl teams
The coaching staffs of the Los Angeles Chargers and Dallas Cowboys have been selected to lead the Pro Bowl teams. Anthony Lynn and his Chargers' staff will coach the AFC team while Jason Garrett and his Cowboys' staff coach the NFC team. The Chargers finished 12-4 in the regular season and lost to the Patriots 41-28 in the divisional round on Sunday. The NFC East champion Cowboys were 10-6 in the regular season and were defeated 30-22 by the Rams on Saturday night.
Tennis – Stephens advances
American Sloane Stephens has advanced to the third round of the Australian Open by beating her former junior doubles partner. The fifth-seeded Stephens needed just 95 minutes to complete a 6-3, 6-1 win over Timea Babos. The match would have had a quicker conclusion had Babos not saved 18 of 23 break points. Ninth seed Kiki Bertens was ousted in the second round despite winning her opening set. Stefanos Tsitsipas is through to the third round and closer to a potential meeting with defending champion Roger Federer at Melbourne Park.  The Greek 20-year-old beat Viktor Troicki 6-3, 2-6, 6-2, 7-5 but wasted numerous break-point opportunities as the Serbian player saved 15 of 19 chances created by Tsitsipas.
MCCAA – Junior College Basketball
Tonight
Women's Basketball
Lake Michigan College at Jackson Community College, 5:30 p.m.             95.7 & 1400 WSJM Sports
Men's Basketball
Lake Michigan College at Jackson Community College, 7:30 p.m.             95.7 & 1400 WSJM Sports
MHSAA – High School Sports
Last Night
Boys Basketball
Benton Harbor 68, Coloma 51
Benton Harbor improved to 12-0 with a 68-51 win at Coloma.  The Tigers held just a one point lead at the half and a seven point advantage after three, but pulled away in the 4th, outscoring the Comets 23-13.  Carlos Johnson led Benton Harbor with 25 points and 16 rebounds.  Zach Goodline scored 20 for Coloma, who saw its five game winning streak come to an end with the loss.
Mishawaka 43, St. Joseph 25
Mishawaka's Grant Jablonski scored 11 of his game high 18 points in the first quarter to help the Cavemen take the early 16-8 lead and went on for a 43-25 win over St. Joseph.  Anthony Cellentani had 6 points to lead St. Joe, who fall to 3-8 on the season.
Lakeshore 61, Edwardsburg 32
Micah Seats had a game high 21 points, including three triples to lead Lakeshore to a 61-32 non-conference win over Edwardsburg.  Dylan Clem added 10 points as the Lancers improve to 7-2.
South Haven 57, Fennville 53
South haven and Fennville exchanged the lead through the first three quarters, but the Rams pulled away in the fourth, for a 57-53 non-conference win.  Jaylin Fox led all scorers with 20 points.  Fennville's Matt Sanchez netted 18 in the losing cause.  The Rams play at Allegan Friday.
Decatur 60, Eau Claire 51
Matty Stambek had 17 points for Decatur in a 60-51 win over Eau Claire.  Justin Gale added 12 for the Raiders.  Marquis Hackney had a game high 24 points for Eau Claire.  Deijon Palmer chipped in 13.
Michigan Lutheran 54, Covert 12
Cameron Guse had a game high 25 points at Michigan Lutheran beat Covert 54-12 to give interim head coach John Eggert his 500th career coaching win.
Howardsville Christian 97, New Buffalo 56
Howardsville Christian senior Dylan Jergens had 47 points as the eagles beat New Buffalo 97-56.  Logan Cornwell added a double double with 13 points and 10 rebounds.  Ben O'Connell was one of three New Buffalo players in double figures with 15 points.  Kaden Parmley and Brennan Grott added 12.
Other games
Lawrence 61, Lake Michigan Catholic 41
Dowagiac 74, Niles 29
Otsego 72, Portage Northern 50
East Lansing 49, Kalamazoo Loy Norrix 34
Allegan 74, Saugatuck 53
Plainwell 59, Berrien Springs 44
Schoolcraft 50, Vicksburg 38
River Valley 54, Countryside 48
Comstock 66, Gobles 50
White Pigeon 47, Bangor 37
Hartford 67, Bloomingdale 48
Cassopolis 76, Centreville 46
Kalamazoo Hackett 79, Lawton 36
Cancellations and postponements
Battle Creek Lakeview vs. Sturgis, ccd.
Coldwater vs. Battle Creek Harper Creek, ccd.
Kalamazoo Christian vs. Galesburg-Augusta, ccd.
Martin vs. Delton Kellogg, ccd.

Girls Basketball
Niles 55, Berrien Springs 19
Alycia Patterson paced Niles with 16 points to lead the Vikings over Berrien Springs 55-19.  Amara Palmer had 12 points and 10 rebounds while Kamryn Patterson added 11 points in the win.  Narpreet Singh had 10 points to lead the Shamrocks.
Michigan Lutheran 57, Covert 25
A quick start for Michigan Lutheran gave them a 19-4 lead after one quarter and the Titans went on for a 57-25 win at Covert.  Mara Rugen had a game high 18 points and Jessi Jewell scored 13 points for Lutheran, who improve to 6-0.  Laniquia Gray led the Bulldogs wit 17 points.
Edwardsburg 57, Lakeshore 19
Edwardsburg's Kaitlyn Zarycki had 21 points as Edwardsburg improved to 9-0 with a 57-19 win at Lakeshore.  Claire Bartz added 12 for the Eddies.   Lakeshore falls to 1-5.
Mattawan 45, Benton Harbor 31
Bridgman 41, Fennville 38
Otsego 56, Portage Northern 4
Kalamazoo Loy Norrix 45, Parchment 34
East Lansing 76, Kalamazoo Central 65
Allegan 43, Saugatuck 38
Comstock 57, Plainwell 41
Schoolcraft 43, Vicksburg 33
Mendon 47, Marcellus 13
Bloomingdale 49, Hartford 44
Centreville 54, Cassopolis 24    (Centreville has won 28 straight home games, dating back to 2/2/16)
Eau Claire 52, Decatur 47
Gobles 63, Constantine 30
Kalamazoo Hackett 46, Lawton 37
Cancellations and postponements
Battle Creek Harper Creek vs. Coldwater, ccd.
Battle Creek Lakeview vs. Sturgis, ppd.
Burr Oak vs. Climax-Scotts, ccd.
Delton Kellogg vs. Martin, ccd.
Galesburg-Augusta vs. Kalamazoo Christian, ccd.
New Buffalo vs. Marcellus Howardsville Christian, ccd.
Gull Lake vs. Three Rivers, ccd.
Tonight
Wrestling
Lakeshore at Portage Northern, 6:00 p.m.
St. Joseph at Portage Central, 6:00 p.m.
Mattawan at Niles, 6:00 p.m.
Edwardsburg, Dowagiac, Sturgis at Three Rivers, 5:30 p.m.
Plainwell, Vicksburg, Paw Paw at South Haven, 5:30 p.m.
Allegan at Otsego, 5:30 p.m.
Competitive Cheerleading
Wolverine Conference Jamboree at Plainwell, 6:00 p.m.