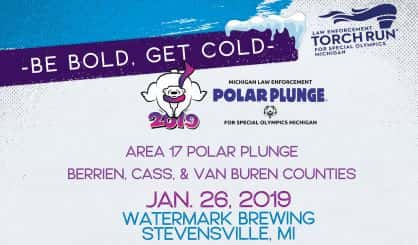 Donations are being taken now as southwest Michigan police and fire agencies prepare for their annual Polar Plunge to support the Special Olympics. Andrew West with Special Olympics Michigan tells WSJM News more than 75 officers and firefighters are scheduled to take the plunge next Saturday.
"They've been raising money for a couple of months now," West said. "Some people might jump in and start right now. That's what we're hoping for to get our final push. If they raise $75, they get the privilege of jumping into that icy water, and they get a long sleeve shirt as well, commemorating the St. Joseph Plunge."
They've already raised more than $9,000, and you can donate right here. The Law Enforcement Polar Plunge will be next Saturday at Watermark Brewing Company in Stevensville. Doors open at noon, and the plunging starts at 2 p.m. Among the agencies taking part are the Berrien County Sheriff's Department and Michigan State Police, along with individual officers and firefighters from all over the three counties of southwest Michigan.