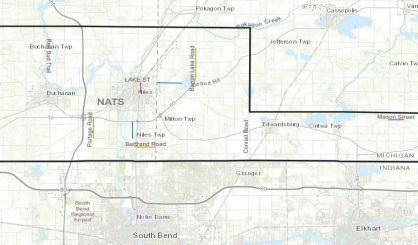 The Niles-Buchanan-Cass Cities Area Transportation Study has compiled a list of road projects that should be a priority in the next four years around southern Berrien County and Cass County. Southwest Michigan Planning Commission Associate Planner Brandon Kovnat tells WSJM News the list of recommendations comes out of a December 18 meeting of several municipalities and road departments.
"The city of Niles really felt that 13th Street was a priority," Kovnat said. "It's one street that hasn't gotten repaired in a very long time. Buchanan is working on Front Street, and part of that is their master plan, their downtown. They're going to be combining that with water and sewer."
They're also looking at Portage Road in Bertrand Township and Mason Street in Mason Township. In all, the Niles-Buchanan-Cass Cities Area Transportation Study has identified $4.1 million in road projects. A January 22 meeting will solidify which projects to pursue, and then applications for federal funding will be sent out. You can find out more right here.