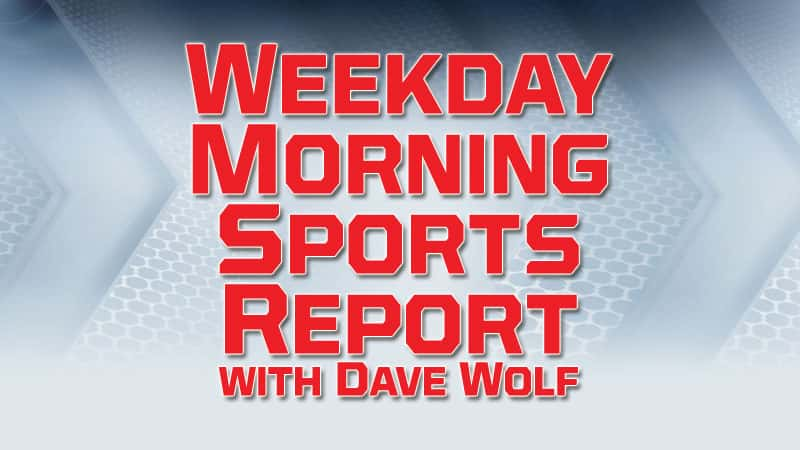 NCAAMBB – Men's College Basketball
Last Night
(2) Michigan 80, Northwestern 60
(6) Michigan State 71, Penn State 56
(2) Michigan 80, Northwestern 60 – No. 2 Michigan now 17-0 after 80-60 win over Northwestern
Jon Teske scored all 17 of his points in the first half, and No. 2 Michigan is now off to its best start in program history after an 80-60 victory over Northwestern on Sunday night. The Wolverines (17-0, 6-0 Big Ten) started 16-0 on two previous occasions, but this season's team surpassed that by routing Northwestern. Zavier Simpson scored a career-high 24 points for Michigan, and Teske matched his own career high in scoring. The 7-foot-1 Teske made three 3-pointers, plus a couple more midrange shots. Simpson _ who entered the game shooting 29 percent from 3-point range _ connected five times from beyond the arc.  Dererk Pardon scored 20 points for Northwestern. Michigan also started 16-0 in 1985-86 and 2012-13. The Wolverines have matched the longest winning streak in school history. They won 17 in a row in 1985 before losing in the NCAA Tournament. Michigan and Virginia are the only unbeaten teams remaining in Division I.
(6) Michigan State 71, Penn State 56 – Nick Ward leads No. 6 Michigan State over Penn State, 71-56
Nick Ward had 16 points and 11 rebounds to lead No. 6 Michigan State to a 71-56 win over Penn State on Sunday. Matt McQuaid added 15 points and Cassius Winston chipped in 11 for the Spartans (15-2, 6-0 Big Ten), who have won 10 straight. They also beat the Nittany Lions (7-10, 0-6) for the 10th consecutive time. Kenny Goins added 10 rebounds for the Spartans, who only trailed for 10 seconds and led by as many as 21 with 6:44 to play. Lamar Stevens led Penn State (7-10, 0-6) with 20 points. Myles Dread, Josh Reaves and Mike Watkins all scored 11 points.
NFL – National Football League Playoffs – Divisional Round
Saturday
Kansas City Chiefs 31, Indianapolis Colts 13
Los Angeles Rams 30, Dallas Cowboys 22
Yesterday
New England Patriots 41, Los Angeles Chargers 28
New Orleans Saints 20, Philadelphia Eagles 14
Patriots 41, Chargers 28 – Michel scores 3 TDs, Patriots roll past Chargers 41-28
Sony Michel ran for 129 yards and had three touchdowns and the New England Patriots beat the Los Angeles Chargers 41-28 in the divisional playoffs on to earn their eighth straight trip to AFC championship game. New England will play at Kansas City in next week's AFC title game. The Patriots beat the Chiefs 43-40 in Foxborough in Week 6.  It is the 13th conference championship game appearance by the Patriots during the Tom Brady-Bill Belichick era.
Saints 20, Eagles 14 – Saints rally past Eagles 20-14, will host NFC title game
The New Orleans Saints got two touchdown passes from Drew Brees, two interceptions by Marcus Lattimore, and rallied from a 14-point deficit to beat the Philadelphia Eagles 20-14 to advance to the NFC championship game. Using a dominant ball-control offense after a horrendous start, Brees took the Saints on scoring drives of 92, 79 and 67 yards. And a few gambles paid off to assure New Orleans will host the Rams next Sunday for a spot in the Super Bowl.
Sunday
Conference Championships
Los Angeles Rams at New Orleans Saints, 3:05 p.m.
New England Patriots at Kansas City Chiefs, 6:40 p.m.
NHL – National Hockey League
Tonight
Chicago Blackhawks at New Jersey Devils, 7:00 p.m.
NBA – National Basketball Association
Tonight
Detroit Pistons at Utah Jazz, 9:00 p.m.
NCAAWBB – Women's College Basketball
Last Night
(1) Notre Dame 78, Wake Forest 48
(1) Notre Dame 78, Wake Forest 48 – Mabrey scores 18, No. 1 Notre Dame routs Wake Forest 78-48
Marina Mabrey scored 18 points and No. 1 Notre Dame dominated from start to finish in a 78-48 victory over Wake Forest on Sunday. Jessica Shepard had 16 points while Brianna Turner had 14 points and 12 rebounds for the Fighting Irish (16-1, 4-0 Atlantic Coast Conference), who got a rare off-day from leading scorer Arike Ogunbowale. Ogunbowale, who had 30 points Thursday in Notre Dame's 82-68 win over No. 2 Louisville, saw her 37-game double-digit scoring streak end. She scored just four points on 1-of-11 shooting from the field. But roommate Mabrey hit 7 of 11 shots, including 4 of 7 3-pointers, and had seven rebounds and four assists. Shepard finished with six rebounds, five assists and four steals. Christina Morra scored 13 points and Ivana Raca had 12 for the Demon Deacons (9-7, 0-3).
Tonight
(23) Michigan State at Ohio State, 7:00 p.m.
MLB – AP Source: A's, MLB meet with Heisman Trophy winner Murray
Representatives of the Oakland Athletics and Major League Baseball met Sunday with Heisman Trophy winner Kyler Murray, a day before the Oklahoma quarterback's deadline to enter the NFL draft, a person with direct knowledge of the session said. The person spoke on condition of anonymity Sunday because the meeting was not made public. Oakland executives remained confident as recently as the baseball winter meetings last month in Las Vegas that Murray would report to spring training this year and pursue baseball. MLB joined the efforts to persuade the dual-sport star, sending someone from its marketing group to the meeting, the source said. Murray's Sooners lost in a college football playoff semifinal Dec. 29 to eventual runner-up Alabama. Drafted last June in the first round as the ninth overall pick, the outfielder signed with Oakland for $4.66 million. There was an agreement between the team and Murray that he would play football this year, then skip his senior season to begin his pro baseball career _ and A's manager Bob Melvin as well as executive Billy Beane and general manager David Forst closely followed Oklahoma football in 2018. Murray showed off his skills at the Coliseum in an A's uniform back in June.
Tennis – First slam of year begins at Melbourne
The Australian Open has begun at Melbourne Park, where Roger Federer and Caroline Wozniacki are back to defend their singles titles. Maria Sharapova needed just 63 minutes to beat British qualifier Harriet Dart 6-0, 6-0 in the first match on Rod Laver Arena. The only break point Sharapova faced was when she double-faulted in the fifth game of the second set.  Early winners include 11th seed Aryna Sabalenka and No. 31 Petra Martic, both in straight sets.
ECHL – ECHL Hockey
Last Night
Kalamazoo Wings 5, Fort Wayne Komets 3
NBAGL – NBA "G" League
Last Night
Grand Rapids Drive 110, Iowa Wolves 108
MHSAA – High School Sports
Tonight
Boys Basketball
Buchanan at Constantine, 7:00 p.m.
River Valley at Decatur, 7:30 p.m.
G.R. Wellspring at Howardsville Chr., 7:00 p.m.
Girls Basketball
Lake Michigan Catholic at Lawrence, 7:00 p.m.
Buchanan at New Buffalo, 7:30 p.m.