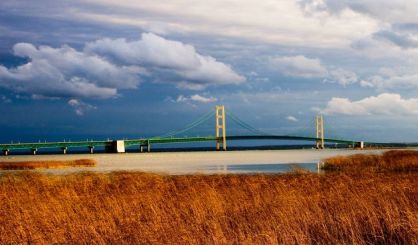 One of Governor Whitmer's first acts was to ask state Attorney General Dana Nessel to deliver a legal opinion on the validity of Public Act 359 – the law authoring a petroleum pipeline replacement in the Mackinac Straits. But can the governor come up with a compromise that works or will it be a politics as usual decision pleasing some while alienating the other half of the state?
The fates of the petroleum pipelines and the law authorizing a replacement in the Mackinac Strait are unclear. The AG's office declined an interview request to comment on her review of the law. Governor Whitmer says "Resolving any legal uncertainty regarding PA 359, the Mackinac Straits Corridor Authority and action taken by the authority is necessary to assure that we can take all action necessary to protect the Great Lakes." Nessel is reviewing that law now.
One of the first organizations to endorse Whitmer in her run for governor was the Michigan Building and Construction Trades Council. Council Secretary Treasurer Pat Devlin supports the Enbridge pipeline project that Public Act 359 authorizes.  He's hopeful Governor Whitmer can find a workable compromise on the pipeline that balances jobs with environmental protections.
"I know Gretchen Whitmer personally and knowin' that she's been a good leader in the House and Senate, she's a bridge builder. She knows how to work compromise. And that's somethin' that I think has been lacking up in Lansing and Washington for a long time. The art of compromise that the best situation is going to be put together that all people can live with."
And even though Whitmer has said the pipeline poses "a serious risk to the Great Lakes, to Michigan's economy and to our way of life" there will be no public move to kill the pipeline project until the Attorney General has rendered her opinion on Public Act 359.