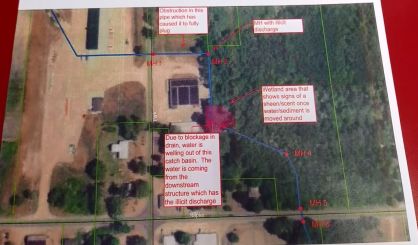 Someone dumped around 500 gallons of fuel into a Berrien County drain, and the county board of commissioners would like to know who it was. At this week's meeting, the Berrien County Board of Commissioners instructed County Administrator Bill Wolf to study options when it comes to paying for the clean-up of the drain at Napier Avenue and Park Road in Bainbridge Township. Drain Commissioner Christopher Quattrin tells WSJM News the spillage was discovered last week when the drain was reported clogged. A contractor found red fuel in a manhole. Quattrin says, fortunately, the blockage in the drain stopped the fuel from spreading far.
"It didn't infiltrate out into the ground there so our clean-up, our mitigation, cleaned up the issue and now we have the drain running clean again," Quattrin said.
Contractors pumped out five trucks of sand and water as they cleaned up the fuel. County commissioners this week wondered if the discharge is a criminal matter. Quattrin says the fuel, used either for agriculture or heat, would have value, and so it's not known if the spill was intentional.
"A farmer can typically get up to 50 cents a gallon to sell it to a recycler so if you look at it, someone threw $200 to $250 down the drain," Quattrin said. "It cost us quite a bit of money to get it back out."
The Berrien County Sheriff's Department is opening a file on the case. Quattrin says the cost to clean up the fuel was about $25,000. One question is whether the residents and the municipalities in the affected drain district should have to pay for it. The county administrator will report options back to commissioners at a later date.