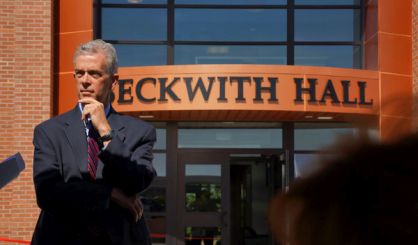 New Berrien County Commissioner Bob Harrison is ready to get to work now that he's been sworn in. Harrison, the former president of Lake Michigan College and now county commissioner for the Seventh District, told Moody in the Morning Wednesday he sees the declining population as a major problem for Berrien County.
"One of the big issues facing Berrien County as a group is how we grow the population base, how we grow the jobs, how we become more attractive to companies and encourage them to relocate here," Harrison said.
Harrison says to fight the population decline, the region needs to attract those younger families.
"Some of it is creating opportunities for families, some of it's just making sure the lifestyle is what they're looking for," Harrison said.
Harrison says another issue for Berrien County remains the continued recovery from last year's floods and road repairs. He says he's already learned a great deal about being a commissioner even though it's just his second week on the job. Harrison represents Stevensville and parts of Lincoln Township on the commission.