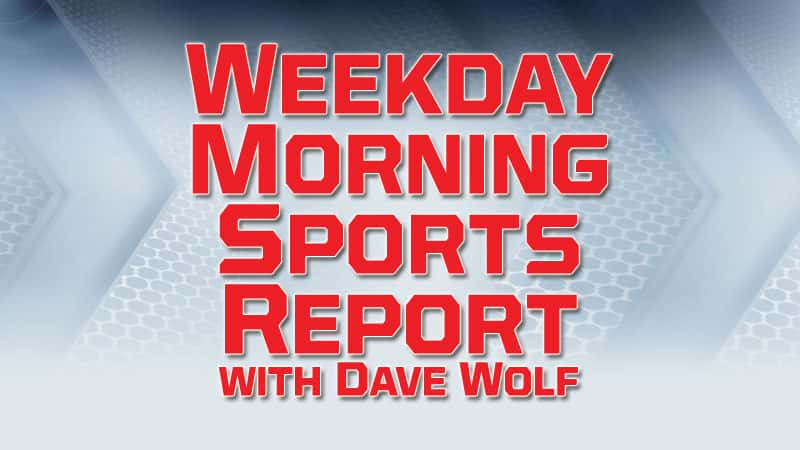 NFL – National Football League Playoffs – Wild Card Weekend
Saturday
Indianapolis Colts 21, Houston Texans 7
Dallas Cowboys 24, Seattle Seahawks 22
Yesterday
Philadelphia Eagles 16, Chicago Bears 15
Los Angeles Chargers 23, Baltimore Ravens 17
Eagles 16, Bears 15 – Foles leads Eagles to 16-15 upset of Bears
Nick Foles hit Golden Tate with a 2-yard touchdown pass on fourth down with 56 seconds remaining against the NFL's stingiest defense, lifting the Philadelphia Eagles past the Chicago Bears 16-15 on Sunday in the final wild-card game. Former Eagles kicker Cody Parkey hit the left upright and then the crossbar with a field-goal attempt from 43 yards with 10 seconds remaining, silencing the raucous crowd. The defending league champion Eagles (10-7) squeezed into the playoffs by beating Washington and having the Bears (12-5) help them by knocking off Minnesota in the season finale. Philadelphia thanked its benefactor with a 12-play, 60-yard drive on which Foles, the Super Bowl MVP last February, hit six passes. Philly plays at New Orleans next Sunday. No team has repeated as Super Bowl champion since New England in 2004, and the Eagles are a sixth seed. The last sixth seed to win the NFL title was Green Bay in the 2010 season. 
Chargers 23, Ravens 17 – Chargers hold off Jackson, Ravens 23-17 in playoff opener
Michael Badgley kicked five field goals, and the Los Angeles Chargers contained rookie quarterback Lamar Jackson and the Baltimore Ravens to carve out a 23-17 victory Sunday in the opening round of the NFL playoffs. The Chargers (13-4) will next face the second-seeded New England Patriots (11-5) on the road Sunday. The Chargers last won two games during a single postseason in 2007, when the franchise was in San Diego. Badgley set a franchise record for field goals in a playoff game. He connected from 21, 53, 40, 34 and 47 yards. The Chargers built a 23-3 lead in the fourth quarter before Jackson threw two touchdown passes to make it close. Given one final chance to complete the comeback, the 21-year-old Jackson looked every bit like the youngest quarterback to start an NFL playoff game when he lost the ball on his third fumble of the game.  Jackson finished 14 for 29 for 194 yards with an interception. He was sacked seven times.  The Chargers got even for a 22-10 loss two weeks ago to Baltimore (10-7), the AFC North champions.
Divisional Round
Saturday
Indianapolis Colts at Kansas City, 4:35 p.m.
Dallas Cowboys at LA Rams, 8:15 p.m.
Sunday
LA Chargers at New England, 1:05 p.m.
Philadelphia at New Orleans, 4:40 p.m.
NCAAFB – College Football
Tonight
2019 College Football Playoff National Championship Game – Levi's Stadium, Santa Clara, CA
(2) Clemson Tigers vs. (1) Alabama Crimson Tide, 8:00 p.m.
NCAAMBB – Men's College Basketball
Yesterday
(2) Michigan 74, (21) Indiana 63
(2) Michigan 74, (21) Indiana 63 – No. 2 Michigan stays unbeaten, beats No. 21 Indiana 74-63
Charles Matthews scored 16 of his 18 points in the first half to help No. 2 Michigan build a double-digit lead and the Wolverines held on for a 74-63 victory over No. 21 Indiana on Sunday to remain unbeaten. Jordan Poole also finished with 18 points for the Wolverines (15-0, 4-0 Big Ten), who are a win away from matching the school's best start. They joined No. 8 Michigan State as the two teams without a Big Ten loss four games into the 20-game conference schedule. The Hoosiers (12-3, 3-1) had won seven straight since losing at Duke. Michigan's Zavier Simpson scored 12 points and freshman Brandon Johns had eight points and eight rebounds. Indiana's Juwan Morgan scored 25 points on 9-of-22 shooting. Romero Langford added 17 points.
NHL – National Hockey League
Yesterday
Washington Capitals 3, Detroit Red Wings 2
Chicago Blackhawks 5, Pittsburgh Penguins 3
Capitals 3, Red Wings 2 – Capitals rally in third to edge Red Wings 3-2
Michal Kempny scored with 3:52 remaining, and the Washington Capitals snapped their three-game losing streak with a 3-2 victory over the Detroit Red Wings on Sunday night. Tom Wilson and Travis Boyd also scored for the Capitals, who overcame another fruitless night for their power play and improved to 9-0-2 in their last 11 games against Detroit. Anthony Mantha and Filip Hronek scored for the Red Wings. The Capitals trailed 2-1 heading into the final period, but Boyd tied it off a pass from Alex Ovechkin. Goalie Jimmy Howard nearly made the save sliding from right to left, but the puck made it through.
Blackhawks 5, Penguins 3 – Blackhawks end Penguins' winning streak at 8 games
Dylan Strome broke a tie 1:48 into the third period and the Chicago Blackhawks beat Pittsburgh 5-3 on Sunday night to end the Penguins' winning streak at eight games. Strome scored seconds after a power-play expired, beating fallen goalie Casey DeSmith off a pass from Patrick Kane. Jonathan Toews added an empty-net goal and had an assist to run his points streak to six games. Alex DeBrincat scored on a power play for his 19th of the season, and Chris Kunitz and Duncan Keith both scored their first for the Blackhawks. They won their 10th straight against the Penguins, including five straight in Pittsburgh. The Blackhawks haven't lost to the Penguins since March 30, 2014, in Pittsburgh. Chicago snapped a two-game skid and has won three of five and six of nine following an eight-game losing streak in November.
Tonight
Calgary Flames at Chicago Blackhawks, 8:30 p.m.
NBA – National Basketball Association
Last Night
Brooklyn Nets 117, Chicago Bulls 100
Toronto Raptors 121, Indiana Pacers105
Nets 117, Bulls 100 – Russell leads Nets past Bulls 117-100 for 3rd win in a row
D'Angelo Russell scored 28 points, DeMarre Carroll had 20 points off the bench and the Brooklyn Nets beat the Chicago Bulls 117-100 on Sunday for their third straight victory. Jarrett Allen added 19 and six rebounds as the Nets improved to 12-3 in their last 15 games, matching their best 15-game stretch since moving to Brooklyn in 2012. Zach LaVine had 27 points for Chicago and Bobby Portis scored 17 in 20 minutes off the bench after missing seven games with a sprained right ankle. Kris Dunn added 16 points. Brooklyn (20-21) didn't win its 20th game last season until Feb. 26, also against Chicago. The Bulls (10-30) lost their fourth straight overall and fifth in a row to the Nets.
Raptors 121, Pacers 105 – Powell scores-season-high 23, Raptors beat Pacers 121-105
Norman Powell scored a season-high 23 points, Pascal Siakam had 12 points and 10 rebounds, and the Toronto Raptors beat the Pacers 121-105, snapping Indiana's six-game winning streak. Serge Ibaka scored 18 points, while Kyle Lowry had 12 points and eight assists after missing the previous six games because of a sore lower back. Domantas Sabonis had 16 points and 11 rebounds, and Victor Oladipo scored 16 points for Indiana. The Pacers have lost five straight and 14 of the past 16 against the Raptors.
Tonight
San Antonio Spurs at Detroit Pistons, 7:00 p.m.
NBA – AP source: Timberwolves fire coach Tom Thibodeau
A person with knowledge of the decision tells The Associated Press that the Minnesota Timberwolves have fired coach Tom Thibodeau, halfway into his third season with the team that began with turmoil surrounding All-Star Jimmy Butler. The person spoke to the AP on condition of anonymity, because the Timberwolves had not yet announced the news. Thibodeau finished 97-107 with the Wolves, who returned to the NBA playoffs last spring after a 13-year absence.
NCAAWBB – Women's College Basketball
Yesterday
(2) Notre Dame 76, Georgia Tech 55
Indiana 68, (15) Michigan State 64
(2) Notre Dame 76, Georgia Tech 55 – No. 2 Notre Dame overwhelms Georgia Tech, makes No. 1 case
essica Shepard scored 19 points, most on layups, and No. 2 Notre Dame strengthened its case for the top spot in the Top 25 by overpowering Georgia Tech 76-55 on Sunday. With No. 1 UConn's loss to Baylor on Thursday night, Notre Dame (14-1, 2-0 Atlantic Coast Conference) could claim the top spot in Monday's new poll. UConn gave the Fighting Irish their only loss on Dec. 2. Notre Dame has won seven straight entering an ACC showdown with No. 3 Louisville this Thursday night.  Led by Shepard, Arike Ogunbowale, who had 13 points, and Brianna Turner, who had 11 points, the Fighting Irish outscored the Yellow Jackets 60-20 in the paint.
Indiana 68, (15) Michigan State 64 – Penn's 3 helps Indiana women beat No. 15 Michigan State
Jaelynn Penn scored 17 points including a go-ahead 3-pointer in the final minute to give Indiana a 68-64 victory over No. 15 Michigan State on Sunday. The victory was the first for the Hoosiers (14-1, 3-0 Big Ten) over a top-15 team since Jan. 31, 2010. Indiana, receiving votes in the Associated Press poll, has won four straight and 19 consecutive home games. There were 11 lead changes and 22 ties in the game that Indiana led by six at halftime and one after three quarters.   Jenna Allen led Michigan State (11-3, 1-2) with 15 points.
NCAAHKY – NCAA Ice Hockey
Saturday
Michigan 4, Notre Dame 2           (at Notre Dame Stadium)
Golf – PGA – Scauffele wins at Kapalua
Xander Schauffele tied the Plantation course record with an 11-under 62 to win the Sentry Tournament of Championship by one stroke over Gary Woodland at Kapalua.  Schauffele started the final round five shots out of the lead and opened with a bogey before running off three straight birdies and chipping in for eagle at the turn. Schauffele finished birdie-birdie to tie the course record last set four years ago.
MHSAA – High School Sports
Tonight
Boys Basketball
Lake Michigan Catholic at Buchanan, 7:15 p.m.                   95.7 & 1400 WSJM Sports
Girls Basketball
Grand Rapids Homeschool at Benton Harbor, 5:00 p.m.
Buchanan at Lawrence, 7:00 p.m.
Decatur at River Valley, 7:30 p.m.
ISHSHA – High School Hockey
Yesterday
Lakeshore/St. Joseph 5, Kalamazoo United 1