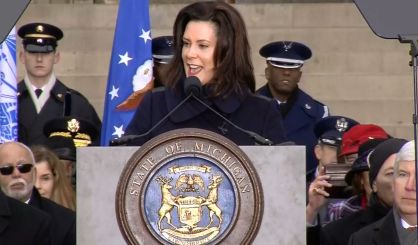 Divided government is back in Michigan with the inauguration of Democratic Governor Gretchen Whitmer and Republicans in the majority of the state House and Senate. In front of the state Capitol on New Year's Day, the former Michigan Senate Minority Leader took the oath of office and pledged to work with everyone to move the state forward.
"Divided government might make solving problems harder, but not impossible," she told the crowd in Lansing. "We need to come together now, not as Democrats and Republicans, but as Michiganders."
Whitmer focused much of her roughly 13-minute address on building bridges, figuratively and literally, drawing on the imagery of the Mackinac Bridge, which was her campaign logo.
"Michigan's problems are not partisan. Potholes are not political, or better skills, or great schools for our kids. I will be a governor for everyone."
She comes to the governor's office with something that her two predecessors, Rick Snyder and Jennifer Granholm, lacked: legislative experience. Whitmer served in the state House and the state Senate, closing out her term in the upper chamber as the Senate Minority Leader during Snyder's first term.
The new administration is an historic one, with the first openly gay statewide elected official in Attorney General Dana Nessel, Michigan's first African-American Lieutenant Governor with Garlin Gilchrist, and Democrats sweeping the top three offices of governor, attorney general and secretary of state that had been held by the other party for the first time since 1938. All three offices were open due to term limits.
You can listen to the podcast of Whitmer's swearing in and inaugural speech, available in the podcast section of our website and on iTunes.