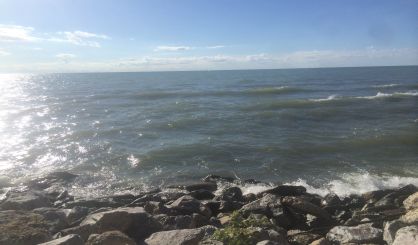 Leaders in the New Buffalo area are hoping to work with the U.S. Army Corps of Engineers to stop shoreline erosion in the area. This month, Army Corps Major General Mark Toy visited New Buffalo to learn more about the serious need for action. New Buffalo Township Supervisor Michelle Heit spoke with him and tells WSJM News there's no beach left in her own community and homes are being threatened. She says residents have spent a fortune on revetments to try to protect their properties
"There's no beach left," Heit said. "No beach for people to go to. People's homes are literally falling into the lake. People have spent thousands of dollars on revetments to try to protect their homes and private property. It's devastating."
Heit says the Army Corps stopped replenishing the beach south of the harbor in 1995, and the weather in recent years has been pounding the shore.
"One more storm could really take its toll, and I think we could see some people maybe abandon their homes at that point," Heit said.
Heit says when General Toy was in town, he took at look at a New Buffalo area home that fell in the lake and also looked at the New Buffalo Water Treatment Plant intake, which is now in jeopardy. She says the general told her he was going to study the situation and see what could be done.