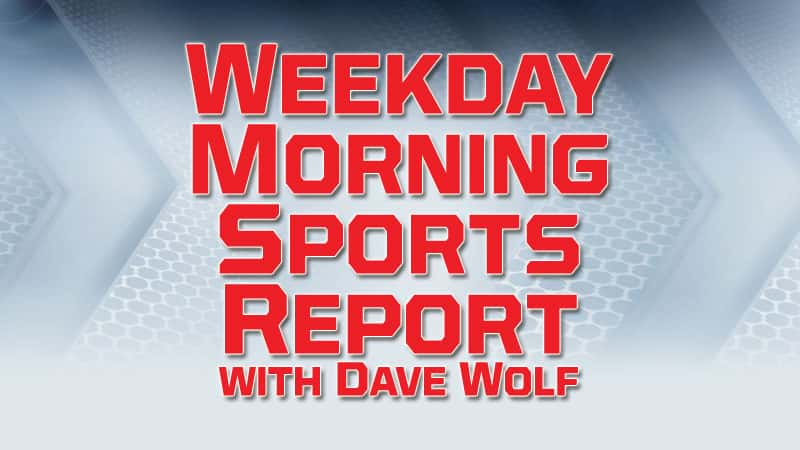 NHL – National Hockey League
Last Night
Detroit Red Wings 4, Carolina Hurricanes 1
Chicago Blackhawks 5, Dallas Stars 2
Red Wings 4, Hurricanes 1 – Kronwall, Bernier lead Red Wings to 4-1 win over Hurricanes
Niklas Kronwall had a goal and an assist, Jonathan Bernier stopped 38 shots and the Red Wings beat the Carolina Hurricanes 4-1 on Thursday night.  Jonathan Ericsson, Frans Nielsen and Dylan Larkin also scored to help Detroit win for the second time at PNC Arena this season. Larkin's empty-netter with 19 seconds left extended his point streak to nine games.  Bernier had 14 saves in the first and 12 each in the second and third periods.  Andrei Svechnikov scored for Carolina and Petr Mrazek finished with 20 saves against his former team.
Blackhawks 5, Stars 2 – Kane scores twice as Blackhawks beat Stars 5-2
Patrick Kane had two goals and an assist, and the Blackhawks beat the Dallas Stars 5-2 on Thursday night for their first win streak in two months.  Alex DeBrincat had a goal and two assists for Chicago, and defenseman Erik Gustafsson scored for the second straight game. Brendan Perlini had an empty-netter, and Cam Ward made 26 saves. The Blackhawks are 3-1-1 in the last five games after a seven-game losing streak.  The Blackhawks matched a season high with their second straight win. They hadn't won two in a row since Oct. 23 and 25 against Anaheim and the New York Rangers. Ward has won both games since starting goaltender Corey Crawford went on injured reserve with a concussion.
NBA – National Basketball Association
Tonight
Detroit Pistons at Charlotte Hornets, 7:00 p.m.
Indiana Pacers at Brooklyn Nets, 7:30 p.m.
Orlando Magic at Chicago Bulls, 8:00 p.m.
NBA – Bulls lose Portis
The Chicago Bulls continue to lose players as they try to climb from the bottom of the NBA standings.  The team expects forward Bobby Portis to miss two to four weeks because of a sprained right ankle suffered in the fourth quarter of Wednesday's loss to Brooklyn. The team said an MRI on Thursday showed no structural damage.  Portis appeared in five games after returning from a sprained knee ligament. He is averaging 11.9 points and eight rebounds in nine games this season.  Leading scorer Zach LaVine is expected to miss a total of two to four weeks after spraining his left ankle against Orlando in Mexico City on Dec. 13.  The Bulls are a league-worst 7-25.
NBA – Global ball: NBA to play exhibition games in India next year
The NBA will play its first games in India next year.  The league announced Thursday the Indiana Pacers and Sacramento Kings will play two exhibition games Oct. 4-5 at the NSCI Dome in Mumbai.  The NBA, in another step toward expanding its global footprint, says these are the first games in the country by a North American sports league. NBA deputy commissioner Mark Tatum and NBA India managing director Yannick Colaco in Mumbai announced the matchups.  Since 2006, more than 35 current and former NBA and WNBA players went to India on league visits. The NBA opened a Mumbai office in 2011.
NCAAFB – College Football – Bowls
Last Night
Bad Boy Mowers Gasparilla Bowl – Raymond James Stadium, Tampa, FL
Marshall 38, South Florida 20
Today
Makers Wanted Bahamas Bowl – Thomas Robinson Stadium, Nassau, Bahamas
Florida International vs. Toledo, 12:30 p.m.
Famous Idaho Potato Bowl – Albertsons Stadium, Boise, ID
Western Michigan vs. BYU, 4:00 p.m.
NFL – National Football League – Week 16
Saturday
Washington Redskins at Tennessee Titans, 4:30 p.m.                    95.7 & 1400 WSJM Sports 4:00
Baltimore Ravens at Los Angeles Chargers, 8:20 p.m.                  95.7 & 1400 WSJM Sports
Sunday
Minnesota Vikings at Detroit Lions, 1:00 p.m.                                    WSJM Sports/Cosy-FM 11:00
New York Giants at Indianapolis Colts, 1:00 p.m.
Chicago Bears at San Francisco 49ers, 4:05 p.m.
Kansas City Chiefs at Seattle Seahawks, 8:20 p.m.                       95.7 & 1400 WSJM Sports 7:30
NFL – Gordon punished again
Josh Gordon's on-again, off-again NFL career is on hold once again.  The NFL says the New England Patriots receiver has been returned to the reserve/commissioner suspended list indefinitely for violating the terms of his conditional reinstatement under the league's substance abuse policy. He missed the entire 2015 and 2016 seasons for violating the league's substance abuse policy. He was reinstated by NFL Commissioner Roger Goodell in 2017 and at the time revealed in an interview with GQ magazine that he drank or used marijuana before games.  Gordon said earlier Thursday that he was stepping away from football to focus on his mental health, but vowed to work his way back into the sport.  He was traded by the Browns in September and played in 10 games for the Pats, catching 40 passes for 720 yards and three touchdowns.
NCAAMBB – Men's College Basketball
Last Night
Notre Dame 100, Jacksonville 74
Notre Dame 100, Jacksonville 74 – Goodwin, Harvey lead Notre Dame past Jacksonville 100-74
Freshman Dane Goodwin scored a career-high 19 points off the bench and sophomore D.J. Harvey matched a career high with 19 as Notre Dame improved to 9-3 with its third straight win.  T.J. Gibbs added 18 points and seven assists, freshman Prentiss Hubb also dished seven assists, and John Mooney's 16 points included 6-of-6 shooting from the field with a 3-pointer.  Dead-eye Notre Dame closed at 37 of 62 from the field (60 percent) and 18 of 32 from 3-point range (56 percent).  The Irish were two short of tying a school record for made triples in a game.  Jace Hogan led all scorers with 20 points for the Dolphins (7-6). JD Notae added 17.
Tonight
Oakland at (10) Michigan State, 7:00 p.m.                Superhits 103.7 Cosy-FM 6:00
Saturday
Jackson State at Central Michigan, 1:00 p.m.
Siena Heights at Eastern Michigan, 2:00 p.m.
Milwaukee at Western Michigan, 3:00 p.m.
Air Force at (4) Michigan, 4:00 p.m.                         News/Talk 94.9 WSJM 3:30
NCAAWBB – Women's College Basketball
Last Night
(3) Louisville 72, Central Michigan 68
(22) Michigan State 89, Florida Atlantic 74
North Dakota 62 Western Michigan 59
UNC Greensboro 49, Eastern Michigan 44
Today
Southern at Michigan, 12:00 p.m.
Eastern Michigan vs. Butler, 1:00 p.m.                     at Ft. Lauderdale, FL
Florida A&M vs. Western Michigan, 3:00 p.m.           at Deland, FL
Florida Atlantic at (22) Michigan State, 7:00 p.m.
MHSAA – High School Sports
Last Night
Boys Basketball
Howardsville Christian 93, Lake Michigan Catholic 40
Dylan Jergens poured in a game high 32 points as Howardsville Christian cruised to a 93-40 win over Lake Michigan Catholic.  With his performance, Jergens also surpassed the 2,000 career point mark.  Leading by seven after one quarter, the Eagles outscored the Lakers 56-15 over the next two quarters to pull away and improve to 6-0 on the season.  Michael Markoch led Catholic with 21 points.
Benton Harbor 80, Niles 37
Dowagiac 51, Edwardsburg 36
Comstock 56, Berrien Springs 47
New Buffalo 61, Covert 17
Martin 53, Watervliet 35
Portage Central 82, Paw Paw 57
Portage Northern 78, Three Rivers 59
Caledonia 58, Gull Lake 49
Sturgis 34, Vicksburg 28
Centreville 57, Mendon 55
Decatur 81, Bloomingdale 54
Bangor 63, Eau Claire 39
Hartford 67, White Pigeon 40
Marcellus 58, Cassopolis 51
Girls Basketball
Otsego 57, St. Joseph 35
Otsego's Mattison Rayman scored 15 of her game high 22 points in the first half propelling visiting Otsego to a 57-35 win over St. Joseph at the Bear Den last night.  Sophomore Symone King scored 12 points to lead St. Joe, who fall to 2-4 on the season.
Niles 81, Benton Harbor 28
Edwardsburg 71, Dowagiac 34
Comstock 49, Berrien Springs 33
Martin 36, Watervliet 30
Kalamazoo Central 66, Muskegon 52
Portage Central 54, Paw Paw 22
Three Rivers 62, Portage Northern 19
Vicksburg 51, Sturgis 36
Centreville 47, Mendon 34
Bloomingdale 34, Decatur 32
Hartford 62, White Pigeon 58
Marcellus 43, Cassopolis 35
Boys Swimming and Diving
St. Joseph 110, Bridgman/Lakeshore 75
Tonight
Boys Basketball
Kalamazoo Loy Norrix at St. Joseph, 7:00 p.m.         95.7 & 1400 WSJM Sports
South Haven at Paw Paw, 7:15 p.m.
Plainwell at Allegan, 7:15 p.m.
River Valley at Lawrence, 7:30 p.m.
Buchanan at Brandywine, 7:30 p.m.
Bridgman at Parchment, 7:30 p.m.
Marcellus at Lawton, 7:30 p.m.
Coloma at Saugatuck, 7:30 p.m.
Schoolcraft at Kalamazoo Christian, 7:30 p.m.
Kalamazoo Hackett at Mt. Pleasant Sacred Heart, 12:00 p.m.
Constantine at Delton-Kellogg, 6:00 p.m.
Girls Basketball
South Haven at Paw Paw, 5:45 p.m.
Plainwell at Allegan, 5:45 p.m.
Buchanan at Brandywine, 6:00 p.m.
Bridgman at Parchment, 6:00 p.m.
Marcellus at Lawton, 6:00 p.m.
Coloma at Saugatuck, 6:00 p.m.
Schoolcraft at Kalamazoo Christian, 6:00 p.m.
Fruitport Calvary Christian at Kalamazoo Hackett, 10:00 a.m.