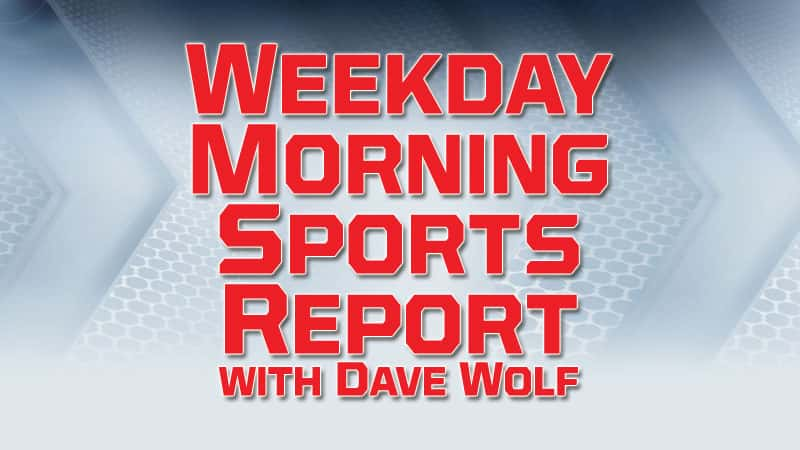 NHL – National Hockey League
Last Night
Philadelphia Flyers 3, Detroit Red Wings 2
Chicago Blackhawks 2, Nashville Predators 1
Flyers 3, Red Wings 2 – Hart stops 22 shots in NHL debut, Flyers top Red Wings 3-2
Carter Hart made 22 saves in his NHL debut and Shayne Gostisbehere and James van Riemsdyk each had a goal and an assist as the Philadelphia Flyers defeated the Detroit Red Wings 3-2 on Tuesday night and made interim coach Scott Gordon a winner in his first game. Radko Gudas also scored for Philadelphia, which snapped a four-game losing streak. The Flyers were playing their first game since head coach Dave Hakstol was fired on Monday, a more that capped a tumultuous few weeks. General manager Ron Hextall was fired last month and new GM Chuck Fletcher ended Hakstol's four-year tenure after a 1-4 road trip was punctuated by Saturday's 5-1 loss at Vancouver. The Flyers entered the game last in the Eastern Conference with 28 points.  Fletcher promoted Gordon from the Flyers' AHL Lehigh Valley affiliate. Dennis Cholowski and Jacob de la Rose scored for Detroit, which has lost four in a row and five of six.
Blackhawks 2, Predators 1 – Ward makes 30 saves as Blackhawks beat Predators 2-1
Cam Ward made 30 saves in his first start since Corey Crawford was sidelined by a concussion, helping the Chicago Blackhawks top the Nashville Predators 2-1 on Tuesday night. Defensemen Gustav Forsling and Erik Gustafsson scored for last-place Chicago, which had dropped 10 of 11. Patrick Kane picked up an assist on Gustafsson's tiebreaking goal in the second period, giving him at least one point in seven of his last eight games. Ward was terrific in the Blackhawks' first game since Crawford was placed on injured reserve after sustaining a concussion for the second straight season. The two-time All-Star got hurt in the first period of Sunday's 7-3 loss to San Jose when the back of his head struck the right post during a scary goalmouth pileup. Kevin Fiala scored for the Predators, who dropped to 0-6-2 in their last eight road games. Pekka Rinne had 34 stops.
NHL – Blackhawks loan Jokiharju to Finland for junior championship
The last-place Chicago Blackhawks will be without one of their top defensemen for a while after they decided to loan Henri Jokiharju to Finland for the upcoming world junior championship. The 19-year-old Jokiharju has no goals and 11 assists in 32 games in his first NHL season. Blackhawks coach Jeremy Colliton says he thinks the move will help Jokiharju's long-term development. The world junior championship runs from Dec. 26 to Jan. 5 in Vancouver, British Columbia. The Blackhawks also activated forward Artem Anisimov and defenseman Gustav Forsling from injured reserve. Anisimov had been sidelined by a concussion, and Forsling was out with a shoulder injury.
NBA – National Basketball Association
Last Night
Cleveland Cavaliers 92, Indiana Pacers 91
Cavaliers 92, Pacers 91 – Nance's tip gives Cavs rare road win as Pacers' streak ends
The Pacers' seven-game winning streak ended when Larry Nance Jr.'s buzzer-beating tip-in gave the Cleveland Cavaliers a 92-91 victory at Indiana. Nance finished with 15 points and a career-high 16 rebounds in the Cavs' third road victory of the season. Rodney Hood scored 17 points to help the Cavaliers end a three-game skid. The Pacers were ahead 91-90 when Victor Oladipo missed two free throws with 9.5 seconds left, giving Cleveland new life.
Tonight
Indiana Pacers at Toronto Raptors, 7:30 p.m.
Brooklyn Nets at Chicago Bulls, 8 p.m.
Detroit Pistons at Minnesota Timberwolves, 8 p.m.
NCAAMBB – Men's College Basketball
Last Night
Notre Dame 69, Binghamton 56
Notre Dame 69, Binghamton 56 – Durham's double-double leads Irish past Bearcats, 69-56
Juwan Durham came off the bench to provide a first-half spark on way to his first double-double and Notre Dame survived early poor shooting to put away Binghamton 69-56 on Tuesday night. Durham, a 6-foot-11 transfer from Connecticut, had 16 points and 12 rebounds with four blocks in 20 minutes, while starter John Mooney had his sixth double-double – 12 points and 12 rebounds – of the season. T.J. Gibbs also scored 16 points to help the Irish (8-3), who were playing their first game after losing senior tri-captain Rex Pflueger with a season-ending ACL injury in an 88-80 victory over Purdue last Saturday. Sam Sessoms led the Bearcats (3-9), who lost their fourth straight game, with 25 points.
Tonight
UMKC at Central Michigan, 7:00 p.m.
Western Michigan at Dayton, 7:00 p.m.
UC Irvine at Eastern Michigan, 7:00 p.m.
NCAAWBB – Women's College Basketball
Tonight
Western Kentucky at (2) Notre Dame, 7:00 p.m.
NCAAFB – College Football – Bowls
Last Night
Cheribundi Boca Raton Bowl – FAU Stadium, Boca Raton, FL
UAB 37, Northern Illinois 13
Tonight
DXL Frisco Bowl – Toyota Stadium, Frisco, TX
San Diego State vs. Ohio, 8:00 p.m.
NFL – Chargers have league-high 7 named to Pro Bowl
The Los Angeles Chargers have placed seven players in the Pro Bowl, including one of six rookies across the league to make the two rosters. First-round pick Derwin James will be joined on the AFC squad by veteran quarterback Philip Rivers, wide receiver Keenan Allen, running back Melvin Gordon, defensive end Melvin Ingram, center Mike Pouncey and special-teamer Adrian Phillips. Rivers is a backup to Kansas City's Patrick Mahomes, one of 29 first-time Pro Bowlers.  New Orleans, Dallas and Chicago each placed five players on the NFC squad, which includes Giants rookie Saquon Barkley.
Chicago:          Khalil Mack, OLB; Eddie Jackson, S; Kyle Fuller, CB; Akiem Hicks, DL; Tarik Cohen, ST
Detroit:          Darius Slay, CB
Indianapolis: Eric Ebron, TE; Quenton Nelson, OL
Green Bay:       Aaron Rodgers, QB; Davante Adams, WR
MCCAA – Junior College Basketball
Last Night
Women's Basketball
Lake Michigan College 80, (7) Joliet Junior College 68
Lake Michigan College pulled off the upset of the 7th ranked Joliet Junior College with an 80-68 win.  Samantha Jenkins was one of four Redhawks players in double figures with 24 points.  Jayla Bibbs had a double double with 23 points and 12 rebounds, Aymia Flowers added 14 and Monae Palmer scored 11.  LMC improves to 8-2.
Men's Basketball
Lake Michigan College 83, Joliet Junior College 59
The Redhawks went on a 30-4 run in the second half as Lake Michigan College went on to beat Joliet Junior College 83-59.   The Redhawks put six players in double figures, led by Austin Dukesherer with 16,  Justin Henderson scored 15, Sheddrick Porter and Lucas Meyer had 11, and 10 points each from Jon Bowman and Adrien Bucha-Moore.   The Redhawks are now 2-8.
MHSAA – High School Sports
Last Night
Boys Basketball
Battle Creek Central 46, St. Joseph 37
Battle Creek Central came out on fire early in the third quarter and then hung on for a 46-37 win over St. Joe.  With the game tied at 14 at the half, the Bearcats took a 13 point lead in the third.  St. Joe pulled to within two, but that's as close as they would get.  Anthony Cellentani led the Bears with nine points, Ben Newland added eight.
Lakeshore 44, Dowagiac 34
Lakeshore got a double double from Micah Seats with 16 points and 10 rebounds as the Lancers beat Dowagiac 44-34 to improve to 5-1 on the season.   Ben Brower added 11 points for Lakeshore.
Holland 64, South Haven 42
South Haven trailed Holland by 4 at the half, but the Dutch had a monster third quarter, pacing them to at 64 to 42 non-conference win.  Holland's Anders Rassmussen led all scorers with 18 points.  Rams' Junior guard Brenden Williamson netted 12 on the night in the losing cause.  The Rams fall to 3-3 on the season, heading into Friday night's match-up with Paw Paw at home.
Hartford 61, Decatur 44
Hartford had three players in double figures, led by a game high 20 points from Brandon Galvan in a 61-44 win over Decatur.  Aaron Sinclair had 17 and Trey Ackerman added 15 for the Indians.  Decatur was led by Matty Stambek with 15 points.
Countryside 59, Lake Michigan Catholic 40
Howardsville Christian 83, Michigan Lutheran 59
Three Rivers 74, Berrien Springs 66
New Buffalo 77, Lawrence 49
Brandywine 56, Fennville 38
Constantine 45, Edwardsburg 40
Portage Central 61, Harper Creek 44
Marshall 72, Gull Lake 56
Battle Creek Lakeview 41, Plainwell 36
Portage Northern 67, Vicksburg 37
Otsego 68, Hamilton 55
Paw Paw 53, Watervliet 37
Centreville 58, Bangor 56 – OT
Cassopolis 90, White Pigeon 45
White Pigeon 45, Mendon 31
Saugatuck 54, Holland Black River 37
Kalamazoo Christian 62, Delton-Kellogg 42
Kalamazoo Hackett 72, Schoolcraft 56
Lawton 55, Galesburg-Augusta 39
Girls Basketball
Battle Creek Central 54, St. Joseph 40
Battle Creek Central sophomore scored 16 of her game high 25 points in the first half to lead the Bearcats over St. Joseph 54-40.  Alliyah Caswell added 11 for Central.  Symone King came off the bench to lead St. Joe with 13 points.  Alex Malone added 10 points despite foul trouble.
Three Rivers 51, Berrien Springs 26
Hadley Miller scored 17 points to lead Three Rivers over Berrien Springs 51-26.  Kali Heivilin added 13 for the Wildcats.  Hillary Dortch had 9 points to lead the Shamrocks before fouling out.
Gobles 50, South Haven 24
Edwardsburg 52, Mattawan 30
Holland West Ottawa 63, Kal. Loy Norrix 22
Brandywine 72, Fennville 36
Battle Creek Lakeview 46, Plainwell 26
Coldwater 54, Kalamazoo Central 48
Harper Creek 32, Portage Central 29
Vicksburg 26, Portage Northern 10
Gull Lake 47, Marshall 44
Comstock 59, Allegan 30
Paw Paw 55, Watervliet 31
Centreville 58, Bangor 16
Cassopolis 57, Eau Claire 13
Bloomingdale 44, Marcellus 32
Mendon 63, White Pigeon 50
Delton-Kellogg 44, Kalamazoo Christian 32
Saugatuck 59, Holland Black River 40
Schoolcraft 57, Kalamazoo Hackett 44
Boys Swimming and Diving
St. Joseph 99, Kalamazoo Loy Norrix 76
Tonight
Girls Basketball
Lawrence at River Valley, 6:00 p.m.